Toyota has completed its US plant modernisation project, first announced in January 2017, with an additional $700 million for its Indiana facility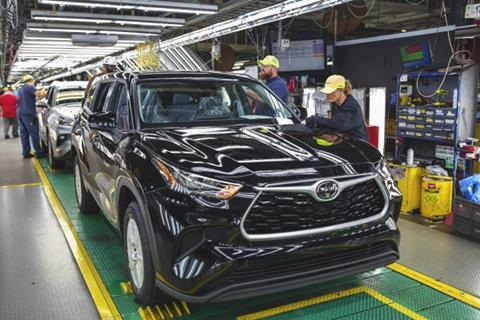 With retooling, new equipment installation and advanced manufacturing technologies now in place, Toyota Motor Manufacturing, Indiana (TMMI) is ramping up production of the new Highlander.
The project is the latest part of Toyota's alignment of the North American production with its TNGA platform.
Overall, the plant modernisation project has seen a $1.3 billion commitment from Toyota, adding 550 new jobs at the plant which focuses on production of mid-size SUVs and minivans.
The TMMI facility, located near Princeton, Indiana is Toyota's second largest plant in the US and is fully-integrated with stamping, die manufacturing, body weld, paint, plastics operations and vehicle assembly all on site.
TMMI has the capacity to assemble more than 420,000 vehicles annually with the Highlander midsize SUV accounting for more than half of the output.
As well an equipment refresh in the press shop, new sorting technology has been introduced for scrap conveyance.
The paintshop upgrade allows the line to process the growing aluminium content in vehicles such as the new Highlander. A new AGV fleet has been introduced, improving TMMI's process flexibility and internal parts handling.
The plant also produces the Highlander Hybrid, Sienna and Sequoia models.
This TMMI investment, Toyota said, is part of the broader commitment to inject $13 billion in its US operations over a five-year period up to 2021.