With the start of mass production of the next-generation 2023 sport compact, associates at Honda's Marysville Auto Plant (MAP) become the first to build the Integra model in the US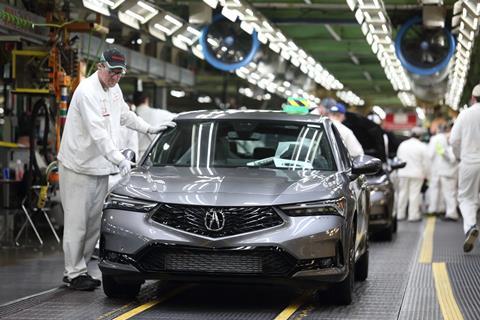 The 2023 Integra is produced on the same line as the Acura TLX sport sedan at MAP and the company says it has introduced some new production technologies and processes for this build.
MAP associates couldn't travel to Japan to collaborate onsite with the R&D team, so they utilised video tools in the plant to livestream trial production and collaborated remotely on design changes and processes to make it easier for associates to build the new model. The plant has also established a new interactive associate training process starting with Integra. This uses a virtual teaching system that allows the associates to become more familiar with the product and the production process and types of tools needed for their job before they see the actual product.
The design of the Integra liftback required new equipment or processes in the weld, paint and assembly areas, as it is different to the vertical tailgate for the Honda CR-V, also built at MAP. Another aspect of the Integra's styling, the flat roof design, created a new challenge compared to other products with laser brazed roofs (Acura TLX, Honda Accord) says Honda. The plant's weld associates applied their experience with dual beam laser technology to overcome the challenges and fulfil the styling requirements.
Honda notes that as another part of the plant upgrade it has installed entirely new instrument panel production equipment to create the seamless instrument panel. The new process heats and stretches the material covering the instrument panel to create a clean and seamless appearance.