The automaker's Ohio plants will form the hub of an expansion into electrified vehicles but sales are not expected to start until 2026.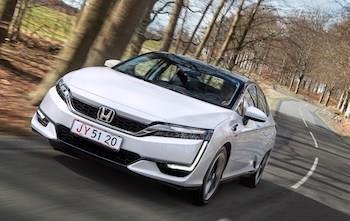 Honda and LG Energy Solution will together invest $3.5 billion in their previously-announced joint venture in Ohio, Honda said, while the Japanese automaker will spend a further $700 million to retool three of its plants in the same state, for EV production.
The joint battery venture, which awaits government approvals, will be sited in Fayette County and produce batteries for future EV models from Honda whose electrification efforts so far have mostly focused on hybrids.
Honda marked a 45-year presence in Ohio on Oct. 11, having opened its first plant there in 1977. It plans to "transform" its Marysville Auto Plant, East Liberty Auto Plant and Anna Engine plant "for the electrified future", with North America EV production and sales to start in 2026.
"This is a very challenging time for our entire industry, but also a very exciting time as Honda invests in full electric vehicle production in the Buckeye State," said Bob Nelson, executive vice president of American Honda Motor Co., Inc. "Honda has built hybrid-electric vehicles in Ohio for a number of years, and the experience and expertise of our associates in manufacturing, product development, and purchasing will serve as an important foundation as we transition to the electrified future."
The investments intensify a flurry of investment in North American electric vehicle manufacture, with billions being poured into battery production and factory overhauls
Electric products are also making rapid inroads into the most coveted segment of the US market – pick-ups and trucks, with aggressive efforts by GM and Ford to establish dominance with their respective Chevrolet Silverado and F-150 Lightning zero-emissions offerings. LINK
Honda's Anna Engine Plant will produce the battery case which will receive battery modules from the Honda / LG venture for installation at the Marysville Auto Plant. The completed battery units will then be fitted to cars produced at both Marysville and East Liberty plants.
The Ohio sites will form Honda's North American EV hub, with knowledge and experience to be shared with other sites on the continent as the automaker pursues a goal of selling only battery-electric and hydrogen fuel cell vehicles there by 2040.
The joint venture battery plant will employ 2,200 and produce pouch-format lithium-ion batteries. Honda said the total investment in the venture was expected to reach $4.4 billion. It did not explain the difference between that and the $3.5 billion figure and press representatives did not answer calls from AMS seeking clarification.
Battery production is expected to start around the end of 2025, in advance of EV model launches the following year.