General Motors' investments in EV trucks and pick-up manufacturing position it to capture growth in what is a fiercely contested segment in North America.
EV pick-up market picks up
General Motors is bringing forward upgrades to the bodyshop at Factory Zero, its EV-dedicated plant in Detroit, to meet accelerating demand for its Silverado EV pick-up truck alongside a broader expansion into both traditional pick-ups and battery-electric vehicle manufacture at other vehicle and battery factories across North America, including adding electric versions of the Silverado and GMC Sierra trucks.
The overhaul, in response to 170,000 reservations for the Silverado, entails halting production of the GMC Hummer EV SUV from late November for several weeks, GM said in an operational update for the third quarter of 2022.
"GM and its dealers were able to translate improved semiconductor supplies, stable production and improvements in dealer inventory into a nearly 3-point improvement in retail market share year over year, (J.D. Power PIN), as well as significant sales gains in the commercial fleet market," the company said.
On the company's EV push, Steve Carlisle, GM North America executive vice-president and president, said: "We are being very intentional in the way we are executing our EV strategy to position the company for the same kind of success that we've earned with today's pick-ups and SUVs, and with supercars like the Chevrolet Corvette."
The lengthy Silverado reservation list comes from a mix of both retail and nearly 400 fleet operators, the company said. GM announced a major agreement with US car rental company Hertz to supply 175,000 vehicles over the next five years including some pick-ups. Fleet sales for all vehicles rebounded 66% in the quarter compared to the same period in 2021.
Plugging in to EV growth
The company has 90,000 reservations for the Hummer EV in both pickup and SUV body styles at its Factory Zero plant in Detroit. In the luxury segment, GM will increase production of the Lyriq SUV in Spring Hill, Tennessee, while 2023 will bring two further Chevrolet EV products alongside the Silverado, namely the Blazer in the summer and Equinox by autumn, both at its Ramos Arizpe plant in northern Mexico.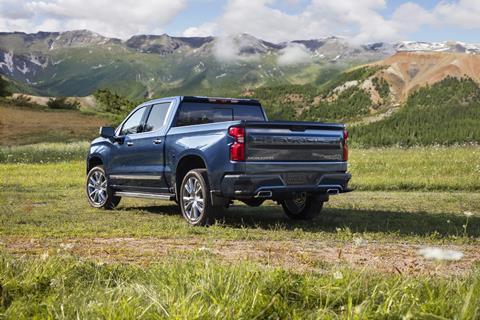 In the compact segment, the company's flagship and most-affordable electric product, the Bolt, which it produces at its Orion plant, posted its highest-ever sales in the third quarter with production of the model for global markets to increase as a result to 70,000 units in 2023 from 44,000 this year.
But it is the pick-up truck market where GM stands to make the most gains by scaling up manufacturing. Pick-up sales are fiercely contested in the US market, underscoring the importance of expanding an electric offering as the powertrain's market share grows rapidly. Ford started production of the Lightning electric variant of its fast-selling F-150 in April while Stellantis brand Ram has yet to bring planned plug-ins to market.
Data shared with Automotive Manufacturing Solutions' sister publication, Automotive Logistics, by Joe McCabe, President of Automotive Forecast Solutions (AFS) in the US, shows Stellantis absence from the segment until Ram delivers the 1500 electric truck in 2024, which will make 2023 something of a lost year in growth for the brand versus GM and Ford.
McCabe maintains his view presented earlier in the year to AMS, that global car manufacturing volume will rebound over the next three years then turn fairly static for the remainder of the decade.
Inventories replenished
Amid a dimming economic outlook, accelerating inflation and rising interest rates, it remains to be seen to what extent the rebound reflects pent-up demand and how long it can be sustained. The company's share price has fallen more than 40% so far in 2022 with Morgan Stanley having cited concerns over the company's prospects in China, the world's largest auto market, according to media reports.
Digital tools are helping GM to capitalise on the current upswing in demand, with software to track the progress of incoming orders as well as applications that enable dealers to see the most popular vehicle configurations and place orders for them.
Unlike in Europe, US buyers more frequently buy new vehicles from stock on the forecourt, something which the pandemic and ensuing supply chain disruption had made more difficult. GM says its dealer inventory has now tripled versus a year prior to 359,292.