Slovakia - Gestamp has started making aluminium components for JLR at its new Slovakia plant
Slovakia - Gestamp has inaugurated a new plant in Nitra. From here the supplier will provide aluminium parts for the nearby Jaguar Land Rover plant, primarily for the Discovery and Defender models.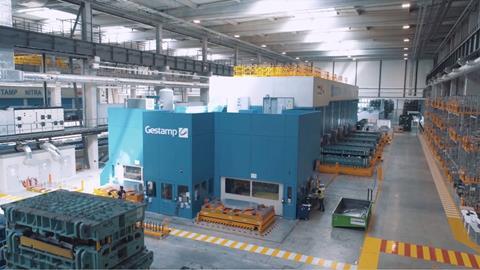 "We always accompany our clients where they require us, which is exactly what we have done in this case: We have moved to Slovakia to proficiently serve Jaguar Land Rover with the highest standards in a plant that intends to be the Slovakian press shop of our client," commented Francisco J. Riberas, Gestamp' s executive chairman. "[We] will apply all of our know-how accumulated over the years in technology and materials to reduce the weight of vehicles and increase their safety. In this case we will provide aluminum solutions to Jaguar Land Rover, a material in which, alongside steel, Gestamp maintains a frontline position."
The new facility has cost Gestamp almost €130m (US$146.7m). It includes two servo tandem lines, and has a workforce of 200 people in total.
The Nitra plant is one of several new facilities that Gestamp has recently opened. It also started making chassis components at its new plant in San Luis Potosí, Mexico, and has opened a joint venture facility in Tianjin, China with Beijing Hainachuan Automotive Parts (BHAP).