The investment will support production of the Super Duty from Ford's high-volume F-Series of trucks.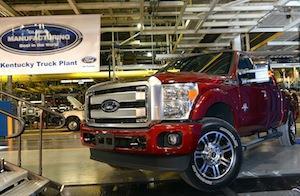 Ford is investing $700 million in Kentucky to increase vehicle manufacturing with the expected addition of 500 factory-floor jobs, it said.
Some of the investment will be used to support production of the U.S. brand's new Super Duty truck from its high-volume F-Series built at Kentucky Truck Plant, the company said.
The company also recently broke ground on its previously-announced battery production facility in West Tennessee, dubbed BlueOval City, where it will invest $5.6 billion and create 6,000 jobs. Production is scheduled to start at the plant from 2025.
Ford announced earlier this year that it is investing $50 billion to ramp up electric vehicle production globally.
"With construction underway at BlueOval City, Ford – America's No. 2 electric vehicle brand – gets closer to its target of a 2 million EV production run rate globally by late 2026," Ford said in a statement.
The Super Duty is built at the same location as the Ford Expedition and Lincoln Navigator and the Ford Escape and Lincoln Corsair are built at the Louisville Assembly Plant in the same state, Ford said.