The OEM has retooled its Rouge Electric Vehicle Center to build 150,000 units per year at, and is increasing manufacturing capabilities to produce more trim options.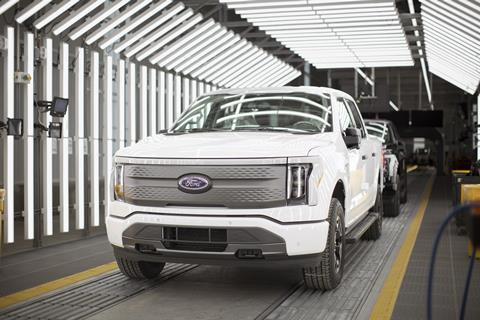 After a six-week shutdown to allow for a major expansion and retooling, Ford has restarted full-scale production of its F-150 Lightning at the Rouge Electric Vehicle Center (REVC) at its Dearborn Truck Plant in Michigan. The expansion will help treble manufacturing capacity to 150,000 units annually, including introducing more options and trim levels. Ford has also introduced new manufacturing technology for Lightning production.
The REVC, which was built as a new assembly hall within the Ford Dearborn Truck Assembly plant, has been expanding capacity almost since it broke ground in 2020 with vehicle reservations far outpacing its original planned capacity of 45,000 per year. According to Ford, the plant is projected to produce around 70,000 F-150 Lightning trucks in the calendar year 2023. It expects to reach the 150,000-unit pace by this autumn.
Ford's director of manufacturing, Debbie Manzano, commented "we are all looking forward to getting these F-150 Lightning trucks into the hands of our customers – from the US to Norway."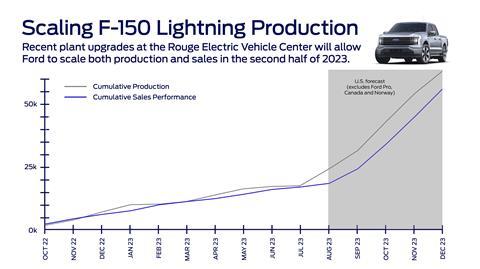 Along with increasing production capacity, Ford has used the shutdown to improve layout, design and production technology at the plant. For example, Ford has introduced a system that automatically measures and validates exterior body fit for margin and flushness precision. According to the carmaker, it's the first time such tools have been deployed in Ford's North American plants.
A further station was also added to validate wheel alignment and headlamp aim for driver assist technology.
The expansion of the REVC has precipitated the training of 1,200 additional plant manufacturing employees and the rapid onboarding of incoming operators via instructive shadowing systems. Ford has revealed that it is also ramping up EV component production at other plants in Michigan, including battery pack production at its Rawsonville Components Plant, while the Van Dyke Electric Powertrain Center has increased output of EV power units to match volume at the REVC.
The expansion at the Rouge Electric Vehicle Center will support shorter order-to-delivery times for customers. Ford expects overall Lightning production to outpace US sales by the end of 2023, by which time it expects cumulative sales to surpass 50,000 units (excluding export sales to Canada and Norway, for example).
The REVC, which up to now had only produced limited trim options for the Lightning, will also increase higher-trim levels like XLT, which accounts for over 50% of new orders. Lightning Pro units are now available for retail customers in limited quantities, with these units allocated for reservation holders who have been waiting to order since launch, according to Ford.
The OEM has also reduced pricing of the Lightning, which it said has helped to drive a threefold increase in web traffic and a sixfold increase in customer orders.
The REVC's use of automatic guided vehicles (AGVs) to move vehicle bodies throughout the assembly hall, as opposed to skillets build into the floor, is one reason that the carmaker has said it was able to expand capacity in such a short time. Rather than digging up the floors, Ford was able to expand the hall space and add more AGVs.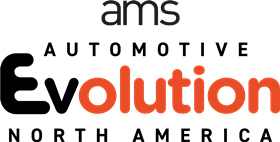 Learn more about Ford's current and future manufacturing strategies for electrification and flexible production at the first AMS Evolution North America conference, October 16-17 in Dearborn, Michigan. Find out more here