The use of automated guided vehicles instead of a traditional assembly line format is a key enabler in the aggressive production ramp-up Ford is implementing.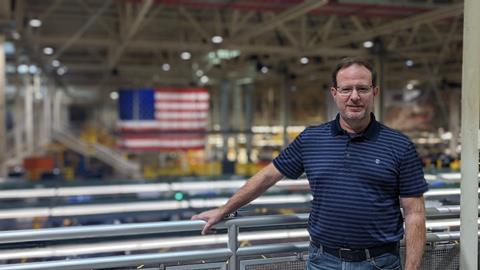 Ford's Christopher Skaggs projects an unusually calm demeanour for a man tasked with ramping up production of the electric F-150 pick-up truck with 200,000 customers waiting in line for one at the last count.
The runaway success of an electric variant of the best-selling car in the US, caught Ford off-guard. Though the F-150 packaging is a crowd pleaser, it was less certain what customers would make of a battery-powered and planet-friendlier variant of this macho-looking motor.
Any doubt there was though, is now gone and Skaggs, Ford's battery electric vehicle planning and implementation manager at its Rouge plant in Dearborn, on the outskirts of Detroit, Michigan, has the job of increasing output of the 'Lightning' EV four-fold to 150,000 by the autumn of 2023.
Skaggs took time away from that busy schedule to share with Automotive Manufacturing Solutions some of what the task entails.
Christopher, to what extent did the demand for the Lightning surpass Ford's expectations?
I think everybody was caught by surprise when we got 200,000 reservations very quickly. I guess it's not surprising when you drive the truck. It's phenomenal. Maybe even people who would scoff at driving a battery electric vehicle because they are used to driving a gasoline vehicle, once they drive it, it quickly changes their mind. So we were surprised by the demand but we were able to react quickly.
You're planning to expand assembly capacity at the Rouge / Dearborn plant at the same time as building the car. It sounds like quite a complex task…
That's the challenge. I have never seen anything like this in my career. We have had numerous instances when we have had to increase capacity. The Super Duty is an example. It came out around 2000 and demand was insatiable, so we kept increasing and increasing capacity. But this, I have never seen anything like this. It's my responsibility to quadruple the capacity, hire the people, train them, get the equipment and the new sections of the plant set up … and to get all that ready to go in a little less than a year from now. It's a huge challenge but we have done it before and it's a good challenge to have.
Are you seeking to quadruple capacity from start-to-finish or only in some aspects of the F-150 Lightning's production?
It's more about final assembly in this case. Body and paint are shared with the Dearborn plant making the ICE and hybrid F-150. There are some things we can do in the existing footprint there but it's really about final assembly, doubling the size of the building and adding more equipment, more workstations and people.
We share a stamping facility (with ICE and hybrid). The Lightning goes through the same body shop, the same paint shop, then it goes through what we call an ASRS, an automated storage retrieval system which is basically a stacker for painted bodies. They go to Dearborn if a hybrid or ICE and to Rouge Electric Vehicle Centre if a battery electric. They do not share any production lines after that point.
Digital management of the assembly line
The integration of tablet computers at individual workstations may not sound like a high tech or expensive and involved advance but Skaggs stressed that the shift to such paperless management of the assembly line is paying big dividends for speed and efficiency as well as enabling shift leaders to be more responsive to the needs of their teams and to deal with any snags before they begin to reverberate down the production line. It's a trend that AMS is spotting more frequently in the industry now and manufacturers are consistent in their positive feedback on it. Watch this space for coverage soon of one of these carmakers, Renault, who gave a demonstration of the tablet and software it uses for seamless communication between shopfloor workers and managers.
"If workers need help with anything, that's now a digital process. We digitise what was formerly a paper-based process. We've given them more of a voice and they are able to tell us when they have issues and may need help and we can respond to them much more quickly," Skaggs said.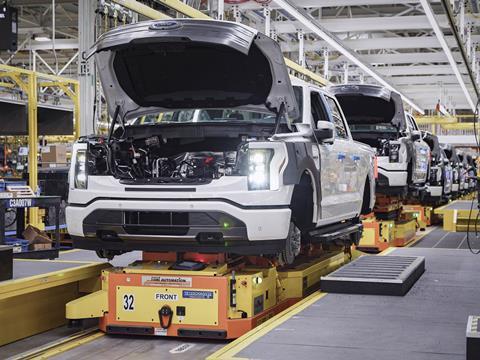 Could the expansion work end up slowing down production?
That's the beauty of having the AGVs. We'll be able to add them all on the north and south end (of the building) and then at one point, just make the connection between the three sections of the building and basically turn the switch on and run it all faster.
What is the significance of the AGVs in your production ramp-up?
AGVs are basically big platforms that are pushed down the line and they ride on rollers but they are flush with the floor. So you have the normal walking surface then the skillet which is flush with the floor, is on rollers, which is on a pit, a shallow pit, but a pit nonetheless.
We use automated guided vehicles instead of a skillet system. That was a very conscious decision for us to be flexible. There are no pits that have to be dug so we can very quickly add more AGVs and we don't need to tear the plant up. If we were on a skillet system, the skillet would ride in a pit in the floor then if you wanted to extend the line or add a line, you would be busting up concrete and pouring new lines and it's just much more challenging. You would have to take a significant amount of downtime to do what we're doing within a year. You would have to shut the facility down, which we are not doing. We're doubling the size of the building on both ends while continuing to build trucks in the middle. AGVs allow us to do that.
Moving on from assembly line expansion to assembly itself, to what extent is F-150 Lightning production affected by industry-wide supply chain disruption?
Despite the strong demand, Ford has prioritised the F-150 Lightning and other EVs in order to build as many as we can for our customers. The supply chain has not really disrupted the F-150 Lightning. We are one of the highest priority plants so if there were concerns, the F-150 Lightning is not impacted.
There have been reports of shortages of factory floor workers affecting automakers in the US. Is that a limitation for production of the F-150?
For the Rouge Electric Vehicle Centre it has not been a problem. The vast majority of our workforce came from Dearborn Truck Plant. REVC is a preferred place to work. It is a brand new building. It's very environmentally sound. Basically we tore down Dearborn assembly plant which was built in 1918 and we built the Rouge Electric Vehicle Center on top of it. We have had people come over from the main plant to REVC. They are used to building a truck every 53 seconds and since it's a preferred place to work we have not had any shortage of people at REVC … The truck builds very similarly. It still has headliner, carpets and seats… There are still things in the chassis that are the same as well, body mounts, front suspension, so a lot of the tooling is familiar and a lot of the people have already built that ICE truck or hybrid truck at rate and now they are over in Rouge Electric Vehicle Centre.
Is there any requirement for flexibility in F-150 Lightning manufacture given there are fewer variants?
Currently we only build one variant of the F-150 Lightning. We build a crew cab short box whereas with the ICE version, you can get a medium or long box, a super or regular cab, four wheel drive, two wheel drive. We don't have that capacity so it's a conscious decision. We picked the most popular cab, the short box version for the F-150 Lightning. There is no powertrain complexity. Everything is four-wheel drive. We do have two battery variants, standard and extended range.