With a $50bn investment, the carmaker aims to produce 600,000 EVs a year by late 2023 and 2m by 2026, incoporating new battery chemistries and updating its Cologne plant.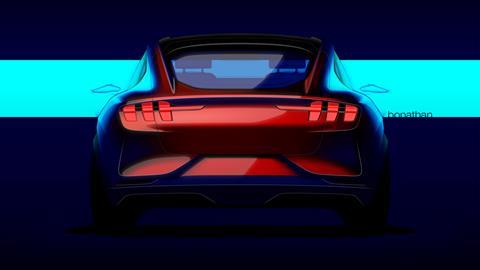 Ford Motor Co. will invest $50 billion through 2026 to ramp up electric vehicle production and it will incorporate lithium iron phosphate among its battery chemistries, it said in a statement.
The US carmaker said it has sourced 70% of the battery capacity it needs to produce 2 million EVs a year by 2026 while it has secured all of the cell supplies required (60 gigawatt hours) to reach an interim target of 600,000 by late 2023.
The company said it expects growth in EV sales to grow more than twice as fast as current market forecasts, predicting increases above 90% per year through 2026.
Lithium iron phosphate (LFP) battery packs will be fitted to Mustang Mach-Es starting in 2023 and F-150 Lightning models from 2024. Ford says this chemistry will increase capacity to supply batteries for high-demand products, reducing reliance on nickel and cutting costs by 10-15%. The chemistry offers minimal range loss over years of operation, Ford says.
It will seek to procure 40 gigawatt hours (GWh) of lithium iron phosphate (LFP) in North America in 2026 and continue to offer nickel, cobalt, manganese (NCM) cells in other products.
"Ford's new electric vehicle lineup has generated huge enthusiasm and demand, and now we are putting the industrial system in place to scale quickly," said Jim Farley, Ford's president and CEO and president of Ford Model e.
"Our Model e team has moved with speed, focus and creativity to secure the battery capacity and raw materials we need to deliver breakthrough EVs for millions of customers."
The automaker has targeted adjusted EBIT margins of 10% overall and 8% on its EVs by 2026. It expects half of its global output to be fully-electric vehicles by 2030 and to offer only EVs in Europe from 2035, by when the European Union has mandated an end to new ICE car sales.
Ford has started an overhaul of its Cologne Niehl plant in Germany including energy efficiency solutions that will save 2,600 megawatt hours (MWh) of power a year and reduce CO2 emissions by more than 2,000 tonnes, it said.
The first Cologne-made EV will be produced in 2023 with a second electric model to follow in mid-2024 and EV output to eventually reach 200,000 vehicles a year. Last year, Ford announced major plans to invest in Cologne and convert it into an electrification centre.
The breakdown of its 600,000 EV output in 2023 comprises of 270,000 Mustang Mach-Es for North America, Europe and China, 150,000 F-150 Lightnings for North America, 150,000 Transit EVs for North America and Europe and an initial 30,000 units of a new SUV in Europe.
The company has signed deals with a number of battery suppliers for cells, including Contemporary Amperex Technology Co. or CATL which will provide prismatic LFP packs for Mustang Mach-E cars and F-150 Lightnings as well as supplies of NCM cells from LG Energy Solution (LGES) in Wroclaw, Poland. SK On will offer further NCM cells from its factories in Atlanta, U.S. and Hungary and from a potential joint venture in Turkey with Koç Holdings.
The carmaker has also signed non-binding MOUs with mining companies to secure supplies of minerals, including with Vale Canada, PT Vale Indonesia and Huayou Cobalt and BHP Nickel West in Australia.
AMS will discuss battery materials and production in a new livestream on EV Powertrain Production on July 28, featuring Italvolt's Lars Carlstrom and AMS analyst Daniel Harrison. Register or watch the livestream here