Czech Republic - Batteries for hybrid vehicles in the Volkswagen Group are being made at Skoda's Mladá Boleslav factory
Czech Republic - Skoda has started making high-voltage traction batteries for plug-in hybrids at its Mladá Boleslav plant. These will be used in models across the Volkswagen Group, starting with the Skoda Superb iV which starts production in September 2019 at the Kvasiny plant.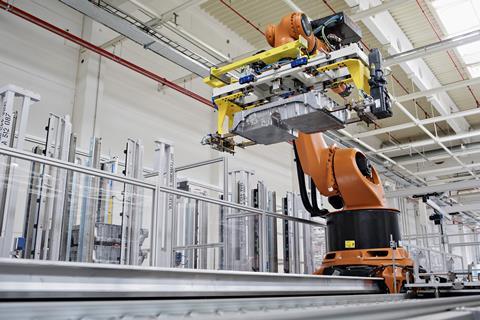 "For us, this production of battery systems, which is very technologically challenging, is an important step in our switch to electromobility," commented Christian Bleiel, head of component production at Škoda. "We will further expand the production of electric components. In developing the expertise required for this, we are making use of the exchange of information between experts within our overarching Volkswagen Group Components network. This bundles together knowledge of everything from battery cells to recycling."
The battery production line has an initial output of 150,000 units per year, but Skoda has said this number will increase over the next few years as demand for electrified vehicles grows.
The OEM has spent €25.3m (US$27.9m) on the production line for the high-voltage batteries, construction of which started in 2017. This includes 13 Kuka robots that work alongside humans. The line requires specific safety measures as many of the electronic parts are sensitive to electrostatic discharge. Electricity-specific fire prevention measures and precautions for handling damaged batteries have also been implemented.
The batteries are specifically designed for vehicles that use the VW Group's MQB platform. The Group is also focused on rolling out models on its MEB platform, which will underpin pure electric vehicles. It has recently signed an agreement with the Swedish battery company Northvolt to build a factory in Germany that will produce batteries for these models.