After a record-breaking year, Skoda's Kvasiny plant is aiming higher still, backed by industry 4.0. Gareth Price visits the operation in East Bohemia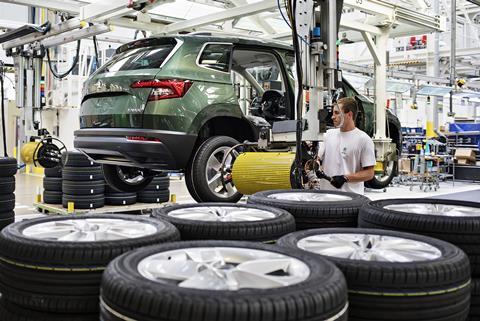 In 2018, Skoda set a new production record at its Kvasiny plant as, for the first time, more than 300,000 cars left the factory in a single year. Bear in mind that its 2014 figure was around 166,000 so it is hard not to be astonished and impressed by extent of the change Kvasiny has undergone. And, indeed, the pace. The achievement comes as a result of the many modernisation projects carried out at the plant, particularly through Skoda's SUV offensive.
Kvasiny has two bodyshops, a paintshop to serve them and two assembly halls that manage an admirable mix of models. In one hall, lines assembling the Kodiaq and Karoq models now have Seat's Ateca to deal with. The Kodiaq also runs on a second line together with the brand's flagship, Superb. A PHEV version of the Superb begins production this year as Skoda makes a first foray into electrified vehicles.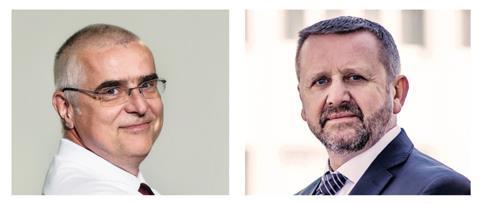 Set in the Hradec Králové region in East Bohemia, the Kvasiny plant is Skoda's second largest production facility, after it's principal site in Mladá Boleslav. The Czech car manufacturer employs around 9,000 staff there, making it one of the biggest employers in the country.
Transforming times
The progress made at the plant is naturally a source of great pride for an OEM that has undergone transformation in many aspects in the last decade. Michael Oeljeklaus, Skoda board member for production and logistics, says: "This record speaks for itself: with its highly skilled workforce and state-of-the-art technology, and being a multifunctional centre of excellence in production, this site couldn't be better equipped for the future."
The record-breaking year meant that the outgoing plant manager was leaving on a high note. In July, Jiri Cerny left his role as manager of the Kvasiny plant to take on a new role. He moved to China to run SAIC-Volkswagen's joint venture production plant in Ningbo. But Cerny is steeped in the Czech automotive manufacturing industry, having also spent nine years at the TPCA factory in Kolin, central Bohemia. There, he rose to the position of production head and vice president at the Toyota-PSA joint venture before moving to Skoda.
Over the past few years under Cerny, the Kvasiny plant has undergone the most extensive modernisation and expansion in its 85-year history. As part of its SUV campaign, which began with the Kodiaq, Skoda invested a total of 11 billion Czech korunas in modernising production processes.
In 2018, the new multifunctional competence centre commenced operations, bringing Kvasiny's vehicle testing and analysis under one roof. The facility houses quality and logistics operations, and offers space to store pre-production vehicles.
Speaking to the Czech media, earlier this year, Cerny reflected on how, on his watch, the plant has developed: "It's a completely different factory – whether it was a new hall built, as in the case of the Superb production and a welding shop, or the 100% renewal of technology in an existing hall. This is the case with the Ateca, Karoq and Kodiaq SUVs where we have invested in the new paintshop and in assembly."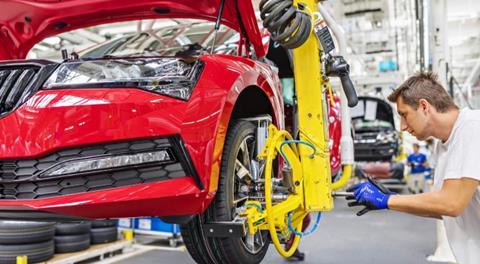 Where change is the only constant, it was important for Kvasiny to equip itself for adaptability as well as output. In the past, when SUVs were introduced into production, the plant had to endure a decrease in annual production. New welding technologies were introduced and the initial side-effect impacted on numbers. With the upgrades now in place, integration of new models has a steadier path and volumes only increase, as the figures have shown.
Cerny's successor is Milos Halbich, who brings with him extensive experience from various managerial positions in the automotive industry. Most recently, he was currently responsible for the production of the Fabia and Scala at Skoda's Mladá Boleslav factory.
Prize winner
At the centre of Kvasiny's success with industry 4.0 technologies is its dProduction project in the digitalisation of manufacturing processes. Launched in April 2019, dProduction is based on a paperless assembly line, saving time, preventing errors, making it easier for assembly workers to find instruction and helping with workplace orientation. The project is based on four pillars: visualisation of complexity, digital team work, digital quality management and digital work instruction.
The dProduction project was selected by German-based industry magazine Automobil Produktion and consultantcy Agamus Consult as the winner of the Automotive Lean Production awards. Marek Jancak, leader of car production at Skoda and head of the project says: "dProduction is a breakthrough project not only within Skoda but across the entire automotive industry. Similar scope of digitisation is unparallaled."
Kvasiny's expansion checklist
Skoda's second largest plant will see its capacity increase to more than 300,000 vehicles per year and is currently undergoing the most comprehensive modernization and expansion in its 85-year history.
Plant for plug-in hybrid vehicles Series production of the plug-in hybrid SUPERB will begin during in 2019.
Small parts warehouse From its AKL small parts warehouse, components are brought directly, just-in-sequence to the assembly line automatically: storage and removal both take place fully autonomously.
New multifunctional competence centre The new competence centre includes a testing and quality centre, a logistics centre, parking areas for pre-production vehicles and an event hall, all in one facility. The new quality centre combines all of the areas concerned with vehicle testing and analysis under one roof – including the acoustics lab, odour lab and vibration test stands.
Expansion of the bodyshop In bodyshop A, a manufacturing area, 740 car bodies are produced per day; the capacity of the bodyshop B manufacturing area is 680 car bodies.
Storage strategy
The state-of-the-art credentials at Kvasiny are further underlined with the automatic small parts warehouse (SPW), opened in 2017.
"In terms of the various methods of automation in this plant, this is right up there with the most important innovations we've introduced recently," says Libor Cervinka, coordinator of the internal logistics at Kvasiny.
Covering 1,750 sq.m and standing 10m in height, the SPW offers space for almost 45,000 shipping crates (small load carriers). Driverless transport vehicles are used early on when the parts are put into storage: they take the delivered crates, identify their shape and contents using a camera and scanner, and transport them into the warehouse.
Cervinka adds, "We have saved on space, cutting down the area needed by half. Then, because it's an automated system, we have cut out potential mistakes and human error. In other words, if the supplier doesn't make a mistake in sending incorrect parts, or quantity or incorrect documentation, we won't see mistakes in the automated system."
At 10m high, the SPW saved space by going upwards. Also, as the width of the aisles is only that of a single bin: "For a fork lift truck you need a 4m aisle. Here's it's much less," Cervinka explains.
As more vehicles have joined the assembly lines at Kvasiny, and with more to come, so the parts warehousing and just-in-sequence lineside delivery face a greater challenge. But, Cervinka confirms, the SPW automated system has helped the plant thrive through the transition and growth.