Head of Skoda Kvasiny plant, Miloš Halbich, talks to Mike Nash about recent socioeconomic challenges, fluctuating markets and how the facility is a "crucial pillar" in the company's global production network
In 1934, the inventor, engineer and Jawa Moto founder František Janeček built a bodywork factory on the outskirts of the small town Kvasiny, two hours east of the capital city Prague. Following World War II and the death of Janeček, an agreement was made with AZNP Mladá Boleslav, Skoda's official name at that time, to transfer the production of the Skoda Superb to Kvasiny. In 1949, the Kvasiny plant was officially fully integrated into Skoda's production network and has been operating ever since as one of the company's key sites.
Speaking to AMS, Miloš Halbich, Head of the Kvasiny plant explains its importance - and how it continues to evolve to meet market developments.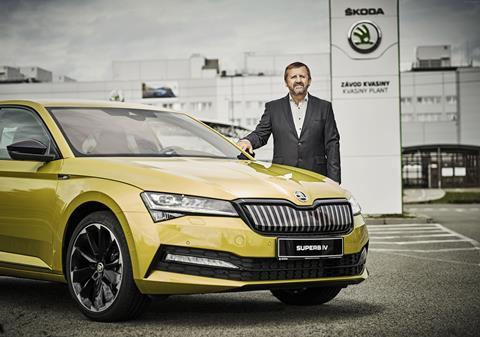 Can you tell our readers a little about yourself, your background and how you came to be plant director at Kvasiny?
I have been working in the automotive industry since 1990 when I joined LIAZ, which was then a Czechoslovak automotive company specialising in truck production. I started at Skoda three years later, working various management positions at the Mladá Boleslav paint shop. Over time, I climbed my way up to production management and eventually took on the responsibility of managing the production of the Fabia and Scala models. I have been serving as head of Kvasiny since 2019, a plant boasting a nearly 90-year tradition of car manufacturing excellence. The site has undergone a remarkable transformation in the past 20 years, and continuous modernisation has made it one of the most advanced plants in the automotive sector, even within the pan-European context.
Have there been any major changes since you took charge four years ago?
One of the key milestones of my career at Kvasiny was the start of series production for the Skoda Superb iV Plug-In Hybrid. This marked a big leap forward for the plant and indeed the entire company as it represented Skoda's first series production of an electrified car. The project was supported by an investment of around €12m.
Over the past three years, several major events – most notably, the coronavirus pandemic and the resulting semiconductor shortage – have had a significant impact on the plant's operations. During the pandemic, we implemented dozens of safety measures at the plant to protect the health of our employees and their families. Thanks to these measures and restrictions we were able to resume production earlier than other companies. Moreover, this period taught us valuable lessons about adaptability; particularly regarding production planning. We have transitioned to a completely new management system based on the availability of parts in supply chains which has enabled us to meet demand peaks as quickly as possible. Embracing new ways of working - including mobile work - has provided both the plant and our employees with increased opportunities. Despite the challenges, I believe we have come through this period well, primarily thanks to the extraordinary commitment of all our employees.
"We place significant emphasis on production data management, from its collection and refinement to the application of advanced AI tools and digital twins for production operations" – Miloš Halbich, Skoda
Have you put any measures in place to safeguard the plant from recent socioeconomic challenges?
Like other Skoda Auto facilities, the Kvasiny plant has felt the impact of recent challenges such as the Ukraine conflict and the chip shortage, leading to intermittent reductions in car production. Although the supply chain situation has greatly improved and production is currently at full capacity, uncertainties remain. Our supply chain is still precarious; logistics are not optimised, and many suppliers are contending with raw material shortages, market price volatility and staffing issues, while challenges related to insufficient transport capacity continue to exert considerable pressure on global logistics.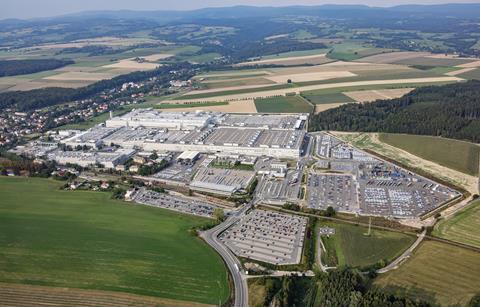 What are the current manufacturing trends that are shaping production at Kvasiny?
Sustainability is a cornerstone in the ever-evolving landscape of European automotive manufacturing. As we navigate fluctuating energy markets and the limited availability of resources, we have adopted hybrid solutions that combine multiple resources and adhere to circular economy principles. This approach not only ensures stable energy supplies but also aligns with Skoda Group's ambition to achieve net-CO2 neutrality across all Czech and Indian sites by 2030. At the same time, resource efficiency remains a priority as we incorporate lean manufacturing principles into new initiatives to improve resource usage and minimise waste. Our efforts not only meet, but in some cases, exceed local and EU regulatory mandates, steering our industry toward a more sustainable future.
Digitalisation and automation are also key trends influencing Skoda's production and logistics. For many years, we have effectively implemented Industry 4.0 technologies such as the Internet of Things, augmented reality, autonomous robotics and 3D printing. We place significant emphasis on production data management, from its collection and refinement to the application of advanced AI tools and digital twins for production operations. We recognise that the foundation for successful digitalisation lies in optimal production processes and technologies, as well as a workforce skilled in utilising digital tools and applications. By supporting and integrating these elements, we aim to achieve our strategic objective of data-driven production, which enables us to better plan and manage production while also effectively addressing challenges, including those posed by global crises like the COVID-19 pandemic. Quick and efficient communication forms the basis of all key decisions.
How are current automotive trends like electrification, cockpit digitalisation and autonomous driving affecting or likely to affect the Kvasiny plant?
The effects of cockpit digitalisation, or more broadly, connected cars, are already evident on the assembly lines. Additional work cycles have been introduced to comply with new regulations on connected cars. Electrification represents the next major transformative trend, and over the longer term, the Kvasiny plant will undergo modifications to accommodate the production of electric vehicles which have different manufacturing requirements to ICEs.
You recently announced a €12m investment to modify the production line for the arrival of the new Kodiaq. What impact will the introduction of the model have on the plant?
The arrival of the new Kodiaq will not alter the model mix at the Kvasiny plant. The new Kodiaq is set to replace its predecessor, ensuring that the model mix - which includes the Kodiaq and Karoq - remains consistent after its launch.
What makes the Kvasiny plant a unique and exciting place to work?
The plant in Kvasiny holds a special charm because it is located in a stunning landscape within sight of the Orlické hory (Orlice Mountains) while also boasting a long tradition of craftsmanship, manufacturing excellence and human commitment that have always made it a showcase of Skoda production. Unlike the main plant in Mladá Boleslav, which has historically focused on high-volume production, Kvasiny has always taken pride in producing smaller batches, something cherished by the locals. Today, with a capacity of more than 300,000 vehicles per year, the Kvasiny plant has entered a completely different league. Despite this growth, our employees have retained their enthusiasm and skills, complemented by state-of-the-art technology, which makes Kvasiny a unique industrial enterprise.
Our success also benefits the surrounding region. As one of the country's largest employers, we invest a lot of resources in improving the quality of life for the local population. We have a range of programmes in place, including environmental protection, healthcare and social services, and education for children and young people. We also emphasise cultural and entertainment activities and strive to improve road safety. The combination of living in a beautiful landscape and having access to attractive job opportunities is indeed unique. Moreover, we have ambitious plans for the future, including complete carbon neutrality for the production by the end of this decade, so I am confident that car production in Kvasiny will continue to be an asset for Skoda, our customers and this entire region.
Are there unique or interesting aspects of the Kvasiny plant, its processes or technologies that you would like to highlight?
Two features of the Kvasiny plant stand out. First, the innovative dProduction system assists staff by guiding them through manufacturing steps, notifying them of any process changes and serving as a quality control record. This digital tool prevents errors and reduces both time and costs, acting as a digital manual and a paperless documentation system.
Second, our assembly lines are already compliant with United Nations Economic Commission for Europe (UNECE) requirements. The UNECE has enacted two regulations that focus on cybersecurity management systems and software updates for vehicles. In the EU, these apply to all new vehicle models to protect modern cars connected to the internet from potential cyberattacks. To meet UNECE standards, the number of cycles on our assembly lines has increased by roughly a third.
What are your goals and aspirations for the plant?
The Kvasiny plant is a crucial pillar of Skoda's production network in the Czech Republic and plays a significant role in fulfilling our Next Level strategy. We have implemented lean supply chain principles at this location, which is equipped with a well-established rail infrastructure for shipping finished cars globally. Our aim is to increase the proportion of vehicles dispatched via rail.
Skoda has clearly defined, long-term plans for each of its production sites. Aside from maintaining and expanding existing capacities, our overarching goal is to further maximise plant utilisation. This will assure long-term job security for our employees, which remains a top priority for us and our social partner, the KOVO Trade Union. In the longer term, all three Skoda plants in the Czech Republic will eventually be producing electric vehicles or e-components. We are evaluating various scenarios for the transition to electromobility. The Kvasiny plant will follow in the footsteps of the Mladá Boleslav plant, the first of our sites to fully transition to EV production.