As it marks the 125th anniversary of the company, Skoda is chalking up record-breaking output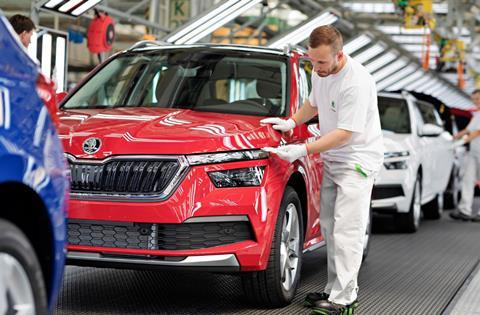 Skoda achieved a production milestone in 2019, assembling more than 900,000 vehicles at its Czech plants for the first time in its long history. The total across the Mladá Boleslav and Kvasiny factories was 910,000 vehicles, a production increase of 2.25% compared to the 890,000 of 2018.
This year, Skoda is celebrating its 125th anniversary but is looking ahead toward a new era. Serial production of its first model based on Volkswagen Group's MEB modular electric car platform is set to begin at Mladá Boleslav, Skoda's headquarter plant.
In 2019, Mladá Boleslav assembled around 590,000 vehicles including 260,000 units of the Octavia, the brand's well-established bestseller now in its fourth generation. The plant's other models comprise the Fabia, Scala, Kamiq and Karoq.
As well its large-scale vehicle assembly, Mladá Boleslav is a key powertrain centre for Skoda. In 2019 alone it assembled 570,000 engines and 570,000 MQ 200 and MQ 100 gearboxes as well as 4,000 batteries. More than 2,312,000 axles were also assembled there and its brand new paintshop came online in August 2019, boosting the overall body-finishing capacity at the Skoda headquarters to 812,000 units per year.
A €219.6 million investment in the new facility created more than 650 new jobs and, Skoda says, it is one of the most cutting-edge and eco-friendliest of its kind in Europe.
In recent years, Skoda's second-largest Czech plant at Kvasiny has taken on an SUV specialism and produces the Kodiaq, Karoq and Kamiq. The flagship Superb is also assembled the site, including the Superb IV model variant featuring plug-in hybrid drive. It's Skoda's first electrified production model in the company's history and is assembled on the same line as the combustion-engine-powered variant.
At a third Czech site, Vrchlabí, Skoda operates a state-of-the-art component facility. Last year, the site's workforce of around 1,000 build more than 550,000 DQ 200 automatic direct shift transmissions, fitted to Škoda's own models as well as other Volkswagen Group brands.
While 2019 proved a fruitful one for the company, it is pushing on in earnest. Over the next five years investment of €2 billion will see Skoda develop further its alternative drive technologies and new mobility services.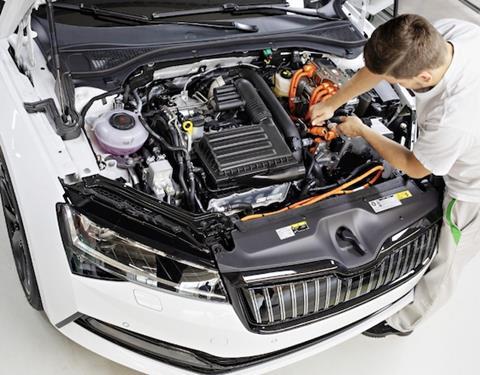 New model programme
Looking ahead, the Skoda brand plans to introduce over 30 new models and variants by 2022, many of which will be all-electric models. Electric and electrified models which have been announced so far include:
• The plug-in Superb hybrid; this is expected to account for 15,000 units or around 20% of total planned Superb sales, with the potential for this rise to 25,000 units per year. The introduction of the Superb plug-in hybrid at Kvasiny followed a €12m investment to modify the welding lines, a new feeder unit for chassis frames, specific handling equipment for the batteries and additional assembly stations for fitting the hybrid components.
• The new all-electric Citigo-e to be made at the Volkswagen plant in Slovakia, alongside the new electric Up! and Seat equivalent.
• An all-new compact EV, the Skoda equivalent to the forthcoming Volkswagen ID3 and Seat El-Born; the Skoda version will draw on the design cues of the Vision iV crossover coupe, although the actual production model will be more like a conventional hatchback. The Skoda version is expected to be made in Kvasiny.
• A mild-hybrid version of the revised Octavia, probably using the hybrid technology to be used in the future Superb hybrid model.
A new small SUV to be produced in India; this model will play a crucial role in transforming the brand's activities in the country. The new SUV will also contribute to plans for up to 95% of Skoda models sold in India to be made there. Other objectives for India include plans to raise local sourcing for Indian-made vehicles to over 90%, suggesting significant investment in engines and transmissions will have to follow in the near term. The new SUV is expected to be launched in 2021, with a new sedan the following year.
A new plant in Turkey … or elsewhere?
The Volkswagen group plans to build a new factory for the next Passat and Superb, with Skoda given operational responsibility for this programme. A formal announcement had been expected to be made in October but the Turkish government's military intervention in Syria led to a postponement of this confirmation. The new plant is expected to see an investment of around €1 billion.
The plant is expected to be built around 40km north-east of Izmir, with production due to begin 2022. Peak production is currently scheduled to be 300,000 units a year (with early reports suggesting that this could be doubled in due course); production allocation is expected to be two-thirds for the Passat and one-third for the Superb. When the provisional news of the Turkish plant, and the plan to make Passats there came out, the Turkish government decided to switch future government cars from Audis to Passats (but not Superbs!).
When the delay in confirmation was announced, other countries – notably Bulgaria, Romania and Serbia – restarted their bidding for the factory; however, Volkswagen has said that, for now at least, it is not considering other production locations.