As OEMs continue to push the scale and variety of their electrified vehicle ranges, Ian Henry asks, is battery production and supply up to the task?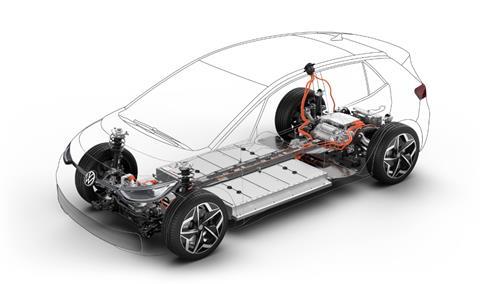 The move towards full battery electric vehicles becoming mainstream took another step forward at the recent Frankfurt motor show.
Volkswagen's launch of the ID3 was the undoubted highlight. Other important models included the Porsche Taycan and the Mercedes EQV van.
Alongside these were several new plug-in hybrids. However, while the number and variety of electrified vehicles continues to grow, concern remains over how they will all be powered. Can the industry build enough batteries and who will build them?
Battery production has emerged as a key issue in the industry. While Tesla has operated an integrated car and battery plant for some years in California, and plans to do the same in China (and probably in Europe in the fullness of time), European car companies generally source batteries from independent suppliers, away from the car plants.
But the scale of investment required to meet future demand should not be underestimated; for example, while JLR will make batteries in its own 150,000 units factory in Hams Hall near Birmingham, it still wants the UK government to facilitate a much larger gigafactory at a cost of UK£1.7bn.
Suggestions have been made that between four and thirteen battery plants could be required in the UK alone; and while thirteen for the UK may seem excessive, if the UK is to sustain vehicle production in the future then battery plants will certainly be needed.
JLR's CEO Ralf Speth has even said that the future of vehicle production is more dependent on battery production than Brexit.
Across Europe, battery production is growing. A new player, Chinese company Svolt Energy Technology, will build a 20GWh lithium-ion battery plant in Europe, although the location has not been confirmed.
PSA and the Total subsidiary, SAFT, are planning to convert the Opel components plant in Kaiserslautern into a battery factory. They have asked for EU support for this: the French government is also willing to provide 700m euros.
Meanwhile Volkswagen is partnering with Northvolt to build a battery plant in northern Germany. Northvolt's CEO, Peter Carlsson, has also suggested that Europe will need at least 10 battery gigafactories by 2030, each costing around 1.6bn euros at current prices; the first of Northvolt's factories is under construction in Sweden.
Volkswagen is also planning a battery cell gigafactory in a joint venture with SK Innovation of Korea, while it continues to source batteries from the European factories of other Korean suppliers, Samsung and LG Chem.
The expansion of battery and cell production in Europe is the surest sign yet that the move to EVs is unstoppable. But while the industry may well ultimately have enough battery manufacturing capacity in place over the next decade, the question of whether the car companies and the battery partners have enough guaranteed supply of lithium and cobalt supply lingers.
Prices of both rare metals continue to rise, as does that of nickel. Supply of all is potentially restricted; and demand is rising, inexorably. That is an expensive mixture, giving the industry another headache; it may well have the capacity to build the batteries the market needs, only to find they can't because the raw materials are either not there or are too expensive.
More government subsidies may well be required to make it economic for consumers to switch to EVs – the pressure on government finances across the world will only get tougher.