Scania gave AMS an exclusive insight into its endeavours in digitalisation, automation, and software development on the factory floor.
In an interview as part of the AMS Automotive Evolution Livestream on battery production, Scania's head of battery production Tony Persson explained how the company is exploring automation and digitalisation opportunities for its new battery assembly plant.
Digital factories
Scania revealed that it is looking into digitalisation of the factory layout and battery production to further improve production capacity as it prepares to launch battery module assembly at a plant in Södërtalje, Sweden, set to open in 2023.
"The process [of producing battery packs] is not that complicated," Persson says. "It will be a highly automated volume factory. The facilities will be roughly 18,000sq. m in total, including logistical areas, module and pack assembly."
Scania's manufacturing operations already include powertrain and transmission assembly at its plants. The powertrain operations are bigger than battery module assembly as they require more workstations and a larger workforce thanks to the higher level of work content and complexity. Battery assembly, on the other hands, will have fewer, heavier parts and an elevated level of automation, especially for the cell module line, which will be 100% automated.
"We will be able to run this around the clock, so with shift operations it will put us in a place where we can supply the chassis lines with the number of batteries needed, which is up to four, five, six batteries per electric vehicle," he says.
All the internal material handling will be automated using Automated Guided Vehicles (AGVs) or Autonomous Mobile Robots (AMRs). This allows for the possibility to venture into digitalisation and data collection of the process. Persson explains there are several drivers for automating factory operations and achieving a 20 second cycle time.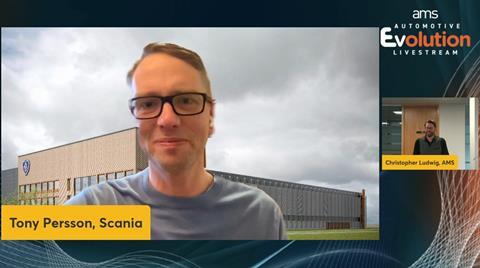 "The repetitions themselves, together with quite a small amount of variation, make that perfect for automation. Also, we are dealing with electrical components with a high voltage class, so there is that work environment side to it as well," he said.
Data collection and monitoring between the equipment and battery cells will also support further digitalisation. This can be used for problem-solving and improving productivity in the process.
Persson notes that digitalisation will also support training new employees on the factory floor or introducing new products, developing the new skillsets needed through a digital recreation of the production environment and the products themselves.
Complexity of assembly
Factors such as software integration and thermal heat management are important in module production and the overall strategic approach to assembly.
"If we're talking about the thermal, that's a very important part of the battery and the battery design, and then that becomes a delicate part of the production of the battery pack, so that is for sure one issue that we are looking into," Persson says.
Scania gathers information from its cell supplier, Northvolt, about the data from the cell production, which is then scanned and compared to measured data. The process is measured at several points throughout the process to see that there is no risk of thermal runaway.
"For production we will use new adhesives within the production, which are quite delicate to apply to the product," Persson says. "We need to be very careful about the amount that we apply to get the correct thermal properties on the product, on the battery and so on and so forth. Applying adhesives is nothing new for us, it's old knowledge, so to say, but the context is new, so there is some innovation involved in this area."
Scania is working with Northvolt on the production of cells on several levels. This includes the testing of data and cells.
Managing crises
Automotive manufacturing has faced several disruptions in the past few years, from coronavirus shutdowns to semiconductor shortages. This has taken place alongside a surge in demand for EVs. Persson notes that while Scania has not felt the pinch in its capacity so far, these global problems will require a response on a European scale.
The company has made a shift towards localisation to scale up production and mitigate disruptions.
"I think it will be important from a logistics viewpoint to have battery assemblies close to where the final assemblies [take place], in order to have a short loop logistic network," he says. "And then to make that work, of course, having suppliers of cells and all those type of components needs to be close-knitted."
Scania's new factory in Sweden will also be funded through Green Bonds due to solar panels on the roof and other sustainable factors involved in construction.
Persson predicted that a heightened focus on re-use and re-cycle processes for end-of-life batteries would soon become the priority of the sustainability shift, indicating that the future looks circular for Scania and the Automotive economy overall.
Learn more about scaling up battery cell and battery pack production from the AMS Automotive Evolution Livestream on battery production, which features Scania, Verkor, Henkel, S&P Global and Recharge.
TONY PERSSON WILL SPEAK ABOUT BATTERY PRODUCTION AT THE AMS AUTOMOTIVE EVOLUTION SUMMIT, ON MAY 17-19, JOINING OEMS, SUPPLIERS AND MANUFACTURING SPECIALISTS ON AUTOMOTIVE TRANSFORMATION