Scania is set to gradually discontinue bus body production at its plant in Słupsk, Poland by 2024, instead outsourcing the production to local bodybuilders.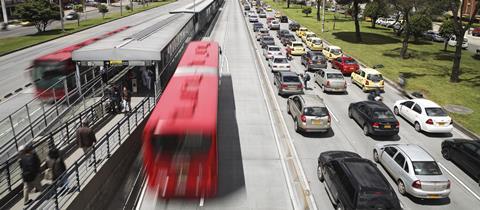 The company will discontinue production of Scania Citywide, Scania Interlink and Low floor-chassis, meaning the part of the plant that produces bodies for Scania chassis will close. Scania will continue to offer complete buses and coaches, leaning more on bodybuilders and modular systems.
The commercial vehicle manufacturer said it made the move due to the pandemic heavily impacting the bus and coach market. Although the market has gradually picked up, Scania said the pace of recovery is slow. This, combined with increasing competition and upcoming legislation that would require significant investment in new technology, caused Scania to make its structure leaner to "improve speed and flexibility."
"We are convinced that the bus and coach business will continue to be an important part pf Scania's offering going forward, but we need an updated strategy that enables us to deliver on our customer promise and secures a profitable business globally," said Stefano Fedel, head of sales and marketing, Scania.
"The majority of Scania's bus and coach business has always been in cooperation with bodybuilders where a high service level and a strong global presence has been achieved with local setups," Fedel added. "This successful approach will be further developed, now in even closer collaborations with our bodybuilders and partners to offer our customers complete solutions."
In March, Volvo Buses made a similar decision, announcing the decision to close its bodybuilding factory in Wroclaw, Poland by 2024. The company said it would focus its production on chassis and work with external bodybuilders to offer customers in Europe completed buses and coaches.
Volvo Buses said the business in Europe "has been loss-making for years," and that the move would "improve profitability and secure long-term competitiveness".
The decision is set to impact approximately 1,600 positions at Volvo Buses. Investment company Vargas Holding has signed a letter of intent (LoI) to repurpose and grow the production facility, and said it aims to offer employment to some of the Volvo Buses staff whose positions will be affected.
Although Scania is closing part of its Polish plant, the truck and bus manufacturer, which is part of the Volkswagen Group, is investing further in expanding production capacity for electric trucks and buses, including a new battery pack assembly plant in Södertalje, Sweden, which is set to open this year, and is working with battery cell producer Northvolt for supply of cells. AMS spoke last year to head of battery production at Scania, Tony Persson, about how it is revolutionising its factory floor through digitising its factory layouts and battery production to improve production capacity.