AMTE Power has accelerated its work towards a high volume battery cell production with plans for a mega-factory at the Michelin Scotland Innovation Parc (MSIP) near the city of Dundee.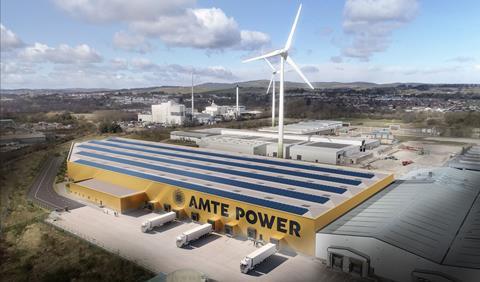 The company says the new mega-factory will complement its existing production facility in Thurso, Caithness and enable it to rapidly scale up to mass manufacturing volumes in response to high levels of interest in its cells from customers in the automotive and energy storage markets.
AMTE says the MSIP site, formerly a Michelin tyre factory, offers a highly skilled local workforce, onsite renewable energy, good transport links and support from the Scottish Government.
The proposed plan involves fitting out an existing building at MSIP for battery cell production, drawing on the experience and expertise gained at the Thurso facility along with developments through work with the UK Battery Industrialisation Centre in Coventry and at its technology centre in Oxford.
Commenting on the investment, Kevin Brundish, CEO, AMTE Power, said: "We are excited to announce Dundee as the preferred location for our first mega-factory, a quantum leap for AMTE. The change in our execution strategy will accelerate our journey to mass manufacture of high value added, differentiated cells. The mega-factory will be a platform from which AMTE can harness our advanced inhouse capabilities to build further factories to meet the huge demand for battery cells – allowing us to rapidly scale up production and fast-track the path to achieving net zero."
The company's production approach has similarities to that some of the start-up electric vehicle manufacturers in utilising existing infrastructure, which offers flexibility around locations and requiring a lower level of initial investment to become operational. In its statement AMTE differentiates the benefits of a mega-factory over the now more commonly planned giga-factories in that they are smaller and therefore can be constructed and become operational much faster. The company also notes that due to the high value nature of its products, a factory can be profitable at a smaller scale. 
AMTE says it intends to use the site at Dundee as a template for future factories and that the model is replicable enabling the company to be flexible in meeting market demand for its differentiated cells. 
Once the fit out is completed AMTE says the 0.5GWh plant could start production by the third quarter of 2025 based on current planned timings, and it is expected to directly create up to 215 high skilled on-site jobs and 800 more across the supply chain. 
 Boosting battery cell testing capability
AMTE has also signed a memorandum of understanding (MoU) with MAHLE Powertrain (MPT), The company says this partnership will facilitate testing of its Ultra High Performance (UHP) cells in MPT's recently opened Battery Development Centre in Northampton. This will allow MPT to develop powertrain concepts for the next era of high-performance electric cars and help address the automotive industry bottleneck in battery testing.