The huge CATL investment could also benefit automakers such as BMW, Stellantis and Volkswagen who have manufacturing sites in Central Europe.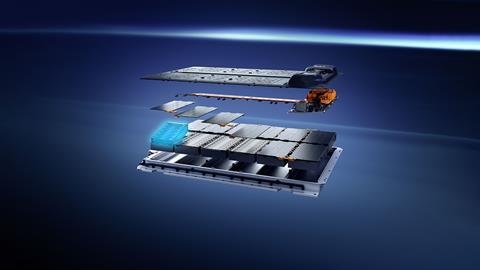 Mercedes-Benz is expanding its partnership with the world's biggest battery cell maker, China's CATL, with a deal to buy cells from its freshly-announced €7.4 billion 100 GWh battery plant in Debrecen in the east of Hungary, the automaker said.
The German carmaker first allied with CATL or Contemporary Amperex Technology in August, 2020. The latest deal is a step towards a Mercedes-Benz target for production capacity of more than 200 gigawatt-hours (GWh) of capacity at eight global facilities by 2030.
Manufacture of the cells will be carbon neutral and use renewable electricity. CATL is considering local partnerships for the provision of solar power, it said in a statement.
The luxury automaker announced a year ago that it plans to go all-electric by the end of this decade where market conditions permit.
With preparations apace throughout the automotive industry for EV manufacture, battery cell production is becoming the most urgent issue in the transition to e-mobility, with OEMs unusually taking action at the top of the supply chain to secure future supplies of minerals needed to make the cells.
In a separate Aug. 12 statement announcing the Debrecen plant, CATL said the location would put it in close proximity with Mercedes-Benz, BMW, Stellantis and Volkswagen manufacturing sites. Construction of the 221 hectare site in the Southern Industrial Park of Debrecen will begin before the end of the year but the company did not disclose when it was expected to open.
Most of CATL's planned battery gigafactories are in China but it intends to open a facility in Erfurt, in the eastern state of Thurinigia in Germany this year and is eyeing investments in North America, it oulined to AMS sister publication Automotive Logistics, in April.
Since Mercedes-Benz sold its Hambach factory in France where it made Smart brand cars, its factory in Kecskemét is its sole wholly-owned manufacturing plant in Europe outside Germany, according to its website. Employing 4,700 staff, it has produced the A-Class, B-Class and the CLA sedan.
Mercedes-Benz said the Debrecen supply deal was in keeping with its 'local-for-local' purchasing strategy, with plans to take delivery of some of the cells at its Hungarian site as well as in Germany.
The automaker will also be the first to receive battery cells from the CATL facility, having placed the largest initial order volume and use them in next generation Mercedes-Benz models, it said.
"With CATL we have a technology-leader as our partner to provide us – as the first and biggest customer of the new plant's initial capacity – with top-notch CO2 neutral battery cells for our next generation EVs in Europe, hence following our local-to-local approach in procurement," said Markus Schäfer, Mercedes-Benz Group Chief Technology Officer.
download your copy of the new Automotive Battery Manufacturing and Supply Chain 2022 report.
Robin Zeng, founder and chairman of CATL said in a separate statement that the plant would enable the company to better respond to customer needs in Europe and accelerate the continent's transition to e-mobility.
"The green-field project in Hungary will be a giant leap in CATL's global expansion, and also an important step in our efforts to make outstanding contribution to the green energy drive for humankind."
In September 2021, Mercedes-Benz, Stellantis and energy company Total took equal one-third stakes in European battery manufacturing joint venture, the Automotive Cells Company or ACC. Mercedes-Benz noted in its statement that it relies on a modular, 'highly-standardised' battery kit that it will source from several partners. It will use only minerals extracted from audited mines and it said its cell manufacturing partners are reducing the content of some critical materials within them.