The deployment of automated guided vehicles (AGVs) in automotive manufacturing applications is now well-established. Mike Farish reports on some of the latest developments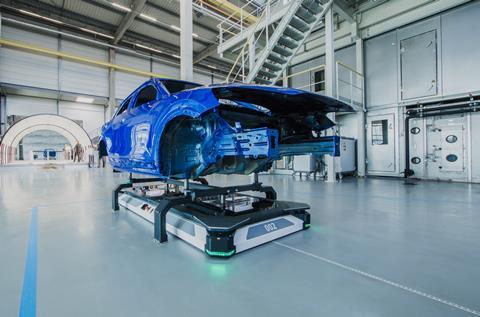 Vehicle-makers and tier suppliers alike are expanding their use of AGVs as these systems become more sophisticated and versatile. Brose operates two factories in Coventry in the UK in support of its business as a tier one supplier of automotive seating systems and window lift mechanisms to customers including Jaguar Land Rover, Nissan and Toyota in the UK, as well as JLR's operation in Slovakia. As UK managing director Steve Wilkins confirms, the main site, where around 650 people are involved in the final assembly of seat structures with supporting manufacturing processes including welding and e-coating, has a current output of "around 3.5m [seat structures] a year".
In October last year, that site saw a distinct ramp-up in its internal logistical systems with the introduction of AGV technology. Specifically, the company started operating nine AGVs to replace a previous mix of manual procedures and forklift truck utilisation.
Wilkins notes that the AGVs run routes that are "mapped out in our transport guidance system to calculate those that are most efficient at right times based on the output of the lines." They use laser reflectors for navigation and are programmed by CAD-based software that routes available paths and indicates locations that allow vehicles to pick or deliver a load or empty stillage.
Supporting the production of front-seats, he says they make around 650,000 journeys a year, travelling a combined distance of some 67,000km. Specifically, the machines retrieve empty packaging from the relevant storage area and then take it to the appropriate point on the assembly line, where they leave it so a human operator can pack completed seat assemblies, after which they transport it to the shipping area ready for despatch to the customer. The packaging is stored in metal bins that the AGVs can pick up three at a time, carrying them to an intermediary de-layering area, from where they are delivered one at a time to the production line.
Wilkins says this particular application was chosen after the company took at close look at its operations with a view to identifying those in which automated procedures could profitably be applied. It was, he states, a "closed loop" that looked ideal for trying out the AGV concept. As he further explains, AGVs "operate at a fixed rate with minimal downtime so we were able to plan operations in a way that removed human errors such as spillages or just not having people in the right place at the right time."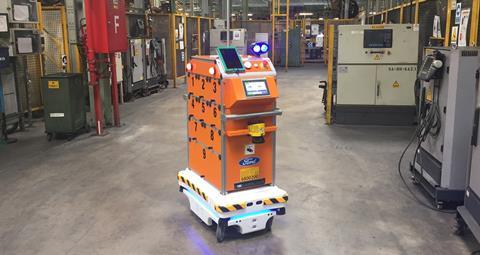 So far the indications are that this initial exploration of AGV technology has proven worthwhile. "We have already seen a number of operational efficiencies in the short time that the AGVs have been operational," Wilkins confirms. "Redeployment of staff from logistics materials handling into other areas of the business has helped us improve workflow throughout the factory and given us capacity to find solutions for bottlenecks that were causing us pain. We have also reduced the amount of downtime caused by reacting too slowly to full containers that needed moving and empty containers that required refilling. This has led to a 100% improvement, week-on-week, when it comes to build-to-plan performance."
'A' for autonomous
Increasingly, though, the 'A' in AGV is coming to mean not just automated but autonomous, as the vehicles are fitted with enough on-board intelligence to make independent navigational decisions. An example is to be found in the Vrchlabí plant of Skoda, where the Czech carmaker is using a highly autonomous AGV from Omron as part of a strategy to move the plant towards complete industry 4.0 capability in line with what it calls its '2025 Strategy'. The machine has been fully operational for just over 12 months and now completes 120 trips per day during which it travels a total distance of 35km between the mechanical measuring centre and the processing machines.
The machine can carry a maximum load of 130kg at a speed up top 0.9m per second and does not utilise any form of fixed guidance, such as induction loops, magnetic strips or reflectors. Instead, it needs only a single instructional run along its designated route, guided by commands issued via a tablet or joystick. Crucially, that routine also enables it to capture details of the wider environment so that it can adapt completely autonomously to subsequent changes.
"The desire for flexibility and scalability is pushing linear production to its limits and is demanding a migration to modular production" – Stefano Bell, Dürr
"The particular model used is the Omron LD-130CT, LD Mobile Robot Cart Transporter," confirms Bruno Adam, mobile robots general manager at Omron Europe. He says the machine is designed to attach to moveable carts and transport them from a pick-up location to a drop-off location. It is suitable for various tasks including line-side inventory replenishment, transporting work-in-progress between process steps and moving finished goods to the warehouse.
Adam explains that what he describes as the company's "mobile robots" use an on-board laser to scan the environment and generate a map that will be used for navigation. The navigation map is also editable from a PC so that users can specify further pick-up and drop-off locations, as well as restriction zones. He stresses that the machines' use of what he describes as 'natural feature navigation' enables them, autonomously, to find a path through a facility without the need for any facility modifications. "This also means that the mobile robot does not need to memorise any routes, that it works without predefined routes and can adapt a route in real time," he confirms. The on-board technologies that enable this capability include not just laser-based devices but also sonar.
In practice, continues Adam, this means the machine can sense and avoid people, forklift trucks and other objects in its path. If the operating environment changes dramatically, which can often be the case in warehouses and factories where objects such as pallets and carts frequently change locations, an 'acuity' capability provides an additional method of localisation to the on-board laser. This identifies overhead lights and overlays a 'light map' with the 'floor map'. "This also facilitates movement across wide-open areas such as in large warehouses," he notes. "In addition, the ability of the mobile robot to adapt its route increases flexibility and reduces the need for the user to program specific scenarios."
'Survival' guided vehicle
Meanwhile, Ford's body and stamping plant in Valencia, Spain, is the location for the OEM's first European foray into the use of autonomous AGVs. Unusually, though, the carmaker has not looked to an external supplier to provide it with any machines, but has developed its own implementation of the technology, entirely in-house. Specifically, it has developed an autonomous self-driving robot nicknamed 'Survival' to deliver spare parts and welding materials to various locations around the plant, replacing what had previously been manual operations in support of the production of parts for Kuga, Mondeo and S-MAX vehicles. The company estimates that up to 40 hours per day of what would otherwise be mundane non-value-added work by skilled shopfloor personnel has been obviated by this means.
The details are confirmed by engineering manager at the plant, Eduardo García Magraner, who says trials of the initial machine got underway two years ago but only in the last 12 months has it become a fully operational day-to-day part of the plant's infrastructure. Nevertheless, the project has been deemed so successful that that first machine has now been supplemented by two more.
"[The use of 'natural feature navigation'] means that the mobile robot [used by Skoda] does not need to memorise any routes, that it works without predefined routes and can adapt a route in real time" – Bruno Adam, Omron Europe
"In total we have three robots in the stamping and body plants," says Magraner. "They deliver material to the manufacturing lines and they know exactly where they should deliver that material." They are equipped with an automated shelf that has 17 slots to hold materials of different weights and sizes. To avoid errors, the opening and closing of these slots is automated, meaning operators in each area only have access to the materials assigned to them.
Magraner says each robot has a programmed route that it is instructed to follow when it collects a load of the material in the warehouse. "That is where it is told where it should stop," he says. "Then, with the programming of the PLC and depending on [at] what point it has stopped, it knows which box to open with the material to be delivered." He adds that the travel distance for each robot is about 2.5km per day, though that can vary.
Magraner also indicates that Ford opted to develop its own AGV implementation because it felt it had the best understanding of its own requirements. "We wanted the robot to interact with the operators and for this we had to install a PLC to be able to program all the logic of the required instructions," he states.
In addition, he confirms that for the moment all the required computing resource is carried on-board the machines with no reference to any wider control system. "Although it is possible to connect the robots to Wi-Fi and therefore to know where they are at present, we know the route but do not know their precise location. So, in case of any problem the robot sends an SMS indicating that it has stopped." Nevertheless, he does say that a wide area communication capability will be implemented at some future point.
Magraner adds that while the AGV project at Valencia was internal to that that plant it is also part of a broader trend within the company. "In our case it is local, but evidently all the plants are carrying out strategies for the installation of AGVs in production lines," he states. "It is sure that in the coming years there will be many plants where we shall develop different applications using AGVs," he states. Their application at Valencia is certainly about to be stepped up. "We have another project approved for the installation of two more AGVs," he confirms, "but in this next case it will be to deliver production parts."
Built for the paintshop
Elsewhere, German painting systems specialist Dürr has just released details of an AGV called EcoProFleet, specifically designed for the arduous environment of automotive paintshops. Stefano Bell, product manager at Dürr, says the company has previously produced customised AGVs for use in final assembly, but that this new one is "the first AGV that is tailor-made for the paintshop." He says that details taken into account to ensure smooth operation in the paintshop include glass surfaces for ease of cleaning, the fact that the laser scanners are protected, and the sealing of electrical components with an air filter.
In use, says Bell, the AGVs are intended to transport car bodies between process areas and hand them over to a process conveyor system, such as the roller bed system of a paint booth. "They do not operate within process areas like spray booths or ovens," he confirms, but he adds that they can be used to convey a car body in a work deck for rework and can remain in position until the rework is completed. "Our modular work decks are designed for the use of AGVs with a floor design that avoids the contamination of the underneath section," he explains.
The key driver for their development was increasing demand for flexibility and scalability in production operations. "They are much more flexible than a fixed conveyor system," states Bell. "Further advantages are reduction of the footprint for a new paintshop and also of the need for stationary safety equipment like fences."
Indeed, Bell indicates that Dürr believes the new machines represent a response to a fundamental trend in modern manufacturing. "The desire for flexibility and scalability is pushing linear production to its limits and is demanding a migration to modular production," he explains. "AGVs are the enabler for modularity and flexibility in paintshops in which different processing times for car bodies no longer cause waiting times because, unlike conveyor technology laid rigidly on the floor, they enable independent movement in parallel formation to work decks, like spot repair or polishing and intermediate storage."
He also confirms that Dürr has already received its first order for EcoProFleet vehicles and they will go into operation in a plant for electric vehicles in China at the end of this year.