Certain companies have started leveraging 5G in their car manufacturing facilities in China with the hope of drastically increasing efficiency. Michael Nash provides an insight
The looming introduction of 5G is expected to have a considerable impact on the way that many industries operate, including automotive. Carmakers have promised that highly connected vehicles will lead to breakthroughs in autonomous driving capability. Behind the scenes, 5G is also changing the way that cars are being made.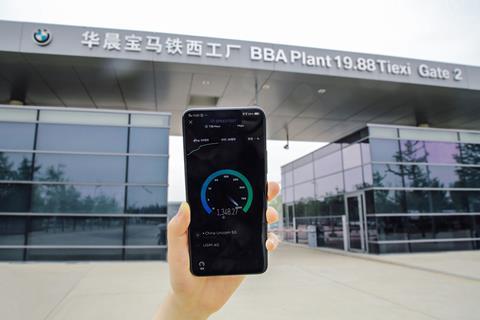 BMW Brilliance
BMW Brilliance Automotive (BBA) has recently announced that 5G wireless coverage has been enabled across all its plants. It hopes this will ensure an increase to efficiency, quality and flexibility in production.
"5G is a ground-breaking technology with the potential to revolutionise industrial production," commented Johann Wieland, president of the joint venture between the BMW Group and its partner Brilliance China Automotive. "BBA is taking a leading role in testing the use of 5G and developing new innovations and procedures to improve industrial productivity."
5G allows for a large amount of data to be transferred from one system to another within short spaces of time. Networked equipment in plants can exchange data in real-time, allowing highly automated production lines to run smoothly and as effectively as possible.
BBA started developing its 5G network for its three plants back in October 2018. Construction of 21 mobile phone masts and 35 5G base stations finished in April 2019, allowing the company to rollout 5G network coverage at its car plants in Tiexi and Dadong as well as its powertrain plant.
As well as connecting existing equipment, BBA hopes to use 5G technology in order to enable augumented reality applications, cloud-based control of autonomous transport systems, and human-machine interaction using mobile smart devices. It will also explore robot-to-robot communications and communication between robots and the control centre.
Industry-wide initiative
BMW Group is also in the midst of preparing private 5G networks at its plants in Germany. The OEM hopes to integrate the technology in all its facilities across the world.
Various other companies have been exploring the potential use of 5G networking in car plants. Mercedes-Benz, for example, recently announced it was working to establish a 5G mobile network with Telefónica and Ericsson at its high-tech 'Factory 56' in Sindelfingen, Germany.
"With the 'Factory 56', we are not only building the smart car production of the future, but also putting in place the world's first 5G mobile network in a vehicle assembly factory," stated Jörg Burzer, member of the divisional board of management of Mercedes-Benz Cars, production and supply chain. "…we are taking digitalisation in production to a whole new level. With the installation of a local 5G network, the networking of all production systems and machines in the Mercedes-Benz Cars factories will become even smarter and more efficient in the future. This opens up completely new production opportunities."
Back in 2018, Audi also revealed it was working with Ericsson to install 5G networking at the company's Ingolstadt plant and see if it could also be installed in other Audi factories. Audi's parent company Volkswagen is also reportedly building its own 5G mobile network at its German plants, according to an article published in the German business magazine Wirtschaftswoche.
Suppliers like Siemens and Bosch have arguably been leading the way, and have already installed initial test 5G networks at some of their manufacturing facilities.