Siemens explains why new smart automotive factories are presenting huge opportunity to electronics component suppliers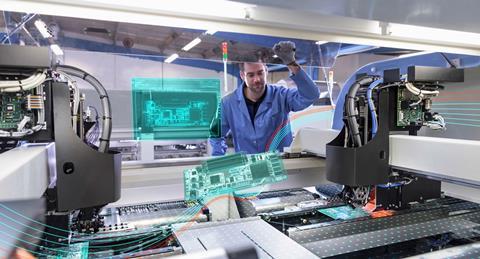 Of all the data generated in an automotive plant, currently as little as 5% is analysed for manufacturing insights. This means that forward-looking automotive electronics part manufacturers have an opportunity to capture an enormous competitive advantage. Using IIoT data from their factories' many intelligent devices, these manufacturers can achieve unprecedented cost reductions, quality improvements, flexibility and efficiency. Not only will they shorten their time to market, they will also open up new business opportunities. We truly are on the cusp of a manufacturing transformation, and the key is digitalisation.
Here is where we are heading: a complete build-out of the digital thread, populated by digital twins of product, production and performance. As a precise digital model, each digital twin displays development through the entire lifecycle and allows operators to predict behaviour, optimise performance and implement insights from previous design and production experiences.
With full implementation of these digital twins, each order will be transparently linked to the machines on which it is to be fulfilled, the production schedule, the operators assigned, and the location and delivery plan of all needed raw materials and intermediate parts. If a particular machine experiences an unexpected shutdown, distributed intelligence along the production line will enable updating the production planning seamlessly. Optimised machine utilisation will result.
The digital twin of production will aggregate all operational data so that everything taking place on the manufacturing floor is known in the digital realm. This "cyber-physical system" (CPS) will empower manufacturers with new flexibility and the capacity to respond directly to customer preferences.
Each manufactured electronic component will carry with it specific customer and delivery data, design data, and as-built data, including the source and lot of materials from which it is made. Performance data will also be connected back to the factory, so that proactive steps may be taken from design through the entire production sequence to improve products, productivity and the bottom line.
Driving forces behind digitalisation
To review, the automotive electronics market is facing exponential growth in the volume and variety of applications. The way vehicles are designed, built, sold, and used are changing more now than in the last 75 years. Leading this surge are some key technology trends.
Advanced Driving Assistant Systems (ADAS): The trend towards autonomous driving and connected vehicles drives a strong need to consider new development processes for active safety and ADAS. ADAS will employ vision systems around the vehicle to protect against driver error as well as unexpected events involving road obstacles, pedestrians and other vehicles. Thus, ADAS will contain intelligence to combine multiple sensor inputs to take decisions and to activate the actuators within the vehicle to execute. The design and implementation of this controls logic is strongly connected to the sensing and actuation lay-out of the vehicle and therefore has to be executed in an integrated process. This complex mechatronics assembly is to be validated and verified in a continuous and automated manner to ensure all system requirements are met.
Vehicle electrification: According to Bloomberg, 35% of new vehicles sales will be electric ones by 2040. To optimise battery energy utilisation, vehicles are being designed with digital engine management systems. These provide monitoring, analysis and control of a vehicle's energy usage.
Infotainment and connectivity: One of the top wish list items for consumers is the option to charge their devices within their cars wirelessly. Also, infotainment features like touchscreens and device syncing have become mainstream and are almost expected in new models. To keep up, automotive electronics engineers are implementing touchscreen display consoles — including multiple displays in one cabin — that are inching towards smartphone-level capabilities.
A digitalisation roadmap
With the new tools that digitalisation offers, proactive, predictive analytics – and a new horizon of promised benefits to the manufacturer – are in the offing. To help our customers leverage the potentials of Industry 4.0, Siemens already offers a portfolio of solutions that comprises the core elements of the digital enterprise. With these scalable solutions, manufacturers can start at any point in their value chain, from product design to production planning, production engineering, production execution, and services, and expand the process step-by-step.
Thanks to our all-encompassing domain expertise and optimised tools, Siemens is the only company that offers a holistic approach to digitalisation through our comprehensive concept of the digital twins of product, production, and performance of both product and production. There is tremendous value gained from performing "what if" scenarios and predicting future performance with a digital twin.

Realising digitalisation benefits
With implementation of these digitalisation solutions, automotive electronics manufacturers can anticipate:
• Shorter time to market, at the same time mastering the increasing complexity of products and production methods
• Increased flexibility to manage individualised products
• Improved quality from the first production run
• Increased efficiency, saving time and production costs, reducing energy usage creating more sustainable operations
• New business models based on recorded and evaluated data from both products and production facilities
• Increased security through multi-level measures to counter cyber-attacks and protect a company's intellectual property.
Siemens Opcenter Execution Electronics
Formerly Camstar Electronics Suite, Siemens Opcenter Execution Electronics seamlessly integrated with Mentor Valor ShopFloor (SF) Suite, replaces legacy and siloed manufacturing systems that haven't kept pace with demanding and ever-changing requirements of Electronics and Box Build manufacturing. Automotive first-tier suppliers of electronic components choosing Siemens Opcenter Execution Electronics are up and running quicker and are compliant with relevant industry standards including 26262. With Siemens Opcenter Execution Electronics, manufacturers are empowered to innovate, adapt and succeed. Siemens Opcenter Execution Electronics supports users with a comprehensive set of tools:
Data collection and acquisition – To comply with automotive OEM and industry safety standards and regulations full material and process treatability is a must. Obtaining real-time data from the machines in the production floor including material and process tractability data as well as defect and measurement data on the component and reference designator level (RefDes) is critical for limiting the impact of the next recall.
Labour management – Provides the status of personnel and may include time and attendance reporting and certification tracking; and automatically ensures that only qualified employees perform prescribed shop-floor and quality functions.
Maintenance operations management – Tracks resource usage based on elapsed and usage time and production quantities; and, based on predefined limits, ensures that production does not outpace maintenance requirements.
Movement, storage and tracking of materials – To overcome decreasing margins and increasing complexity in automotive electronics, tracking the movement and storage of materials, in-process items, and finished products, as well as transfers between and within work centres allows to reduce inventory and scrap and boost profitability.
Performance analysis – Provides up-to-the-minute reporting of actual manufacturing operations along with a comparison to historic and expected results. Performance results include resource utilisation, resource availability, product unit cycle time, conformance to schedule, and performance to standards. Remaining profitable with smaller and smaller lot sizes and increasing numbers of New-Production-Introductions (NPIs) and Engineering Changeovers (ECOs) requires big-data analytics systems to support contestant operational improvements.
Process management – Monitors production processes and provides decision support to operators for correcting and improving in-process functions. May focus specifically on a single operation or tracking of a production process from one operation to the next.
Production tracking – Provides status of production and the disposition of work, including assigned personnel; component materials used in production; current production conditions; and any alarms, rework, or other exceptions related to the product.
Document control – Provides instant access to production documentation. Controls records and forms including work order instructions, recipes, drawings, standard operating procedures, part programs, batch records, engineering change notices, shift-to-shift communication, and "as planned" and "as built" information.
Quality operations management – Ensures end-to-end quality management across the manufacturing process, with a focus on prevention to streamline compliance and reduce the cost of quality.
Resource and allocation – Combines a range of 3D visualisation, simulation, planning and supporting data management applications.