Big opportunities to reduce energy consumption in car manufacturing facilities are waiting to be explored. Michael Nash looks at carmakers taking the path to becoming more eco-friendly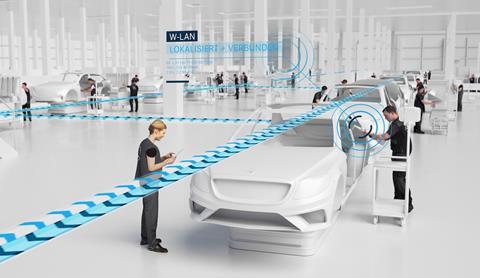 The world of car manufacturing is currently dominated by several trends. The rise of the electric car, and the impact that this will have on vehicle production facilities around the world, is a key area of discussion and on-going development. Carmakers are busy preparing their plants to make greater volumes of electric vehicles as consumer demand steadily grows – even those that were previously reluctant to do so, like Mazda.
Tied to this is the deployment of standardised vehicle platforms that underpin different models. This allows OEMs to save on design costs as well as production costs, with various cars running down the same production lines as the same jigs and fixtures can be used.
Another key trend is digitalisation. Plants around the world have been benefitting from introducing certain digital tools for many years, and although it is not a new concept, car manufacturers have only recently been reaping the rewards of connecting different digital tools together.
Some companies have been testing their 'digital factory' concepts – pilot plants that are highly automated and leverage a host of different digital tools with the goal of being as cost-effective and efficient as possible. Groupe PSA, for example, transformed part of its Poissy plant into a digitalised centre in 2018, and is currently using it to examine ways of increasing the use of digital tools at its facilities across the world. Similarly, Mercedes-Benz is building its 'Factory 56' at its Sindelfingen site in Germany, and has suggested that when finished, the plant will be the "world's most modern car production" factory. The company will use the assembly facility as a blueprint for the future development of all its production sites.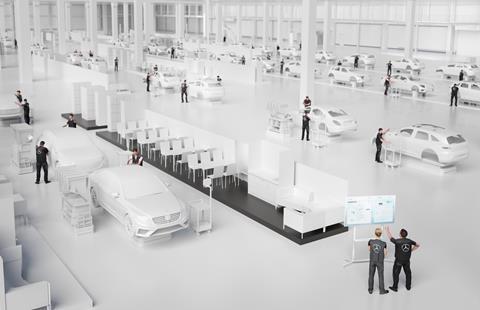 As well as cutting costs and boosting profits, enhancing energy efficiency and cutting the carbon footprint in car manufacturing are crucial to the success of these modern and digitalised plants. A host of different methods can be used to achieve these goals. These can be as simple as turning lights off in areas that have no human workers only robots, or as complex as connecting robots that are supplied by various different companies to a single cloud-based system, allowing them to communicate and operate more efficiently.
Digital tools are being used to dictate these energy-saving techniques, how they are carried out and how they are managed by plant operators. Siemens provides a number of these tools, helping carmakers on their path to becoming more eco-friendly.
Speaking to AMS, Dave Lauzun, vice-president of automotive and transportation industry at Siemens Digital Industries Software, highlights some of the company's current activities in the area.
What work is Siemens doing in the area of energy efficiency for vehicle production facilities?
Our tools, like Tecnomatix, are used throughout the industry to improve energy efficiency. The Tecnomatix Plant Simulation has an energy efficiency optimisation function built right into the tool for such purposes. We have worked with numerous customers in several different industries, and have seen energy savings as high as 40%. As a matter of fact, we recommend that more customers adopt this approach to unearth savings that are just waiting to be materialised.
Can you outline the benefits of linking certain digital tools to enhance energy efficiency from industrial operations?
While this particular example focusses on Tecnomatix, the Siemens tools work together to amplify the possible savings. One common pairing of tools is the combination of Tecnomatix along with our Amesim 1D simulation package to create a full digital twin of the function and performance of the equipment.
In most factories, the peripheral functions such as compressed air and cooling lubrication systems are major energy consumers. Siemens tools can assess possible savings in these areas as well as savings from the main factory equipment.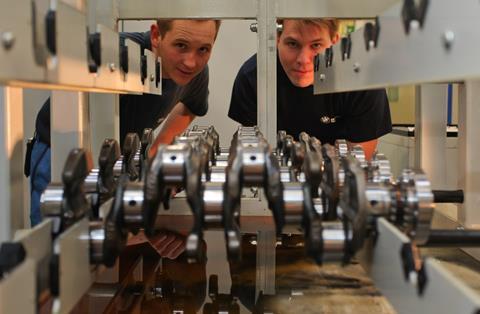 BMW Steyr reducing energy consumption
BMW's largest engine plant across its entire global manufacturing network is located in Steyr, Austria. It is home to the production of three-, four- and six-cylinder petrol and diesel engines, which are all made on the same line. Core parts are made at the facility, such as crankcases, crankshafts, cylinder heads and connecting rods.
The OEM uses the Siemens Tecnomatix portfolio in order to enhance the operation of the facility and reduce energy consumption. Specifically, the Plant Simulation solution allows engineers to visualise the complete production line and plant in its entirety, with all its equipment and personnel, giving them the opportunity to identify improvements and trial changes.
The software also provides dialog boxes for setting wattage values for various modes of operation, such as working, setup, operational, standby or off. It also shows the time required for changing from one mode to the other. As such, the simulation tool can be used to detect load imbalances and to optimise individual machine utilisation, which allows for energy savings.
The engineers discovered that they could reduce energy consumption on the crankcase line by turning off certain machines when not in use. They decided to adapt the auto start-top function from the vehicle, making it usable on the factory floor. As well as turning off the machines that weren't being used on the line, they could switch off high-pressure pumps that provided cooling lubricants to the machines. The result was a reduction in electricity usage by three million kilowatt hours per year. The eco-footprint of the engine facility was also improved, with a reduction to CO2 emissions by 550 tons per year.
How can legacy plants with old equipment leverage digital tools to improve energy efficiency?
Simulation tools are just as useful in legacy plants as they are in new factories. In new factories, companies can start with a clean slate and define the optimal process early in the planning phase. In legacy plants, however, there is the advantage of having lots of useful data, and the opportunities can be great to improve the current operations. A good analogy is working with an old versus a new house. In a new house, you can plan it to be super energy efficient right from the start, but in an old house there's a ton of opportunities to improve lying around. Both can lead to big savings.
With the older factory we can use MindSphere to collect that useful data from the shop floor to create the closed loop of performance. We have successfully demonstrated this – tying the digital twin to MindSphere to create the closed loop digital twin.
Do you think that energy savings in vehicle manufacturing facilities will come entirely from increased/focused use of digital tools, or are there other ways to achieve gains in energy efficiency?
Digital tools are the key to achieving these efficiency gains, but there are other traditional methods such as energy efficiency audits that can contribute.
What do you think is the single most effective method for a carmaker that is looking to enhance the energy efficiency of its plants?
There are opportunities in every type of plant and every section of these plants. While each company needs to prioritise its opportunities, we recommend pursuing efficiencies in all areas. And by applying the digital tools for energy efficiency, both automakers and suppliers can realise a quicker payback to their efforts than they can in most other plant-improvement endeavours.
To download the full AMS January-March 2020 digital magazine click here.