Vietnam - VinFast is using a suite of Siemens software at its new plant in Hai Phong
Vietnam - Vietnamese carmaker VinFast is now in the third month of production at its US$3.5 billion assembly plant in the northern port city of Hai Phong, with two models now being distributed to the domestic market: the Lux A2.0 saloon and an SUV called the LUX SA2.0. The OEM is using integrated production software and hardware supplied by Siemens, and says that the entire value chain has been integrated and digitalised with Siemens' Digital Enterprise portfolio.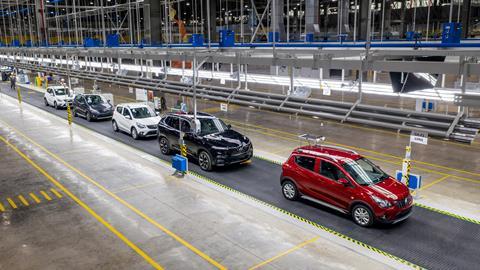 The portfolio includes Xcelerator, which enables creation of digital twins with test data and performance analytics. Another piece of software by Siemens, called NX, is helping with computer-aided design, manufacturing and engineering, while Teamcenter software is allowing VinFast to carry out product lifecycle management. The carmaker has also deployed Siemens software in the press shop, body shop, paint shop, body shop, assembly area and engine production area.
The A2.0 saloon began production in June and was followed by the LUX SA2.0 in July. The vehicles are derived from the BMW 5-Series and X5 platform following an agreement between parent company Vingroup and the German OEM, while contract manufacturer Magna Steyr is acting as a consultant to Vingroup on vehicle technology.
An electric vehicle (EV) is expected to follow by the end of this year, but the plant is also already producing e-scooters. VinFast set up a joint venture with battery specialist LG Chem earlier this year for the production of lithium-ion batteries for the forthcoming EV and is building a facility adjacent to the main assembly plant.
The Siemens portfolio it is using includes Teamcenter software to develop a digital twin of the production process. Digital twins are replicas of physical systems that allow data to be transmitted seamlessly to optimise manufacturing.
VinFast said it was initially aiming at annual production of 250,000 vehicles, a high target given that Vietnam's total vehicle sales last year reached roughly the same number. However, parent company VinGroup said it wanted to double that production number in the long term by producing 12 vehicles and motorbikes, despite not having previously been involved in the car industry. According to a spokesperson for the carmaker, this would include exports to other ASEAN markets.
VinFast also has an agreement with GM, signed in June 2018, to exclusively distribute the Chevrolet brand in Vietnam. According to GM, VinFast has taken ownership of the GM Hanoi factory and is investing in a new global small car licensed from GM and manufactured and sold under the VinFast brand. Production of the vehicle will begin this year.
While VinGroup has no previous vehicle production experience – having focused on technology, industrial and property services – it has put together a management team of former talent from top carmakers, including FCA, Ford, GM and Tata. VinFast is led by CEO Jim Daluca, who spent more 16 years at GM in a range of manufacturing roles, his last one being executive vice-president – global manufacturing, manufacturing engineering, and labour relations. Shaun Calvert was GM's vice-president of manufacturing and Sam Casabene was Ford's vice-president of purchasing.