As late as mid-November 2021, former Opel CEO Michael Lohscheller was on stage at the Vinfast stand at the Los Angeles Auto Show. By the end of the year, the Vietnamese automaker announced his departure after just four months on the job, citing "personal reasons." By late February 2022, Lohscheller had taken the reins at fuel cell truck startup Nikola, a company that has faced its own challenges over the past year.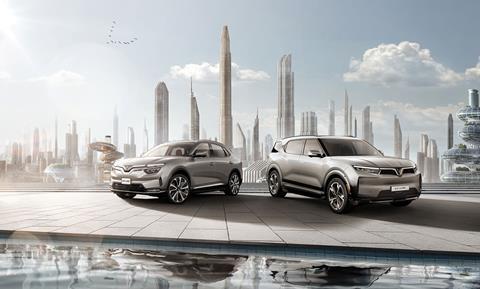 Driving up US investments
As part of its wider global strategy, Vinfast has been making significant headway in the North American market in recent years. As of March, it has pursued a further expansion into the United States with the announcement that it plans to build a $2 billion electric vehicle and battery plant in North Carolina.
Construction of the site will begin this year after the company acquires the necessary permits. The factory, located at the Triangle Innovation Point site, will house both automotive assembly and battery manufacturing.
Production is expected to start in July 2024, with the plant expected to reach an output of 150,000 vehicles annually in phase 1 at full capacity. VinFast intends to inject a $2 billion investment package for the project's first phase.
According to a Memorandum of Understanding (MOU) signed with the North Carolina government, VinFast will continue to invest in the factory in future phases. Total investment is poised to reach $4 billion. Once operational, the factory will roll out 250,000 vehicles per year and employ 7,500 people.
Changing of the guard
The automaker was founded in 2017 as an electric premium brand, and Lohscheller was supposed to lead the automaker out of its home market and into the wider automotive world. The company can't complain about a lack of financial resources. As a member of Vingroup, it has at least $5.4 billion available. Vingroup's largest shareholder is billionaire Pham Nhat Vuong.
Le Thi Thu Thuy has taken over the company's top post while keeping her position as Vingroup's deputy chief executive, directly supervising activities in the brand's existing markets and guiding market research and future expansion.
Though the automaker has not described the 47-year-old as an interim appointment, there is clearly a search underway for a successor with experience in the auto sector. After all, Lohscheller was hired last September as a long-distance runner with a track record. His sudden departure could be an obstacle to the company's ambitious expansion plans. Thuy has certainly held a wide range of leadership positions, at Lehman Brothers, as CFO of the Vingroup, and later as CEO. But alongside Lohscheller and former GM executive James DeLuca, who oversaw the brand's expansion, the finance expert was clearly out of her usual element as a global CEO.
Vinfast to reach Europe in late 2022
At one time, the Vietnamese just manufactured motor scooters for the home market. Under the leadership of former GM executives, two models, the Vinfast Lux A 2.0 and Lux SA 2.0, were added in 2018. The two models are licensed versions of the phased-out BMW 5 and X5. In addition, The Fadil, based on the technology of the Opel Karl Rocks model, is in production. It will be joined by two electric crossovers, the VF e35 and VF e36, in the mid-range and premium classes. At CES 2022, they were renamed the VF 8 and the VF 9 and joined by the VF 5, VF 6 and VF 7 in the A, B, and C segments. For an all-electric brand, the "e" in the names proved to be superfluous.
Vinfast and Italian designer Pininfarina have also outlined designs of two all-electric SUVs at the Mobile World Congress in Barcelona, ahead of reservations for the models opening in April.
The two cars have been confirmed for a European launch, first in Germany, France and the Netherlands, in the second half of 2022, priced from the equivalent of around £36,000.
The VF 8 and VF 9 feature what Vinfast has described as a "modern design language to optimise aerodynamics", which reduces energy consumption.
With all this in mind, the current Vietnamese market share of 8% is supposed to be just the beginning. Vinfast wants to position itself globally as a new electric brand. Thanks to contributions from Pininfarina, its two electric SUVs, the VF 8 and 9, seem justifiably self-assured. "We plan to reach Europe, initially Germany, France and the Netherlands, during the fourth quarter of 2022," Lohscheller had announced. "Other European countries will then follow." Vinfast is also looking at expanding its scooter business into Europe. That would provide added sales revenue and raise the brand's profile more quickly.
Going faster without unions
All Vinfast vehicles are currently produced at the company's new auto plant in the Dinh Vu Industrial Park in Haiphong, where a highly automated manufacturing operation was built extremely quickly. Lohscheller had pointed to the achievement of building a factory on a 135-hectare (334-acre) site, where 250,000 vehicles can be produced annually in just 15 months. He attributed much of the company's speed to a lack of unions, with vehicles developed in 18 months rather than four years.
It remains to be seen whether that pace can be maintained on construction projects in the West, with Vinfast touting plans for a US factory, although it has yet to confirm any location.
Shortly after taking up her new duties, Vinfast CEO Thuy followed suit and announced a production facility in Germany. Especially considering the corona pandemic, the time has passed for transporting cars around the world, Thuy said, and companies should manufacture in the market to win customers over. Building a production facility in Europe's largest market would set a milestone in the company's strategy. She offered no information on the investment's size, criteria or time frame.
Vinfast turns to new business models
Vinfast and LG Chem have already had a joint battery company called VLBP to pursue opportunities in the United States and become an electric brand as quickly as possible. The goal of the new company is to make lithium-ion battery packages in Vietnam for Vinfast models, while Korea's LG Chem provides technical support and oversees the facility's management. The required level of technology is being sourced from suppliers in Germany and the rest of Europe.
Aside from its technology and pleasing Pininfarina design, the profile of Vinfast's brand will determine success or failure. In Europe, Vinfast intends to do without a dealer network, planning flagship stores in large cities and then delivering vehicles directly to customers' homes, as well as servicing them directly. If this proves impossible, they will leave the customer with a backup vehicle.
VinFast anticipates a public offering to help it develop EV sales following its US headquarters in Los Angeles last year.
This article first appeared in German in Automobil Produktion, an AMS sister publication