AMS investigates how robotics can be adapted to a wider range of applications and the potential offered by 5G communications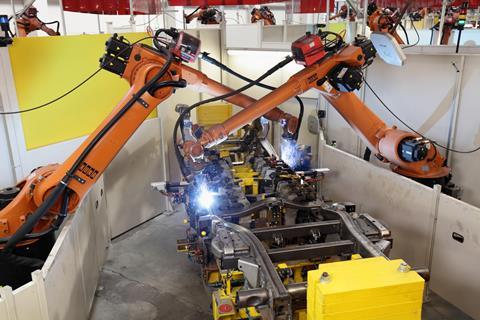 Quality control and cost are considerations when adding more robots into a manufacturing process. A prime example of this is the robot line set up to make the latest version of Mercedes G-Class chassis ladder fames at Magna Presstec's plant in Lebring, Austria. This was a specially commissioned installation from technology supplier Kuka and replaced what had previously been mainly manual procedures implemented elsewhere.
"There was no previous ladder frame production in Lebring, so it was also a new and exciting project for Magna," notes Dominik Pfeiffer, Kuka's project manager for the installation.
Nevertheless, though the production technology and the ladder frame configuration (specifically its slightly larger size) were new, all the operations had to be shoehorned into a less than ideal space. "The difficulty was a long-stretched area, which was severely limited by adjacent walls," explains Pfeiffer. "In addition, the area between the installation and component supply had to be divided. That is why we had to make the installation as compact as possible."
What this meant in practice, Pfeiffer continues, is that "process-stable production involved two central challenges." These were the confined available space of less than 2,000 sq.m and the enlarged size of the workpiece of 4.3x1.2 metres – 53mm and 121mm greater than before, respectively. Each workpiece has 145 individual parts to be processed – a total weight of 230kg – requiring 80m of welding seams and more than 200 spot welds. Two frame types are involved, he reports, "one derivative for the European market and one for the US market".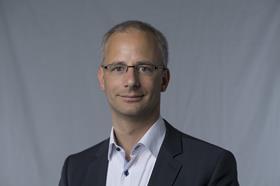 More automation on the line
Magna's incentive for commissioning the installation was not the larger dimensions of the workpiece. "Magna wanted a highly automated production line to manufacture the ladder frame and obtain the required quality at the best possible cost," says Pfeiffer. These demands are satisfied by an installation involving 40 of Kuka's KR30 six-axis robots to carry out the actual welding, plus a further number of the company's KR240 and KR500 machines for handling tasks, stud welding, in-line measurement and spot welding.
The installation also includes what are described as "squeezing stations". Without going into detail, Pfeiffer says these are "a special form of a device in which the components receive the best possible welding gap by means of high pressure, thus improving the welding quality and making the component more stable and more resilient."
Before the robots get to work, though, some more conventional approaches still have a part to play. "The components are provided by means of a route train," Pfeiffer reveals.
He adds that the insertion into the fixtures is carried out manually by a worker, but then automated procedures take over. "The frames are built sequentially," says Pfeiffer of the procedures the robots then implement, "but though individual stations may resemble each other in certain ways, no two stations are identical." Furthermore, the number of robots in each station varies between one to three, adding that "sometimes a robot also works in two stations to achieve their highest possible utilisation."
Robotic analysis tool
Meanwhile, BMW is exploring the potential to combine robotics with computer tomography (CT) as an analysis tool at the interface between prototyping and production. The carmaker has cooperated with the Fraunhofer Institute research organisation in a two-year project to create an installation at its Research and Innovation Centre in Munich, in which four robots fitted with X-ray scanners can carry out detailed examinations of complete vehicles to test internal factors, such as joint integrity, without any need for vehicle disassembly.
The details are confirmed by Dr Stefan Kerscher, project manager with BMW. "It was not possible to scan a whole car previously, and we needed to disassemble the sample before scanning it in a stationary CT," he states. "But we are now able to do scans of specific areas of a complete car with a high resolution up to 75µm. Scans are performed by four robots that move around the outside of the prototype to produce several thousand cross-sectional images, which can then be used for detailed examinations of innovations, new materials and bonding technologies."
Dr Kerscher believes the installation is genuinely revolutionary. "The ability to scan regions of interest without having to dismantle the sample opens up totally new possibilities," he states. "It is unique in the automotive industry."
According to Dr Kerscher "simply putting a CT detector and a radiation source on a pair of robots" was not sufficient. "The challenge was to fix the inaccuracy of the robots with a proper calibration method," he says. "But a software tool developed by our partner, Fraunhofer, made it possible to achieve the required resolution." The robots themselves are industry-standard machines. "They are ones that we have been using within our series production system for many years," Dr Kerscher confirms.
Moreover, programming routines are little different to those required for established tasks. "The programming of the robots is very similar to programming robots for conventional tasks," he states. There are, though, some differences. Constantly changing subject vehicles makes the overall process more lengthy, and there is an increased requirement for manual programming. "We get all kinds of test samples, from prototype bodies-in-white to crashed cars, and it is important to establish their exact geometry in order to ensure there are no clashes with the robots," he explains.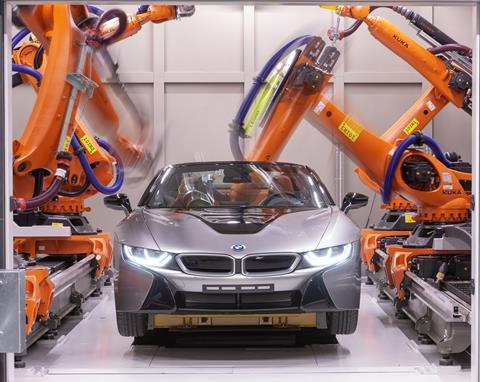 Prototype production support
Benefits fall into two categories. "We save time because we don't have to dismantle vehicles anymore," Dr Kerscher says, "but more importantly we can take a closer look at features which were not visible previously." He cites as examples door sealing after assembly, the bonding line between two or three metal sheets, and even the morphology of the adhesive. The system is already proving useful as a prototype production support tool.
"We focus on the examination of prototypes right now, and that includes the analysis of production processes such as new joining technologies," Dr Kerscher confirms. "This enables us to optimise the production process in a short time and ensure the best quality for our vehicles." Extension to support of mainstream production is certainly an option, he confirms. "We are still evaluating potential applications such as use in series production, but no decision has been made so far," he adds.
Nevertheless, ideas for further enhancing the installation are being implemented. "We are investigating the feasibility of autonomous evaluation of CT data using artificial intelligence," Dr Kerscher says, adding that some initial work has focused on rivets that are used for bodies-in-white, and that it has already achieved a "high hit rate." He adds that the system has already "proven to be very beneficial and we do see potential for future applications."
5G future for automated operations
If that installation provides an example of what robotic procedures can achieve now, what does the future hold for robotics in automotive manufacturing? One possibility involves not the capabilities of the machines themselves but the extension to the factory floor of the latest 5G telecommunications technology to facilitate accelerated and completely wireless communications between them and other shopfloor devices.
The particular benefit this could provide would derive from the mix of the low 'latency' 5G facilitates – the time for end-to-end communications between devices, which would be a matter of milliseconds – and the flexibility enabled by the obviation of the need for cables. One consequence might, for instance, be greater possibilities for safe human-robot interaction.
This is the potential being explored jointly at the moment in a research project involving carmaker Audi, telecommunications provider Ericsson and industrial sensor specialist Sick. According to Dr Henning Löser, head of the Audi Production Lab in Gaimersheim, Bavaria, the carmaker has been testing a local 5G network for vehicle production together with Ericsson since August 2018 at that location. He makes it plain that while conventional wired communications are still a highly capable means of shopfloor communications Audi takes very seriously the possibilities 5G holds for substantial improvements with real implications for manufacturing efficiencies.
"A wire, whether copper or fibre, still offers the connection with the lowest latency and the highest throughput between two devices, so we will continue to use cables at our production sites," Dr Löser says. "But if there are movements taking place between the connected devices then cables might not be an option." As such, he continues, "for mobile use cases, 5G technology will offer us a higher flexibility and that is why we see great potential for the use of 5G in the field of industry 4.0 and the fully connected factory."
Dr Löser confirms that Audi believes the area of human-robot interaction is where the greatest possibilities seem to lie. "In future wireless production situations, robots and employees will work hand in hand, and real-time interaction will be essential for smooth collaboration to ensure agile and flexible manufacturing," he says. "The key to this will be 5G technology with its latency of end-to-end delays of less than ten milliseconds, its high data rate and reliable connectivity.
4G not an option for Audi
Dr Löser says existing 4G technology does not represent a stepping stone to a 5G future but is fundamentally inadequate even for current industrial requirements. "We will continue to use cables and WiFi, but we are not using 4G technology for several reasons," he states. "With 4G it is not possible to have an exclusive frequency spectrum at our disposal. Nor can we have our own network for our site, but for reasons of liability, protection of trade secrets and patents, the operation and control of the radio network of a production site must be in that site's own hands."
For all these reasons he is adamant that only 5G will fulfil the company's requirements. "It is a standard that was created with the input of the industry," he states. "With its high data rate, low latency and reliable connectivity, 5G is very promising."
The technology itself, Dr Löser indicates, is developing towards the required level of capability. "The specification and development of 5G industrial standards and products are in progress," he states. "The cellular mobile network standard for the industry will be Release 16, which will appear by the end of this year." That will, he says, move the technology to a level that Audi will regard as mature enough for real industrial-level exploration. "As soon as there are products available with the Release 16 standard we are going to test them to our requirements," he states.
So far, though, development work has focused on determining some basic performance parameters. "Since August 2018, an Audi team has been working with Ericsson to test a local 5G network for car production in the Audi Production Lab," Dr Löser confirms. He says that the two "are testing a particularly latency-critical application," which he indicates is "the wireless interaction between an industrial robot and a bonding application – an automated process that is quite common in automobile production."
Dr Löser says the initial work has indicated that there is great potential for 5G technology in contrast to the deficiencies of the 4G world. "Factory automation will most likely require a paradigm shift in the asynchronous set-up between upstream and downstream," he states. "In factory automation the 'content provider' is the device and not the network wired to the base station. This is the opposite of what we have in regular cell-phone 4G installations where the content is in the internet and therefore the downstream is much more important than the upstream."
As such, Dr Löser is clear that Audi intends to press on towards real industrial use of 5G communications to support robotic operations on its own shopfloors as rapidly as possible. "When the Federal Network Agency publishes the allocation rules for the 3.7 GHz-3.8 GHz frequency spectrum, we will apply for a frequency for our German sites," he confirms.
"Before we decide the use cases for which we will use 5G technology, we will intensely test, evaluate and prove use cases and also business cases. As soon as the feasibility study is completed we intend to apply the first 5G integrations in real production."