Mike Farish looks at two examples of how increasingly sophisticated data management is transforming manufacturing outcomes
While the very beginning of the process that leads from initial design concept to vehicles rolling off a production line may still be pencil sketches on paper, the trail very quickly becomes digital as design information is embodied in a 3D computer aided design (CAD) modelling system. This data then feeds into every downstream process from development to production and on-road use in the holistic but still digitally-driven concept of product lifecycle management (PLM).
New CAD/PLM technologies with the potential to exert a huge influence on vehicle development projects are continuing to appear and vehicle-makers are now looking closely at the opportunities they may offer.
In the US, back in July of this year, Volkswagen unveiled a vehicle that was both very familiar in its general appearance but also futuristic in some of the detail of its content. This was the quite specific result of the company's utilisation of recently introduced software capabilities.
The familiarity derived from the vehicle being a 1962 Type 2 Microbus. The innovation was because, in a research project involving VW and design software developer Autodesk, several aspects of the vehicle had been updated using some of the latest capabilities introduced by the CAD/PLM supplier.
Specifically, the project sought to investigate a recently introduced capability called generative design in Autodesk's Fusion360 software, which offers the ability to make lighter-weight parts, minimising both mass and material use while respecting engineering constraints.
Details are supplied by Paul Sohi, Iconic Projects lead for Autodesk, who recalls that the project, which took place over a four-month period, aimed to show how generative design could be used to 'lightweight' and re-imagine several aspects of the vehicle. Specifically in the interior, it was the steering wheel and supports for the rear bench seat. On the exterior, a focus was placed on the wheels as well as the rear view and wing mirror supports. He explains that VW itself identified the first three of those as primary targets for investigation with the wing mirror supports added more for reasons of styling consistency.
Generative design
Sohi explains that generative design can be most accurately characterised as a "design exploration tool that optimises the geometry" of the intended final product after being fed by the user with information about the relevant "load cases, materials and manufacturing methodologies". The software does so, he adds, by means of highly advanced algorithms it contains, which currently enable it to address five basic manufacturing technologies: five-axis, three-axis and two-and-a-half-axis machining, additive manufacturing and machining.
So if, for example, five-axis milling were the chosen technique then parameters to be defined by the user would include "the largest diameter of tool they would use, the tool length and the diameter of the holder for the tool". Where an additive technique was involved, Sohi adds, the geometry of the final part would be conditioned by which face of the part would sit on the bed of the additive manufacturing machine, since that face would need to be broad enough to ensure optimal adhesion to the bed during the fabrication process.
For the Microbus project, VW was particularly interested in exploring "five-axis and casting solutions" notes Sohi, with the latter especially pertinent for the T37 aluminium alloy wheels. Moreover, he confirms, the project delivered on its promise. The new wheels are 18% lighter than a standard set despite the highly compressed design to manufacture timescale, which even conventional industry best practice might have needed 18 months to emulate.
Meanwhile the seat bench was "optimised for 3D printing," as were the steering wheel and wing mirror supports with previously metal fabrications being replaced by 3D printed polymer counterparts in each instance.
But, Sohi stresses, despite an old vehicle being chosen as the testbed the project was genuinely pioneering in terms of the newness of the technology it sought to explore. Generative design, he says, has only been available for about a year and this was definitely "the first time" VW had sought to investigate it. He says the technology actually has the ability to generate geometry autonomously, though in this case the final form was influenced by some general preferences specified by VW's own engineers.
Nevertheless, while the technology holds out the prospect of a much closer integration of design outputs with manufacturing resource, Sohi points out that its applicability to machining and casting shows it is possible to retrofit to well-established manufacturing techniques as well as more modern digital procedures, such as additive manufacturing. Nor does it require specialists to operate it. "Any mechanical engineer or even industrial designer who knows how to set up load cases for simulation can use it," he states.
How VW's exploitation of the technology might proceed from here is yet to be determined but Andrew Morandi, a senior designer with the company, has indicated that he is "hopeful that in maybe 10-15 years" entire frames might be generatively designed: "It is possible this could be part of a complete, fundamental change in automotive factories and how cars are manufactured," he states.
Digital challenges
Digitalisation does not necessarily equate to efficiency in all processes. Instead it may bring with it its own forms of complexity and confusion. One company that believes that much of the information generated within engineering organisations is managed inefficiently, with carmakers no exception, is Quick Release (QR) based in Brentwood, UK.
According to its founding director Rob Ferrone, too many companies that, of necessity, generate large amounts of CAD/PLM data in their operations spend far too much time in unproductive "data administration". He says this is due to several factors, but pinpoints the multiplicity of often poorly-integrated IT systems – some modern, some 'legacy' – that often exist in large manufacturing concerns as a core element that other factors then aggravate. "It goes beyond systems – it also concerns people and processes," he states.
Ferrone explains that this is the basis for QR's own business – that of "product data management (PDM) consultancy" and that the automotive industry currently constitutes by far the greater part of its customer base.
"It is only when, for instance, you try to start to build a prototype, that you find parts are missing, that materials are coming in late because they were not ordered far enough in advance, that some elements of the vehicle are recorded at previous design levels. [In such situations] no-one knows what the truth is"

Rob Ferrone, Quick Release
Nevertheless, Ferrone prefers to describe QR's way of working as addressing bills of materials (BoMs) rather than systems. There are, he says, BoMs for "CAD, PLM, engineering, manufacturing, finance" all of which are in their own way "expressions of vehicle content". A manufacturing BoM might, for instance, contain "details of structure to show how a car goes together", while an engineering BoM "might just be a flat file, a list of components." But in practical terms, he agrees, that will mean that in working on projects with customers, QR's own personnel will need access to specific in-house IT systems.
It is noted that the earlier a company such as QR can become involved, the more it is able to make a positive impact on a project. Otherwise the effects of inefficient data management only begin to make themselves apparent when a project transitions from the "digital to the physical" worlds, at which point change becomes both more difficult and more expensive.
"It is only when, for instance, you try to start to build a prototype, that you find parts are missing, that materials are coming in late because they were not ordered far enough in advance, that some elements of the vehicle are recorded at previous design levels," he details. In such situations, he notes, "no-one knows what the truth is" and this is far from uncommon amongst smaller start-up companies.
For their part, major OEMs will very likely have "got to a certain level of optimisation" that they decide they can tolerate or at which they have simply learned to accept a set degree of inefficiency. But the reality in those larger companies, he adds, is often that they just do not understand the basic reasons for the situation and do not have the resource in-house to fix it.
Inefficient supply mechanism
In one recent project in the US, for instance, Ferrone claims that QR's contribution to a new vehicle development project has cut what he estimates as "10-20% of the cost to prototype build" for the OEM involved. Though the identity of the carmaker remains confidential Ferrone does reveal that project involved the OEM "rolling out a new process to validate prototype builds and all the content that was being ordered for prototype builds at an earlier stage in the programme." The company was, he explains, "finding that parts were turning up late, that sometimes they were the wrong parts and that it was costing them a lot of money.
QR was "parachuted in to look at how the process was running," continues Ferrone. At the most basic level that involved "sitting with their engineers and critically analysing what they were ordering and how long deliveries would take." He admits that the process was "time consuming" rather than highly efficient but that "at least it resulted in the right parts turning up."
Product data issues were identified as major cause of this situation and QR was asked by the OEM to focus on BoM quality and the 'CAD to kit' journey for its prototypes. After an initial stabilisation period of accelerating the work rate through simply adding extra people, the focus shifted to systematic improvements of workstreams to increase performance sufficiently for the head count be reduced without affecting the volume of work being carried out.
No alterations to existing systems were implemented and process changes were limited to those which addressed the specific cause of errors, lateness and omissions. The real effort, he says, went into connecting and visualising the information flows and, in particular, the specific human interactions within the flow.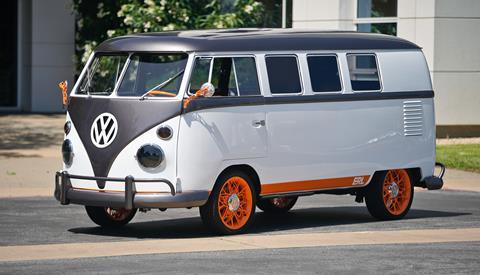 Data overload
As the company further evaluated the situation it was realised that the client's engineers were simply "overloaded" by the number of processes that confronted them. "They didn't understand what metrics they should be using, what they should be doing and when," Ferrone explains.
Part of the solution was provided in the form of a "custom toolset that showed the right information to the right people at the right time". This was achieved by instituting a Centralised Services project involving a cross-functional team of product data management specialists from QR embedded within functional teams – for instance for body, drivetrain, interior – as well as the OEM's own engineers. The methodology was that of ensuring that the QR personnel on the project gained sufficient understanding of the detailed content to be able to liaise with and advise the engineers while at the same time-sharing knowledge and standardising best practice between each function in order to optimise processes so that quality improvements for the entire programme could be facilitated.
Key procedural practices and objectives were:
• Improving BoM quality to reduce number of errors and delays to both prototype and production builds.
• Analysing cost and weight and producing intelligent 'right view' graphs as a means of reporting to the OEM's management.
• Facilitating best practice and cross-functional support throughout the programme.
In summary, Ferrone says there is no standalone technical quick-fix for a project as complex as a new vehicle development programme. Instead, such programmes inevitably involve the generation and inter-communication of data between different functional areas using different generations of IT tools.