Brazil - The Toyota plant near Sao Paulo will soon make a new model alongside the Etios and Yaris
Brazil - Toyota has announced plans to invest 1 billion reais (US$240m) in its Sorocaba plant near Sao Paulo, Brazil. It is currently home to production of the Etios and Yaris models, and will soon be used to make a new model that is scheduled for commercialisation in 2021.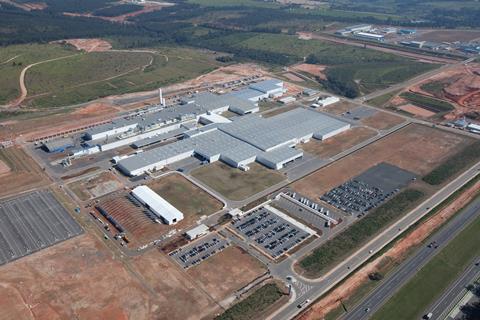 "Toyota's commitment to the development of the Brazilian automotive industry and to Brazil is only possible with a strong partnership between the various stakeholders of the company," commented Masahiro Inoue, CEO of Toyota Latin America & Caribbean and chairman of Toyota do Brasil (TDB). "This announcement of another investment we make in Brazil is the result of the joint work of our employees, suppliers, dealers, unions and the government and reinforces our long-term vision in the country."
The Sorocaba plant was chosen for the investment due to its proximity to suppliers and its advantages in terms of logistics. The city of Sorocaba is located an hour and a half west of Sao Paulo, and there are a number of suppliers with facilities in the area such as Gestamp.
The plant will be expanded in order to make room for production of the new model, but Toyota has been quiet regarding details of the expansion apart from the fact that 300 new employees will be hired.
Toyota has also been spending money on its US facilities. The company recently revealed plans to spend $391m to update its San Antonio factory to boost production of its Tundra and Tacoma pickup trucks.