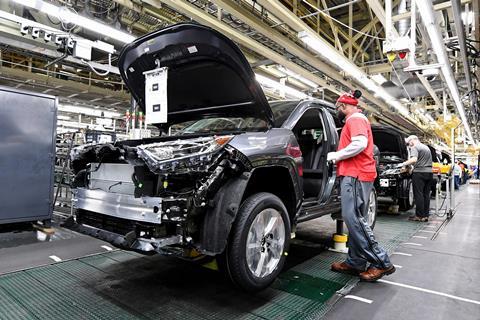 US – Toyota Motor Manufacturing Kentucky (TMMK), has started production of the 2020 RAV4 Hybrid SUV. The plant now produces four electrified vehicles, including the Avalon Hybrid, Camry Hybrid and Lexus ES 300h. "We are excited to see the past nine months of preparation come to life with the completion of our first Kentucky-built 2020 RAV4 Hybrid," said TMMK president Susan Elkington.
A sum of $238m has been invested in the plant to produce the Lexus ES 300h, which started production last year with planned capacity of 12K units, and now the new RAV4 Hybrid. This was part of a wider $750m investment plan to upgrade manufacturing facilities across five different states in the US.
In 2017, Toyota invested $1.33 billion in TMMK to introduce Toyota New Global Architecture and $120 million to expand 2.5-litre engine production (engine production capacity is 600,000 units), and this is the Japanese OEM's largest plant in the world with more than 9m sq.ft of floor space and employing over 8,000 full-time team members and an annual capacity for 550,000 vehicles.
In addition to vehicles the plant also produces engine components, including machined blocks and cylinder heads, crankshafts and camshafts, and also axles and steering components.