US - The OEM is spending millions to upgrade the facility, which has attracted investment from suppliers in nearby factories
US - Toyota has announced plans to spend US$391m on updating its plant in San Antonio, Texas. This is home to production of Tundra full-size pickup and the Tacoma mid-size pickup trucks.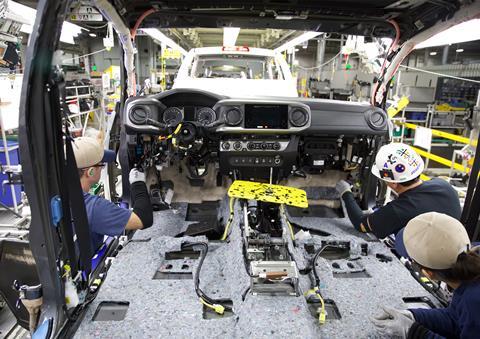 "We've been in the US for more than 60 years, creating a tremendous value chain in this country and creating an extensive footprint in the Alamo City since 2003," commented Chris Reynolds, Toyota Motor North America chief administrative officer of manufacturing and corporate resources. "With 10 US plants, 1,500-strong dealer network, an extensive supply chain and other operations, we directly and indirectly employ over 475,000 Americans and are committed to investing here."
New advanced manufacturing technologies will be installed at the factory in order to enhance efficiency and enable multi-vehicle production. This could see the introduction of other models at the San Antonio plant.
The OEM has said that the investment is being made due to strong customer demand for the pickups. August 2019 saw Tundra and Tacoma sales rise by 12.4% and 14.8% respectively - marking the best ever August for Tacoma sales.
Other investments have recently been promised for the area near Toyota's plant. Aisin AW, which supplies the OEM with rear-wheel drive automatic transmissions, has said it will invest $400m on a new facility in Cibolo, Texas.
Toyota's plan to invest in its San Antonio plant is part of a larger commitment to spend $13 billion on its US manufacturing operations through 2025.