AAM's 3-in-1 electric drive technology – which places the electric motor, gearbox and inverter into a single package – will be integrated into REEcorner technology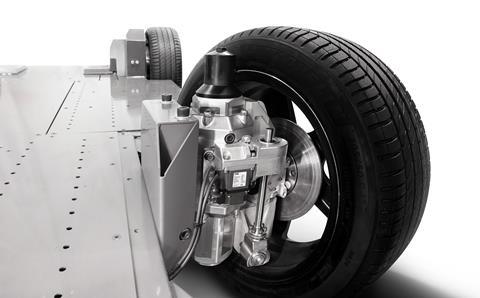 The electric drive units will be developed at AAM's Advanced Technology and Development Center in Detroit with delivery of prototypes planned by the end of 2021 with full volume production expected by 2024. The initial integration will be for prototype builds for a U.S.-based delivery van programme. AAM's high-speed, 3-in-1 propulsion systems are designed to provide the highest levels of torque and power density and are seen as a good match for REE's compact and modular REEcorners as they offer more power with less weight and packaging volume.
Daniel Barel, REE Co-Founder and CEO: "This supplier nomination is an important step in our production progress as we remain totally focused on execution. With our nomination of AAM, an innovator in electric propulsion systems, we are securing future capacity of EDUs to support our growth and advancing our goal of partnering with leading automotive suppliers to bring the best technology to customers for flexible end-use options. In AAM we have a found a partner with the experience and expertise that will help propel a zero-emissions future in line with our vision."
REE has been very active in seeking and working with technical partners that can both utilise its corner technology in new platforms and support building a global production and supply network. This agreement is a continuation of this strategy, which now sees partnerships with Hino Motors, KYB, Magna and Mahindra.
Earlier this year the company opened an engineering centre in the UK, located at the MIRA Technology Park. The company noted this engineering facility would support its capex-light global manufacturing strategy of multiple integration centres. REE also announced plans to establish its HQ and integration centre in Austin, Texas in 2023 to meet growing demand in the US market for electric delivery vehicles