The EQS SUV will be produced exclusively in the US with battery systems to be supplied by the recently opened Mercedes-Benz Battery Factory in Bibb County, Alabama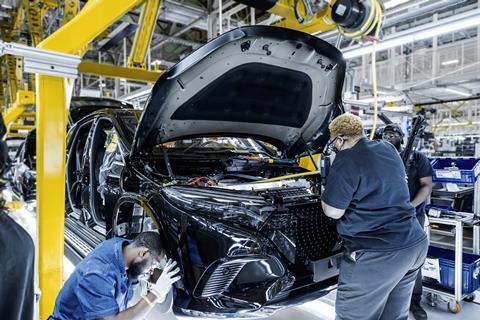 The OEM noted that local battery production is a key part of its electrification initiative and that production of the EQS at the Alabama plant will be supported by its new battery factory, which opened in Bibb County, in the same state, in March. The battery plant utilises a 300-meter (985 ft) production line with more than 70 workstations, to produce the battery systems for the EQS SUV. The production process to assemble the cell modules and power electronics is fully digitised and the battery for the EQS SUV is based on a modular architecture that is also used in the EQS and EQE Sedans.
In line with the company's strategy of expanding renewable energy production at its plants, the Bibb County battery site's entire electricity needs will be met through renewable energy sources from 2024 onwards.
With a view to the future return of lithium-ion battery systems from Mercedes-EQ vehicles, the company has established a global battery recycling strategy, beginning with its own battery recycling plant in Germany, based on hydrometallurgy. Analogue to this technology, the company said it plans to close the recyclable material loop with high-tech partners for battery recycling in the US and China.
Mercedes has invested a total of more than $7 billion in Alabama of which $1 billion was invested into the battery plant, the logistics centres and to upgrade the production line to make EV's. The Tuscaloosa plant uses digital, sustainable, efficient and flexible production methods and follows the blueprint of the company`s Factory 56 in Sindelfingen, Germany.
Jörg Burzer, Member of the Board of Management of Mercedes-Benz Group AG, Production and Supply Chain said: "Our production network is very well positioned for the sustainable and rapid scaling of electric vehicle volumes. With the new EQS SUV joining our production portfolio of all-electric Mercedes-EQ models, we reached another important milestone in our strategy to go all electric by the end of the decade – wherever market conditions allow. I am absolutely sure that our great Tuscaloosa team will make the electric SUV another global success."