Mercedes-Benz has opened a new battery assembly plant in Bibb County, Alabama, which will build electric vehicle battery packs that will supply production of the all-electric Mercedes-EQ ahead of the beginning of series production this spring at the Mercedes-Benz US International (MBUSI) plant nearby in Tuscaloosa.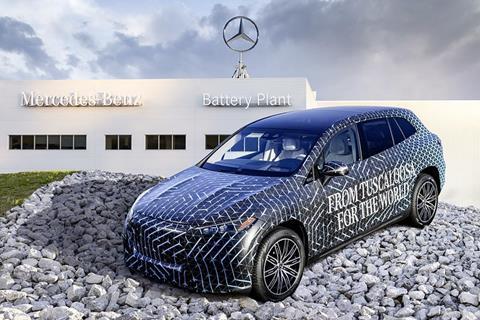 Along with opening the new battery assembly plant, Mercedes-Benz has also announced that it would partner with battery cell manufacturer Envision AESC, which will supply the battery plant with battery cells starting from the middle of the decade. The agreement will ensure regional supply of battery cells for Mercedes-Benz production in the US.
The new US battery factory highlights the importance of the Tuscaloosa plant for the Mercedes-Benz global production network and the status of Alabama as an export hub for luxury SUVs, which the carmaker also suggests will continue as these volumes are electrified.
The battery assembly plant will supply production of the EQS SUV and EQE SUV in Alabama, part of a global effort to produce all-electric vehicles at seven locations across three continents. The plant will create 600 jobs and is part of a $1 billion investment that included battery assembly, new logistics centres and upgrades to the production line to build electric vehicles.
The plant's production line runs 300 meters long and has more than 70 work stations. Mercedes-Benz cites a "fully digitalised production process" in which a variety of components are combined, including up to 12 cell modules and the so-called EE compartment, for the intelligent integration of the power electronics.
The German company has invested strongly in an international network of battery assembly facilities. These include sites in Kamenz and Stuttgart, Germany; Jawor, Poland; Beijing, China and Bangkok, Thailand. The individual factories supply local vehicle production and, if necessary, are ready to export batteries. The company is investing €1 billion ($1.1 billion) into the global network of battery factories.
As Mercedes-Benz battery assembly is about to scale further, it is also partnering with battery cell manufacturer Envision AESC, which is owned 25% by Nissan and has also partnered with the Japanese OEM in the US. Envision AESC will support the Mercedes-Benz battery factory in Bibb County with battery modules from a new plant within the US, commencing from the middle of the decade.
The partnership is part of a global plan to reach 200-gigawatt hours of battery cell capacity by the end of the decade.
"Establishing a strong battery cell partner network in accordance with our global production strategy is a very important milestone on our way to CO2-neutrality," said Markus Schaefer, board member and chief technology officer, responsible for development and procurement.
Mercedes-Benz has not specified which company will supply initial battery production at its plant in Bibb County, however, it did stress that having localised supply will be important to achieving carbon reduction goals, implying that the cells are likely imported. Elsewhere, the company has partnered with South Korea's LG Energy Solutions, according to research by Automotive from Ultima Media.
Building batteries sustainably
Mercedes-Benz has already stressed that Battery production for the EQS SUV and EQE SUV will be CO2-neutral. It will use a modular design already seen in the EQS and EQE, which benefits from a cell chemistry containing nickel, cobalt and manganese in a ratio of 8:1:1. According to Mercedes-Benz, the reduction of cobalt content to around 10% enhances sustainability.
Mercedes-Benz has pledged to make its new vehicle fleet CO2-neutral by 2039, which involves the entire process from development to disposal.
Solar thermal energy is used to heat water at the new battery plant, while rainwater capture and use will help conserve precious natural resources. Further sustainable initiatives include LED lighting and ventilation in the battery assembly area. These are augmented by air conditioning systems that use environmentally friendly refrigerants and energy-saving process technology. Forklifts are also powered by hydrogen instead of diesel fuel.
The Bibb Countysite's entire electricity needs will be met through renewable energy sources from 2024 onwards once planned solar energy projects are approved.
Mercedes-Benz is also constructing a battery recycling plant in Germany based on hydrometallurgy. Analogue to this technology, the company plans to close the recyclable material loop with high-tech partners for battery recycling in China and the US.
"With our comprehensive approach including a local cell sourcing and recycling strategy, we underline the importance of the US, where Mercedes-Benz has been successful for decades," said Ola Källenius, chairman of the management board at Mercedes-Benz Group.
Increased output and flexibility
The MBUSI plant in Tuscaloosa will produce different models and drivetrains on a single production line, with the two electric models built alongside the GLE, GLE Coupé, GLS and Mercedes-Maybach GLS.
The company cites high flexibility and digitisation in its MO360 digital production ecosystem. The connection of body and drivetrain emphasises this, for example. The so-called 'fullflex marriage' consists of several modular stations that connect different drivetrain variants and their respective vehicle bodies, possibly on the same assembly line.
According to the company, comprehensive digitalisation of the MO360 has markedly improved productivity. The networked and connected production system means quality improvements can be monitored and implemented across Mercedes-Benz passenger car plants. MO360 also provides each employee with customised information and work instructions in real-time.
GLOBAL BATTERY PRODUCTION WILL BE THE FOCUS OF THE NEXT AMS AUTOMOTIVE EVOLUTION LIVESTREAM ON MARCH 31, INVOLVING EXPERTS DISCUSSING STRATEGIES FOR EFFECTIVE AND SUSTAINABLE BATTERY PRODUCTION