Intel plans to invest $20 billion in the construction of a new factory in Ohio to alleviate the ongoing global microchip shortages and develop local supply chains in North America.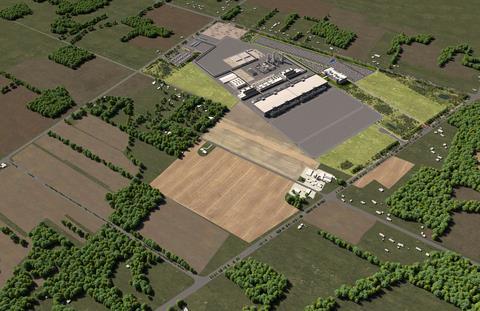 The California-based chipmaker said it aims to build two factories to support its own line of processors and its new 'foundry' operations, which will produce chips designed by other firms. This could also lead to a new technology hub forming in central Ohio as related businesses that support semiconductor manufacturing open new facilities and relocate experts to the region.
The Intel project marks the largest single private-sector investment in Ohio's history. Construction is expected to begin this year, with production scheduled to start at the end of 2025.
The company is also investing an additional $100m for an education pipeline to help provide jobs for the facility.
At a White House event, Intel CEO Patrick Gelsinger said the future production site aims to meet multiple needs. Chips built will reduce supply chain pressures, improve US national security and encourage tech employment, he said.
According to Gelsinger, the total investment in this one site alone could exceed $100 billion over the decade, with six additional factories.
Chips built will reduce supply chain pressures, improve US national security and encourage tech employment, Gelsinger said.
Rectifying supply problems
President Joe Biden used Intel's Ohio announcement to incentivise support for a $52 billion bill awaiting House approval to invest in the chip sector and expand domestic supply chains.
Shortages of chips have hurt automakers production, and last year, Toyota inched ahead of General Motors as the nation's top-selling OEM, in large part because GM lost so much production because of supply shortages.
The move by Intel signals further significant localisation agenda by US companies. Existing chip foundries are primarily based in Asia, and the global market is currently dominated by Taiwan's Semiconductor Manufacturing Co (TSMC).
With compounding crises such as Taiwan's monopolisation of chip production, coronavirus-related supply chain issues and labour and chip shortages have led to European Union and US policymakers' rallying to end their reliance on foreign semiconductor supplies. Chip producers are also making efforts to diversify their operations to avoid bottlenecks caused by regional problems.
Intel, which currently has plants in Ireland, Israel, Vietnam, and China, announced plans to spend $20 billion for two new factories in Arizona last year. It's also seeking European subsidies to build a big plant in the EU. Last month said it will invest $7.1 billion to expand its decades-old manufacturing operation in Malaysia, where around 10% of its global workforce resides.
Likewise, Samsung Electronics has said it will combat its own chip shortage problems with a $17 billion investment over the next three years to construct a semiconductor fab in Texas to expand American manufacturing capacity.
The plant's construction is set to start in the first half of this year, while mass production is set to begin in late 2024.
A coming investment boom?
Several chipmakers last year indicated they would develop their North American operations if Washington made building chip plants easier. However, even with the Intel announcement today, the firm's executives made clear that the size of its Ohio complex will depend on the passage of the Biden administration's federal subsidy plan.
Semiconductor demand has risen for decades and is expected to continue. Gelsinger predicted that chips would make up a fifth of the cost of an automobile by 2030, contrasted by just 4% in 2019, as cars become increasingly electric and autonomous.
Companies are reluctant to pursue expansions of fixed capital like factories unless they are certain plants can run near full capacity to generate sufficient returns. Intel, Samsung and TSMC plan to invest around $75 billion combined in semiconductors this year, up from about $50 billion in 2019.