Semiconductor manufacturers Robert Bosch, Taiwan Semiconductor Manufacturing Company (TSMC), Infineon Technologies and NXP have established a plan for a joint venture to invest in a new semiconductor plant in Dresden, Germany.
The JV said the plant will "support the future capacity needs of the fast-growing automotive and industrial sectors". TSMC will operate the fab and hold the majority stake in the JV with 70%, while the other firms will each hold a 10% equity stake. The multi-billion-euro plant stands to receive investment from the European Union's framework of the €43 billion ($47.4bn) European Chips Act, which aims to double Europe's production capacity to 20% of the global market by 2030. However, the level of public funding for this project has not yet been confirmed.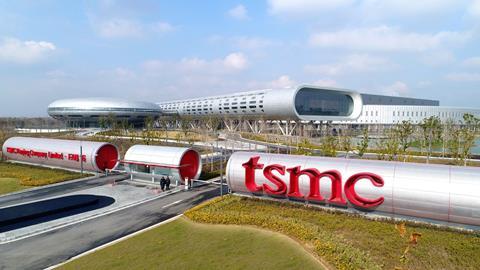 The European Semiconductor Manufacturing Company (ESMC) plant is set to begin construction in the second half of this year, with production targeted to begin by the end of 2027. It will have a monthly production capacity of 40,000 300mm (12in) wafers on TSMC's 28/22 nanometer planar CMOS and 16/12 nanometer finFET process technology.
CC Wei, CEO, TSMC said the investment shows the firm's "commitment to serving customers' strategic capacity and technology needs". Wei added: "Europe is a highly promising place for semiconductor innovation, particularly in the automotive and industrial fields, and we look forward to bringing those innovations to life on our advanced silicon technology with the talent in Europe."
German tier one supplier Bosch committed to spending €3 billion by 2026 last July to expand its production of semiconductor chips. At the same time, it announced plans to invest €250m in its wafer production site in Dresden, which opened in June 2021. The investment was for an additional 3,000 sq.m of contaminant-free clean room space at its €1 billion facility.
Stefan Hartung, chairman of the Board of Management, Bosch said the investment will strengthen the automotive industry in the region. "Semiconductors are not only a crucial success factor for Bosch. Their reliable availability is also of great importance for the success of the global automotive industry," Hartung said. "Apart from continuously expanding our own manufacturing facilities, we further secure our supply chains as an automotive supplier through close cooperation with our partners. With TSMC, we are pleased to gain a global innovation leader to strengthen the semiconductor ecosystem in the direct vicinity of our semiconductor plant in Dresden."
The joint investment is an "important milestone to bolster" Europe's semiconductor manufacturing industry, said Jochen Hanebeck, CEO, Infineon Technologies. "With this, Dresden is strengthening its position as one of the world's most important semiconductor hubs that is already home to Infineon's largest frontend site," he said. "Infineon will use the new capacity to serve the growing demand particularly of its European customers, especially in automotive and IoT."
Kurt Sievers, president and CEO of NXP, said the facility will add "much needed innovation and capacity", adding that NXP is "very committed to strengthening innovation and supply chain resilience in Europe".
Last month, Europe's battery supply chain was strengthened further when Tata Group confirmed it will build a £4bn ($5.2bn) battery cell gigafactory in Somerset in the UK, establishing a regional battery supply chain for JLR. But the lasting impact of the chip shortage is still being felt, according to JLR and GM. Barbara Bergmeier, executive director of industrial operations, JLR told Automotive Logistics that lead times are still affecting the supply chain. She said: "As electrification is creating a new value chain, we need to ensure the right supply and demand because all OEMs will walk int he same direction. If you look at the lead times for chip manufacturing and foundries, you need to work at least two years ahead to get the right allocation."
Similarly, when GM's global purchasing chief, Jeff Morrison, sat down with Automotive Logistics, he said the OEM is forging new partnerships with chipmakers to create more stable, resilient opperations and avoid potential bottlenecks. He said "it has been important to be more responsive in understanding what the semiconductors fabs need" and that GM has been reassessing its product development and engineering to reduce the number of chips a vehicle needs.
Read more in the latest AMS report, Automotive battery manufacturing and supply chain 2022: Risks, regulation and resiliency