Tata Group has confirmed it will build a £4bn gigafactory in Somerset in the UK through its new subsidiary known as Agratas, with plans to ramp up production to serve JLR. It's the most significant battery cell investment in the UK to date.
The gigafactory will have capacity to produce 40 GWh of battery cells annually for customers of Tata Motors and JLR (which is owned by Tata) across the UK and Europe and will be the first plant for the compnay's Agratas'. Tata said it has strategic growth plans for its flexible manufacturing capacity which will begin with a ramp-up phase and the start of production in 2026. The plant will be Tata's first battery plant outside India.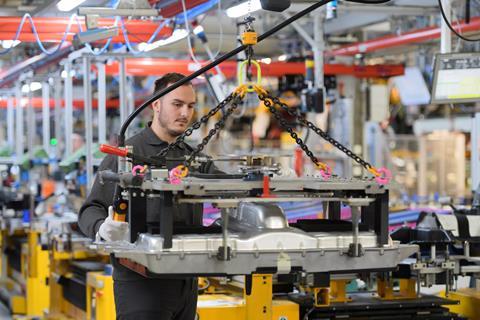 The cell factory is expected to create significant efficiencies in manufacturing for JLR, especially compared to earlier speculate that Tata could build the plant in Spain. It is the most significant battery cell project announced thus far in the UK, whose government has provided financial support for the project.
"Our multi-billion-pound investment will bring state-of-the-art technology to the country, helping to power the automotive sector's transition to electric mobility, anchored by our own business JLR," said Natarajan Chandrasekaran, chairman of the board, Tata Sons. "With this strategic investment, the Tata Group further strengthens its commitment to the UK, alongside our many companies operating here across technology, consumer, hospitality, steel, chemicals and automotive."
Tata said it "intends to maximise its renewable energy mix" at the gigafactory with a goal of 100% clean power.
Tata had also been considering basing the gigafactory in Spain before choosing the UK. Rishi Sunak, UK Prime Minister said that this would be "one of the largest ever investments in the UK automotive sector".
The gigafactory is reported to be in Bridgewater, although Tata has yet to confirm this.
JLR, which has been part of Tata Motors since 2008, has been reorganising and investing in its supply chain operations since 2021 as part of its 'Reimagine' strategy, and has been pouring billions into its existing UK plants to ready them for electrification, including adding new models, battery pack production and upgrading its supply chain systems at its factories. JLR currently employs over 30,000 people across the UK and claims to be the "biggest investor in R&D" in the UK manufacturing sector.
In a statement on LinkedIn, JLR said: "Our 'Reimagine' strategy is now entering an exciting new phase. This new site close to our manufacturing base will give us a stable battery cell supply, underpinned by renewable energy, at competitive cost. This decision, coupled with our own investment in electrification of £15 billion over the next five years, will help secure the British car industry and build a thriving EV industrial ecosystem in the UK."
As part of its investment, JLR announced in spring that it would convert its engine plant in Wolverhampton, UK to also assembly battery packs and electric drives.
In an interview with Automotive Manufacturing Solutions in May, Barbara Bergmeier, JLR's executive director of industrial operations, said the OEM would be investing around £3 billion per year over the next five years to upgrade UK facilities in the ramp up to EV production. "When we talk about investing in these plants, we're talking about changes to the physical building as well as adapting the production lines," she said. "So, even though we are integrating the EV production into existing plants, you would struggle to identify the previous site because, whether it's a body shop or the assembly line, you always make a big change for a new model. I think the paintshop is the most stable, but everything else is transforming quite significantly."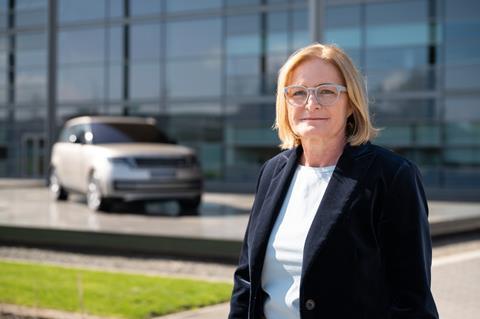 As part of its 'Reimage' strategy, JLR's Halewood plant in Merseyside will become an all-electric production facility, set to build an all-electric medium-sized SUV from Range Rover in the plant from 2025. For the Jaguar brand, which is set to become an all-electric brand by 2025, there will be three new models, the first a 4-door GT that will be built at its Solihull plant in the West Midlands in 2024. Models on a new, dedicated Jaguar platform, the JEA, will start production at the plant from 2025. The carmaker has also revealed that it will upgrade its manufacturing capabilities in the EV value chain by producing electric drive units and battery packs for JLR's next generation vehicles at its Wolverhampton powertrain plant.
The Society of Motor Manufacturers and Traders (SMMT) has recently been vocal in asking the UK government for an industrial strategy to help the industry in its transition to EVs (read more in Automotive Logistics, a sister title to AMS). The UK automotive industry had up to now struggled to attract investment in the battery supply chain, suffering a setback earlier this year with the collapse of battery startup, Britishvolt.
The SMMT welcomed the announcement of Tata's new gigafactory. Mike Hawes, chief executive, SMMT said: "This is a shot in the arm for the UK automotive industry, our economy and British manufacturing jobs, demonstrating the country is open for business and EV production. It comes at a critical moment, with the global industry transitioning at pace to electrification. Producing batteries in the UK is essential if we are to anchor wider vehicle production here for the long term. We must now build on this announcement by promoting the UK's strengths overseas, ensuring we stay competitive amid fierce global pressures and do more to scale up our EV supply chain."
The Advanced Propulsion Centre (APC), which collaborates with the UK government and provides funding to the automotive industry, also welcomed the decision. Ian Constance, CEO of the APC said the investment by Tata will be a huge boost to the UK's EV manufacturing sector. "The UK offers an extremely competitive landscape for investment in the full research, development and manufacturing ecosystem for EV technologies and this has been recognised by Tata," he said. "[Tata's] commitment to this gigafactory development has already had a transformative impact in awakening the battery supply chain sector to opportunities in the UK."
Constance added that APC's research found that the UK will need over 89 GWh per year of batteries for vehicles by 2030. "We have a vibrant and diverse industry, and Tata's significant investment through JLR in research and development and manufacturing will help establish competitive supply chains and satisfy this burgeoning demand, and in doing so will create thousands of highly skilled green jobs," he said.