Barbara Bergmeier is driving digitalisation, sustainability and resilience across JLR's operations. Now she will help ramp up EV and battery output whilst keeping manufacturing flexible
Appointed Executive Director of Industrial Operations last year, with responsibility across procurement, supply chain and manufacturing, Barbara Bergmeier joined Jaguar Land Rover with a wide and ambitious remit to transform the luxury OEM's end-to-end industrial system. As part of JLR's Reimagine strategy, her strategic objectives have included gaining more transparency and resilience across operations at a time when JLR, like other OEMs, has been hard hit by chip and component shortages. She was also charged with accelerating digitalisation across operations, while keeping the company on course for net zero supply chain and production by 2039. With JLR setting out to electrify its entire range, she will also oversee significant plant upgrades and production changes.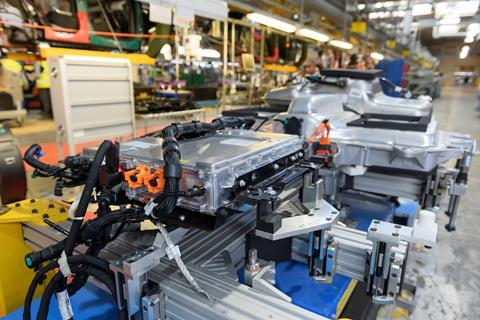 All these goals require long-term focus and investment. But less than a year in the job, and Bergmeier's teams and partners can point to significant progress. Despite supply chain issues, JLR succeeded in launching a third shift at its plant in Nitra, Slovakia, to meet high demand for the new Defender.
Meanwhile, an easing in semiconductor supply is helping the OEM to ramp up production: volume in the January-March 2023 period was up nearly 25% year-on-year, with revenue up nearly 50% thanks to production weighted towards high-value models like Range Rover, Range Rover Sport and Defender. While the global chip situation has improved, Bergmeier and her team have played a key role; she points to work to improve forecast and production information to suppliers through better communication and demand sensing tools, while building more direct relationships with chip manufacturers.
JLR will further enhance operations with the integration of SAP S/4Hana across facilities in the UK. The cloud-based ERP will replace legacy systems decades old in procurement, finance, logistics and manufacturing, including new planning tools, such as data analytics and digital twin capabilities. JLR aims to integrate key facilities including its Halewood plant this year, and Solihull by 2024 (its plant in Nitra, Slovakia plant, launched with another SAP system when it opened in 2018, and will not be part of the current rollout).
There is progress in sustainability, too, despite the recent challenges. In the UK and Slovakia, JLR's plants and facilities are already running on renewable energy; the company is working with global suppliers on where they can transition their plants, too. Bergmeier points to more than 150 programmes with various suppliers on reducing emissions, from converting their plants to renewable energy, to switching to LED lighting to energy supply and water consumption in facilities. It is running more closed loop recycling for aluminium and other materials and is expanding partnerships for battery recycling.
Now, the next major phase of JLR's Reimagine strategy is under way for the carmaker's manufacturing, as it sets out to upgrade plants and operations to produce the next generation of electric vehicles. JLR has recently doubled investment in the UK to £15 billion ($18.73 billion) over the next five years, bringing new models and operations across facilities, from a new electric Range Rover in Halewood to electric Jaguars in Solihull, to an expansion in battery pack and electric propulsion assembly at its engine plant in Wolverhampton.
It will be a complex transition, but one for which Bergmeier thinks JLR is well prepared. Even as the carmaker consolidates platforms and sharpens its EV offering, she insists JLR's production will remain highly flexible: in producing multiple models and powertrains, and in meeting the demanding, ever-changing needs of the modern luxury customer.
For more on JLR's end-to-end supply chain strategy, read more at Automotive Logistics, a sister title to AMS
Christopher Ludwig: You took on the role in July 2022 after working at major OEMs and automotive suppliers, as well as the aerospace and defence sector. What made you choose JLR as the next challenge?
Barbara Bergmeier: I spent 25 years with BMW in several roles both abroad and in Germany, but it was always around operations and manufacturing. And then I became COO at Dräxelmaier, which is a big tier-1, and this gave me the opportunity to learn about suppliers, which is now proving helpful being responsible for procurement. My four years outside of automotive at Airbus Defence and Space was also quite important for me to see a new industry and to gain new perspectives.
There are a few main reasons why I chose to come to JLR. First, I enjoy being abroad and it was appealing for me to move to the UK. I can spend more time in Germany when I retire! But secondly, I was really fascinated by the product and the brands. When I was working in the BMW Munich plant, we had a close collaboration with Rover [which BMW owned] at the time. We were a 'Sister Plant' to Longbridge [former Rover plant], and it was a very nice experience. So, when somebody mentions Jaguar Land Rover, there's immediately a good, emotional response. And the products speak for themselves. They completely blow me away.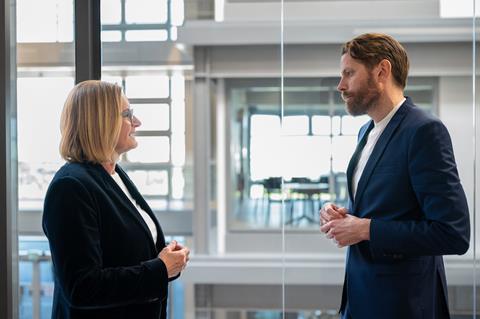 Nick Holt: Looking at your manufacturing plans for ramping up EV production, is JLR going to integrate production into existing plants rather than build dedicated plants in the longer term? Will that involve a big programme of upgrades and retooling?
Yes, it's a very big programme, and we are investing a lot of money, around £3 billion a year over the next five years [to upgrade UK facilities]. When we talk about investing in these plants, we're talking about changes to the physical building as well as adapting the production lines. So, even though we are integrating the EV production into existing plants, you would struggle to identify the previous site because whether it's a body shop, or the assembly line, you always make a big change for a new model. I think the paintshop is the most stable, but everything else is transforming quite significantly.
Holt: We're seeing that some manufacturers are pulling back on their ambitions to build dedicated plants for EVs because it looks to be more cost effective or viable to upgrade existing ones. Would you say that's your approach to this? It's obviously expensive to build a new plant, but retrofitting can be challenging as well.
Yes, and retrofitting is also very expensive. You need to understand what your production philosophy is. I have been responsible for creating production systems in previous roles and have always set out to be able to adjust to changes in demand. At present no one fully knows how the transformation from ICE to BEV will progress. I believe that production operations with the most flexibility will be the ones that produce the right products. So, it doesn't help if you have single plants dedicated to single products. It can restrict you with the lifecycle of a single product and makes it hard to optimise. There's another important benefit to having a flexible line: you create greater stability for the workforce because they are able build multiple model types.
So, I'm a friend of flexible lines, and this is the philosophy we follow. If you build a completely new setup like we did in Nitra, Slovakia [which opened in 2018] then it's a different thing. I think there are so many factors you would consider for the decision of an industrial strategy and for production concepts. But if you look at the modern luxury segment, where the customers are very demanding, we need to be flexible and able to match every speed of transformation in our production.
Ludwig: Are there particular technologies or approaches that will be particularly key as you ramp up electrification and make the propulsion lines more flexible, too?
It starts with the bodyshop. You need to be capable to do any variant flexibly as far as possible, even though you never have endless flexibility because that would be too expensive. But our approach is to be capable of doing everything on the same line. If, for example, a vehicle needs laser welding a panel roof in a specific Range Rover, the car moves to a special cell for the work, and then comes back into the production flow. It helps us to meet the high demand for customisation and flexibility from the modern luxury customer.
You also need a flexible assembly line where you can run several models, which is our approach. Finally, for propulsion lines, I believe you are in a much better shape if you do not have single lines for every for every engine version, and that's exactly what we are doing. We have several lines that are all capable of running flexible models on the line. That's going to be key to be prepared for our transformation.
Holt: However, when you're bringing in electric motor and battery pack assembly for EV propulsion, that can't necessarily run down the same assembly line as a petrol engine.
The situation is still similar. The building can be the same, and then you establish different equipment for each technology, as we will do in Wolverhampton. The plant, which currently builds ICE engines, will also produce battery packs and electric motor components for next generation vehicles.
As well as the building, you also have the chance to transform and upskill the workforce, giving experienced workers the opportunities for new jobs. We've already reskilled more than 11,000 employees and partners in areas like electrification and data technology. It is an important part of our task to prepare our people for this transformation.
Ludwig: The common narrative around manufacturing EVs is that they are simpler to build, with fewer parts and it will potentially reduce jobs in manufacturing. When you look at this transformation at JLR, do you think it will eliminate jobs or will reductions in the workforce will be balanced by new requirements?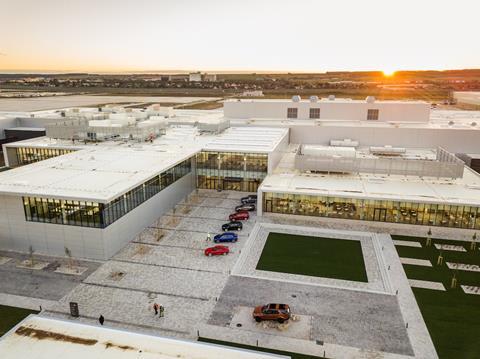 You are right. It's a transformation and all OEMs including Jaguar Land Rover are evaluating what it means for them. But if you look at the modern luxury segment, I don't think our electric vehicles will be simple. They will have high specifications of engineering, components and software, and the highest technology requirements, all of which has implications for our operations, and our staff. So, I'm not too concerned about threats to our workforce.
Upskilling people is a nice challenge to have. One good example is the Fit for Future programme, in which, together with retailers, we have up to 30,000 people enrolled to upskill and to move towards new technology.
Ludwig: As you overhaul your plants, how will you achieve this without losing too much downtime, especially as JLR still has very high backorders?
Making new model changeovers with minimal disruption has also been an aim in the past and we have come up with different approaches for bodyshop and assembly. You would try to do it over several long weekends and holiday shutdowns, for example. In a new area, like electric propulsion, you would install it next to the [ICE] engine assembly and then ramp it up as the transformation goes on. So, there are several strategies we use which have been successful.
Ludwig: JLR is also reducing the number of vehicle platforms it uses, for example the MLA for multiple powertrains, the EMA electric architecture and the new JEA Jaguar electric platform. So, although you will have a large variety of models and engineering complexity, will this platform standardisation help your manufacturing efficiency?
For operations, reducing platforms helps you from a logistics and supply chain standpoint, for example in line-side delivery, line-space and sourcing footprint. And simplification is always good in operations, even if many other aspects of our production remain complex.
"I'm a friend of flexible lines, and this is the philosophy we follow. If you build a completely new setup like we did in Nitra, Slovakia then it's a different thing…if you look at the modern luxury segment, where the customers are very demanding, we need to be flexible and able to match every speed of transformation in our production."
-Barbara Bergmeier, JLR
Ludwig: The situation has improved but you have still needed to manage chip and supply chain shortages, alongside other geopolitical and economic challenges. How have these crises impacted the way you think about sourcing and planning manufacturing?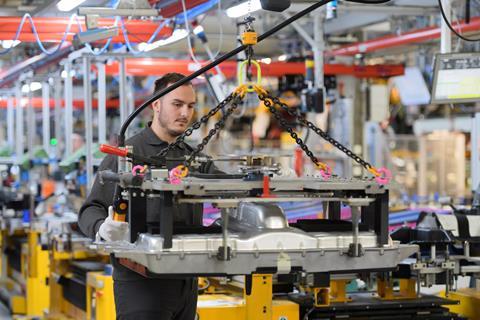 The past years have left thoughts in all our minds, as they were so disruptive. We used to work in a supply chain, with customers telling suppliers what to do, but I believe that the automotive industry must recognise that it is an ecosystem. Sometimes you are a customer, other times a supplier, other times you are partnering with suppliers or startups for future products. This is an approach deeply embedded in aerospace.
After the past two or three years of these crises, at JLR we know exactly what we want to control, and that is playing a role in our design, engineering and manufacturing.
There are clear examples in semiconductor manufacturing and electrification, in areas where we are partnering more closely with the supply base, forming direct relationships with chip manufacturers. If you look at the lead times for chip foundries, they need to know two years earlier before they start to produce, so you need to be ahead of things. It's our intention to create our own safety net in future.
Ludwig: When we talk about electrification and gaining more control, does that apply to battery supply and manufacturing as well?
Yes. Our parent company, Tata, has announced that it will create a battery gigafactory in Europe for cells. As an anchor customer, JLR will of course benefit from this partnership, which will also help us to be more independent from the market. [At the time of publishing, Tata was reported to be close to confirming the gigafactory's location in Somerset, England, but had not yet officially announced its plans.]
And if we go then through the value chain, including the inverters, motors and battery packs, that's exactly where we have decided to design and manufacture in-house, for example at our Wolverhampton plant Electric Propulsion Manufacturing Centre.
Holt: You mentioned how the relationship between OEMs and partners are changing, both in-house within Tata and across suppliers. Do you see a shift towards being more of a customer of choice across your manufacturing and supply chain partners?
In an ecosystem, you recognise that you're not just having a problem in manufacturing, or with a supplier, but that everything is connected and depends on shared understanding and trust. I believe that transparency and collaboration is the key to succeed rather than focusing on short-term benefits. It's a philosophy that's important to JLR and to me, which is why I feel comfortable here. After so much disruption, we do not yet have full trust across our operations, and there are different behaviours in the supply base. But we are moving in the right direction – we have a new chief procurement officer [Tobias Moch] who joined in March and has the same philosophy. Both the teams and the suppliers know that we need to work this way to meet our goals in manufacturing. You might be surprised, but they recognise that.
JLR supercharges UK production
JLR has revealed plans for the development of its manufacturing operations as the next step in its'Reimagine' strategy to grow its presence in the luxury electric vehicle segment, with investment of £15 billion over the next five years – around double what it had previously committed. It will include expansion and upgrades for electrification across all JLR's manufacturing facilities in the UK.
As part of the investment, the Halewood plant in Merseyside will become an all-electric production facility and its next generation medium-size SUV architecture, electrified modular architecture (EMA), will now be pure-electric. The company confirmed that it will build an all-electric medium-sized SUV from Range Rover in Halewood, launching in 2025.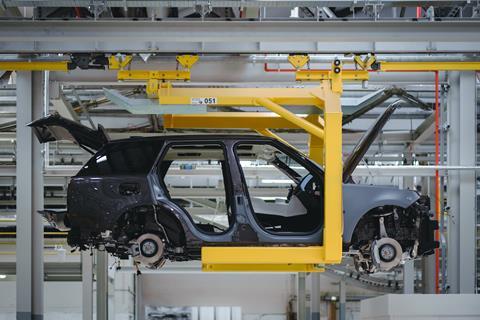 For the Jaguar brand, which is set to become an all-electric brand by 2025, there will be three new models, the first a 4-door GT that will be built at its Solihull plant in the West Midlands in 2024. Models on a new, dedicated Jaguar platform, the JEA, will start production at the plant from 2025.
The carmaker has also revealed that it will upgrade its manufacturing capabilities in the EV value chain by producing electric drive units and battery packs for JLR's next generation vehicles at its Wolverhampton powertrain plant. The plant currently builds Ingenium combustion engines, and it will be renamed the Electric Propulsion Manufacturing Centre to reflect the change. JLR's existing Battery Assembly Centre in Hams Hall, in Birmingham, which produces battery packs for current hybrid and plug-in hybrid versions of Range Rover and Range Rover Sport, will continue to assembly battery units for those current models.
JLR had previously announced that it will be an anchor customer for battery cells from its parent company Tata, which is exploring gigafactory locations, reportedly in either Spain or the UK. JLR CEO Adrian Mardell told journalists that this decision was still pending, but that the plant would not be operational until the middle of the decade. JLR would, in the meantime, source battery cells from other suppliers. [Tata is reported to be close to confirming that it would locate the plant in the UK, but there has yet to be an official announcement.]
JLR has furthermore confirmed that its Castle Bromwich plant, which builds Jaguar vehicles and whose future has been uncertain after the carmaker previously announced that it would end vehicle production there by 2025, will expand its stamping facilities for pressed body metalwork for the next generation of EVs. JLR has yet to confirm what other operations will be at the plant but has said that it continues to explore options for other parts of Castle Bromwich.
Barbara Bergmeier indicates that the site could in future Castle Bromwich could play a greater role in recycling capabilities, including as part of aluminium and metals recycling loops, or batteries. "We are working on several material and battery recycling projects with external partners, as well as within Tata," she says. "It could be one of the opportunities for Castle Bromwich."
"We are working on several material and battery recycling projects with external partners, as well as within Tata. It could be one of the opportunities for Castle Bromwich."
–Barbara Bergmeier, JLR
Whilst JLR is accelerating its transition to build EVs, it will also retain key ICE variants, and thus high flexibility in its manufacturing. Its flexible modular longitudinal architecture (MLA), used by the Range Rover and Range Rover Sport, will continue to offer internal combustion engines, hybrid and battery electric vehicle options. The company said this would give it the flexibility to adapt its vehicle line up to meet the needs of different markets around the world, that are moving at different speeds towards net zero carbon targets.
JLR currently builds Discovery and Defender models at its plant in Nitra, Slovakia, and a wide range of models at its assembly plants in China, India and Brazil.