Jaguar will be a purely electric vehicle (EV) maker by the middle of this decade, with its partner Land Rover adding six pure electric variants over the next five years as it aims to power 60% of its products with "zero-tailpipe powertrains" by 2030. The first pure-electric Land Rover will go on sale in 2024 and diesel models will be phased out in 2026.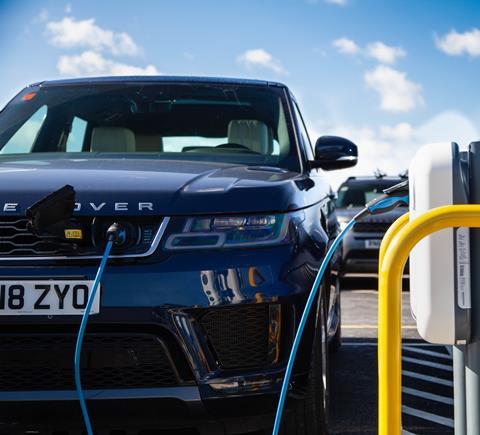 The move by Jaguar Land Rover (JLR) has undoubtedly been accelerated by the UK government's intention to ban the sale of new vehicles powered only by an internal combustion engine (ICE) by 2030. Carmakers will be able to sell new hybrid vehicles for a further five years before all new vehicles sales are mandated to be pure electric.
This week, Jaguar Land Rover (JLR) said that electrification of its joint products was at the heart of what it called its Reimagine strategy, aimed at achieving zero net carbon emissions across its supply chain and operations by 2039.
"Sustainability will live at the centre of everything we do," said JLR's new CEO, Thierry Bolloré. "Materiality, engineering, manufacturing, supply chain, R&D, investments and services – one team globally working across all channels [and] all touchpoints of the business."
JLR has committed an annual investment of £2.5 billion to electrification and connected vehicle development.
As part of that plan JLR is consolidating the number of platforms and models being produced per plant and at the same time rationalising sourcing, as well as "accelerating investments in local circular economy supply chains".
The carmaker is also looking ahead to hydrogen fuel cell technology to power its vehicles and said its ongoing investment programme would be delivering prototypes to UK roads in the next 12 months.
"As the hydrogen economy accelerates the clean decarbonisation of industry, fuel cell technology is the logical complementary step," said Bolloré. "To ready ourselves for the expected adoption of this natural energy source in the future we will begin testing prototypes on UK roads this year."
JLR will retain its current global manufacturing and assembly locations but said that it would be "rightsized, repurposed and reorganised", including a substantial reduction in its non-manufacturing infrastructure (all executive functions will be based in Gaydon).
What is clear is that Jaguar will make its Solihull plant in the Midlands the home of its battery electric vehicle (BEV) platform. It will be the base for Land Rover's forthcoming Modular Longitudinal Architecture (MLA) and for its Electric Modular Architecture (EMA).
The company already has the Jaguar I-Pace BEV crossover, which is manufactured under contract by Magna Steyr in Austria. However, as sedan sales dwindle around the world, plans to revive the Jaguar XJ luxury sedan as a pure-electric model appear to have been shelved despite development being in a relatively advanced stage. The nameplate will be retained for a different type of car.