JLR has used the fifth anniversary of its plant opening in Nitra, Slovakia to announce that it will develop the plant to produce electric vehicles by 2030.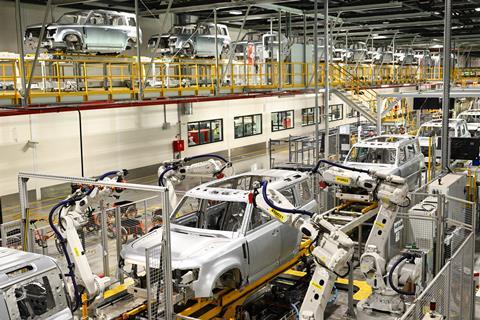 The Nitra plant currently produces the Discovery and Defender models, but JLR has now announced it will produce its next generation electric vehicles at the Slovakia facility.
The company wouldn't comment on which electric models or platforms would be produced there, or on battery supply, saying that these plans still needed to be finalised.
Commenting on the announcement Executive Director of Industrial Operations, Barbara Bergmeier said "This is a vote of confidence in the 4,800 associates, in their dedication, performance and execution and it demonstrates the key role Nitra plays in our industrial system."
Bergmeier noted that €1.3 billion had been invested at the plant: "It's highly digitised, highly automated with cutting edge technology and we have produced 365,000 Discovery and Defender models to date."
The Nitra plant is currently operating three shifts to meet demand, producing around 3,000 of the popular Discovery and Defender models per week.
Commenting on the scope of future upgrades at Nitra, Operations Director Guillermo Mancholas revealed that a new bodyshop would be needed for the EV architectures along with the additional expansion of the final trim and assembly area including new areas for preparing the electric powertrains.
The paintshop would also be upgraded with more sustainable processes as part of the OEM's target to be net zero by 2039. But he noted: "Transitioning to building electric vehicles will need a lot of investment as the plant is not ready to produce these vehicles at present. At this point we can't confirm how much investment will be required but it will be significant, perhaps in the hundreds of millions of euros.
"This will not be a simple change, but we will use the experience of updating the plants [for EVs] shared by our colleagues in the UK," he added.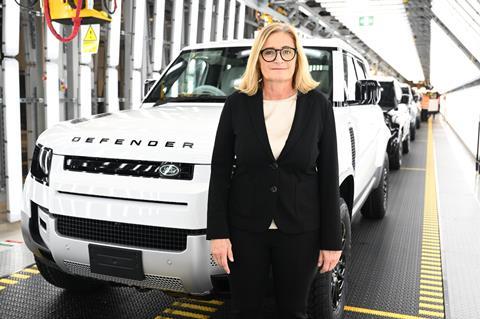 The current bodyshop operates across four main lines with a throughput rate of 30 jobs per hour, assembling the aluminium BIW for both Defender and Discovery models, with smaller sub-assemblies fed in from separate lines. Three different joining processes are used to assemble the sheet and cast aluminium structures with the adhesive application, self-piercing riveting and flow drill screw processes all fully automated.
Commenting on OEM's planned transition from ICE to BEV production at Nitra and across the rest of its production network Bergmeier said: "We don't know how fast the market for BEVs will grow. We do know we will have nine electric vehicles in production by 2030. So, we are planning to keep our production operations as flexible as possible as we believe that the most flexible OEMs will be the most successful in managing this transition."
Bergmeier, who leads manufacturing, procrument and supply chain at JLR, told AMS earlier this year that she thought flexible production lines capable of building EVs and other powertrains would be important for automotive manufacturers in the years ahead.
The addition of EV production at Nitra is a continuation of JLR's Reimagine strategy to grow its presence in the luxury electric vehicle segment and it says is the 'last piece in the jigsaw'.
This will be part of the £15 billion ($18.6 billion) investment for the re-tooling, expansion and upgrades for EV production across all JLR's manufacturing facilities in the UK.
The OEM has already confirmed that Halewood will become JLR's first all-electric production facility, Solihull will produce electric Range Rover, Range Rover Sport and Jaguar models, the Engine Manufacturing Centre in Wolverhampton will build Electric Drive Units (EDUs) and Castle Bromwich will be repurposed to build body panels for EVs.
In addition, the company has opened a new £250m Future Energy Lab in Whitley, Coventry, UK, to develop Electric Drive Units for the company in house