Should automotive manufacturers fear or embrace this surprise announcement from the consumer technology giant?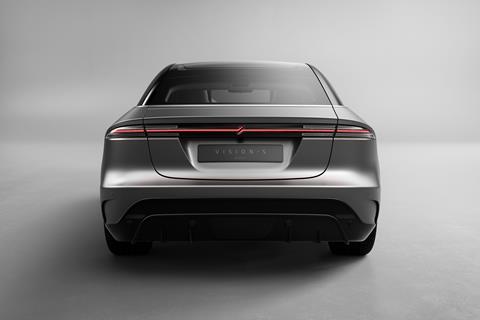 The unveiling of Sony's prototype Vision S electric vehicle occurred with much theatre as the climax to its presentation at the Consumer Electronics Show (CES) in Las Vegas last week – and it certainly caught many automotive executives at the event off guard.
The presentation's objective was to showcase Sony's capabilities in imaging and sensing technologies for advanced driving assistance systems (ADAS), connectivity and infotainment products as well as to demonstrate its 'complete vision' of future mobility.
As a major consumer electronic company, but a relatively minor automotive supplier – at least currently – Sony's development of a complete car has quickly become the talk of the show. It surprised many by the degree to which it appears to be production ready. Our sister publication, Car Design News, reported on how impressive the prototype appears to be from both a design and engineering point of view.
The question is whether or not Sony – as well as other electronic and tech giants – will now firmly step into the space of traditional automotive players. Cars are undoubtedly becoming more high tech, with an ever-rising number of cameras, sensors, lidar, computer chips and software (the Vision S has 33 cameras and sensors). In recent years, major consumer electronic giants have also begun to take a growing share of electric vehicle battery supply, including divisions of Samsung, Panasonic and LG. There have long been rumours of an Apple car, while Google's Waymo is far ahead of carmakers in autonomous driving.
Such worries might be heightened as tough times continue in the automotive sector. As our recent report on major tier 1 suppliers shows, profits margins for OEMs and suppliers are under considerable pressure (download our free, 80-page report on tier 1s here). Our analysis suggests that companies producing more traditional products are seeing profits fall, whilst those in high-tech and electronics have performed better.
So is Sony, and other companies like it, about to become the next potential threat to established vehicle brands and automotive suppliers?
A vision of what's to come
Let's not get ahead of ourselves here. Plenty of companies present high-tech vehicle concepts and prototypes, especially for CES, that are not immediate indications of production vehicles. Sony itself downplayed any plans for it to go into production – but has also said that it "was not out of the question".
However, the company has no previous experience in vehicle manufacturing, which is often far more complex than other consumer products. In fact, Sony's car is largely derived from today's major automotive suppliers. Magna did the design and prototyping of the vehicle. Sony also paid particularly thanks to other partners for help in developing the vehicle hardware, including Continental, Bosch, ZF Friedrichshafen, Benteler, Nvidia, Blackberry, Elektrobit, Genetex and Qualcomm.
If it were to ever go into production, Sony would require even more assistance in scaling up to the high volumes and build quality expected within the automotive industry (use of a contract manufacturer, such as Magna Steyr, would also be likely). Furthermore, it does not have the established dealer network in place to sell and maintain the vehicles – an often-overlooked hurdle for startups.
In our view, despite its advanced engineering and highly resolved design concept, the Vision S is highly unlikely to go into production. But it does represent the strong potential for electronics companies to capture a greater share of the automotive value chain – and the degree to which that could be both a risk to more traditional automotive manufacturers, as well as an opportunity.
Don't drive with your smartphone
On the one hand, Sony is flexing its muscles and showing off its supplier credentials. The prototype sends a message that it has more capabilities than perhaps it has been given credit for, whether on EVs, ADAS or autonomous driving, right up to developing a complete vehicle.
But the move is also symbolic. It is part of a broader shift of power in automotive towards electronics, software and technology companies. Suppliers today already account for 65-70% of a vehicle's value, and with growing electronics content, this value is likely to grow.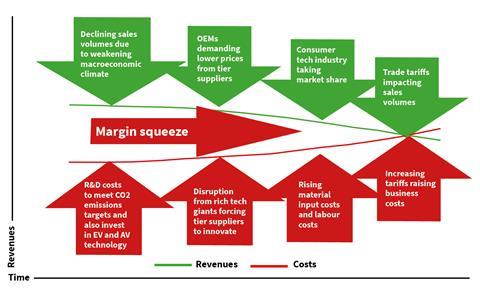 Many have observed fear in some corners of the automotive industry that cars eventually become 'smartphones/computers on wheels', where the emphasis will be increasingly on software and control of data – whilst manufacturing, supply chain competencies, and even engineering and design, can be outsourced. Branding and consumer decisions could be reduced to a tribal software choice (i.e. Apple vs. Android).
Even the vehicle ownership model has shifted closer to smartphone-type contracts, as most major markets in North America and Europe have already pivoted towards leasing. Vehicle subscriptions themselves may be niche today, but OEMs are pursuing them, from Volvo and Mercedes-Benz, to EV companies like Canoo (which, like Chinese startup Nio, has also opted for a contract manufacturing model, common among smartphone companies).
In future, vehicles will be less defined by the power of the engine, or the factory that built them, than whether they have the latest software updates and capabilities, often provided over-the-air (OTA). That's the clear direction of travel and where the growing revenues streams are likely to be in the future. For Sony and other tech and electronics, there is a lot to play for.
Claiming a bigger slice of the pie
Tech giants that muscle in on the rapidly changing automotive industry landscape in the race to CASE technologies (connected, autonomous, shared, electric) can also be a threat to today's major suppliers. Just as the contribution of electronics suppliers and software looks set to rise further, the traditional source of value in vehicles – notably around its powertrain – is at risk of decline. Internal combustion engines and components are expected to lose market share to hybrids and EVs. Our analysis suggests that tier 1 suppliers with more focus on high-tech systems and services are returning better margins than those more concentrated on traditional areas. We expect this divergence to continue.
Meanwhile, despite their high development and rollout costs, electrified powertrains are also likely to become more commoditised. Over time, they will increasingly provide uniform quality and performance. While there are complexities around batteries, EV architectures are typically considered to be easier to assemble. Ultimately, price will be the major competitive factor over proprietary technology. That can already be seen in a trend to combine EV powertrain platform development across OEMs, and for platforms themselves to be shared (e.g. VW's MEB platform being licensed by Ford).
In this context, traditional suppliers operating in a climate of low and falling margin will battle to grasp more of the (higher) value chain. They could face growing competition from consumer electronics giants well positioned to do just that, especially in electrification, artificial intelligence and advanced autonomy functions. Add in the supply of batteries – which can represent around 40% of the value of an EV – and such players could even become dominant. Many suppliers are likely to pursue partnerships with these companies, if not more formal mergers and acquisitions.
As Sony has shown, the product and branding strength of consumer electronic companies could make them bigger players in complete vehicle design and development. It doesn't require a huge leap of imagination to foresee more technology players challenging legacy carmakers by producing their own vehicles.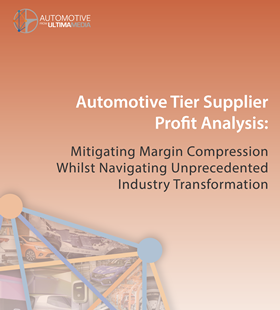 This report is produced by the global business intelligence unit of Automotive from Ultima Media, which also publishes Automotive Manufacturing Solutions. For more original forecasts and trend analysis, visit our archive here.
For information and further comment, contact:
Daniel Harrison, automotive analyst
Christopher Ludwig, editor-in-chief