Volkswagen Group in China has announced that it will be closing a plant in the city of Tianjin, as well as a component factory, following resurgent Covid-19 cases in the coastal city.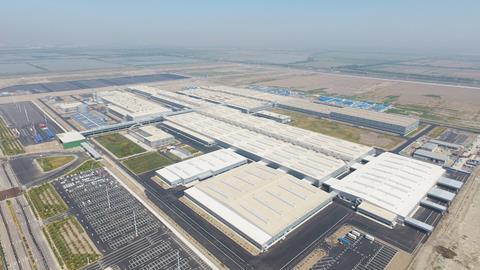 [Updated January 21 2022]
Volkswagen' FAW-Volkswagen vehicle plant in Tianjin resumed production on Friday, the German carmaker said.
"The FAW-Volkswagen vehicle plant had temporarily shut down operations due to missing parts from suppliers and pending COVID-19 test results of employees. Production was resumed on Friday, 21st January," the company announced.
[Updated January 18 2022]
Volkswagen Group's China unit has announced that its component factory in the northern Chinese city of Tianjin has resumed some shifts since last Thursday.
The component factory VW Automatic Transmission Tianjin had been closed since Monday last week.
VW, who jointly runs the plant with China's FAW Group, said that it is prioritising the safety of its employees but hopes to resume production once the outbreak is under control.
The company also said that both plants had conducted Covid-19 testing for all employees.
Tianjin, in northern China, around 100km from the capital Beijing, reported 41 domestically transmitted infections with confirmed symptoms on Wednesday, the National Health Commission reports. Tianjin recorded a total of 256 confirmed cases as of Wednesday.
Amid Covid-19 spreading in Tianjin, forcing wider lockdowns, other Chinese port cities, including Dalian and Shanghai, reported cases leading to concerns of further supply chain issues.
Approximately 40% of VW's global sales are registered in China, making it the German OEM's most crucial market.
The company's auto sales are likely to take a hit on the already disrupted production line in Europe, where the pandemic has already had a significant impact, according to Cui Dongshu, secretary-general of the China Passenger Car Association (CPCA), speaking to Beijing-based outlet Global Times.
FAW Toyota also said that its factory in Tianjin had suspended production, and all employees have reportedly taken nucleic acid tests.
Volkswagen's two plants in Tianjin account for around 20% of the total production capacity in China, while the Toyota factory amounts to about half of the carmaker's capacity, according to Cui.
The two carmakers maintain broad distribution of production capacity across China. While the factories remain closed until further notice, the production lines elsewhere in the country will attempt to substitute for potential capacity losses.
According to a business intelligence report by ECG and Ultima Media, China exported over 1.6m vehicles in the first ten months of 2021 and is estimated to have exported over 2m units the same year. However, China's zero-covid strategy, the reintroduction of localised restrictions and uncertainty have led to a hampering of exports, with major port areas regularly in lockdown.
While the Toyota and VW plants in Tianjin primarily serve the Chinese market, a more widespread global disruption could result from lockdowns in China. Vehicle sales and the supply of parts and components may be hit. In particular, disruption in Chinese ports could further clog up global supply chains.
Xi'an, the capital of Shaanxi Province in central China, imposed a lockdown in December 2021, which impacted component production. In addition, Samsung and Micron announced that chip production was affected due to the new measures.
Shenzhen-based manufacturer, the parent company of BYD automotive, also announced that the Xi'an lockdown would impact its production outlook. According to local reports by South China Morning Post, BYD Company Limited's 1Q 2022 new vehicle deliveries might possibly come in below expectations due to the restrictions.
Lockdown restrictions were loosened in January. The Chinese new-energy vehicle maker said production at its factory in Xian has effectively returned to regular operations following three weeks of disruption. However, it has not elaborated on the impact of the lockdown on its delivery and sales.