ArcelorMittal's 10 sustainable development outcomes
We must contribute to making a more sustainable future possible. ArcelorMittal's 10 sustainable development outcomes are a compelling, practical and demanding way to do this, from the way we make steel and use resources, to how we develop new products, and support our people and our communities.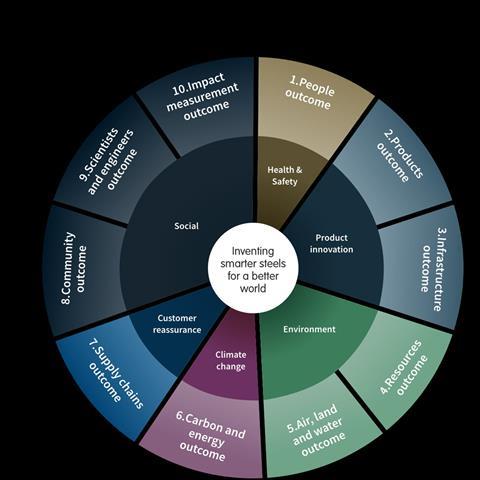 Life Cycle Analysis as a tool to transform the future of mobility
Discover the benefits of advanced automotive steels over the three phases of a complete life cycle analysis (LCA): https://automotive.arcelormittal.com/sustainability/life_cycle_assessment
ArcelorMittal's path toward low-emissions steelmaking
At ArcelorMittal, our mission is to support the automotive industry and build a better world with smarter steels. Our steels are cleaner and stronger than ever before, and they are already shaping the future of mobility. But to build a more sustainable tomorrow, we need to improve what we make and how we make it. That's why ArcelorMittal has set an ambitious goal to significantly reduce our global CO2 emissions and ensure our European operations are carbon neutral by 2050. An interim target for Europe by 2030 is to cut carbon emissions by 30% to contribute to the European Commission's 'Green Deal'. Our approach is to combine best practice with existing technologies to develop breakthrough solutions which will enable us to meet our targets. Technologies are tested first in Europe and can later be rolled out to our sites across the globe. To reduce emissions, we are exploring opportunities to combine technologies that use more clean power with those that involve circular sources of carbon, alongside carbon capture, carbon utilization and carbon storage.
Learn more about ArcelorMittal's climate actions and ambitions: https://automotive.arcelormittal.com/sustainability/carbon_technology
ArcelorMittal's commitment to ResponsibleSteel™
ArcelorMittal has taken a leading role in forming and committing to ResponsibleSteel™, the steel industry's first multi-stakeholder global certification initiative.
ResponsibleSteel™ was set up in 2015 as a non-profit organisation to drive a more responsible future for the steel industry. It has built the first global certification program and standard for the entire steel value chain from mining, to production processes, to final stage sales and distribution. Certification standards include the following areas:
Climate Change & Greenhouse Gas Emissions
Water Responsibility & Biodiversity
Human Rights & Labour Law
Local Communities & Business Integrity
Learn more about the ResponsibleSteel standard here: https://automotive.arcelormittal.com/responsible_steel