ABB Robotics is a global leader in automotive manufacturing automation, with over 300,000 installations and deep domain expertise across the entire lifecycle – from improving installation and commissioning efficiency to reducing total cost of ownership and downtime.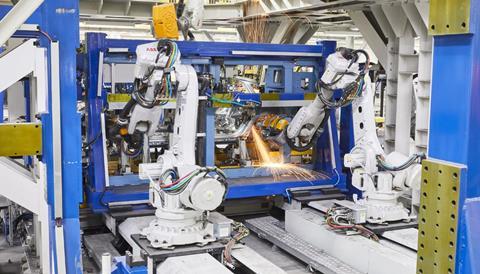 ABB is a leader in motion control, and offers technically advanced, easy-to-use robotics manufacturing solutions for press automation, body-in-white (BIW) powertrain assembly, including e-mobility solutions, paint process applications and final trim and assembly.
These solutions improve quality, productivity and your flexibility to meet increasingly diverse consumer needs and shorter vehicle launch cycles.
In press automation, ABB's broad range of solutions includes press loading and unloading, blank destacking and part racking. We offer modular solutions for tandem press lines, from the smallest to the largest presses, as well as for transfer presses and hot stamping.
Our BIW offering includes robots, application equipment and software, as well as complete body shop assembly turnkey solutions. We also offer a unique range of BIW standard products and 'plug and produce' modules for highly flexible body shops.
Our powertrain assembly offer includes engines, transmissions and axles, including full test systems. ABB designs solutions such as complete production lines, automation of a single operation and robot-based stations for assembly, tightening, pressing or joining.
Our paint automation offers complete robotic solutions for underbody coatings, seam sealing, cosmetic sealing, body cleaning and both exterior and interior paint application. These deliver the highest quality paint finishes, the perfect color matching, and help increase first run rate and reduce operating costs.
For automotive component manufacturers, standard solutions are available for applications including arc welding, cutting, handling, forming, jointing, spot welding and paint.
Accurate and reliable robots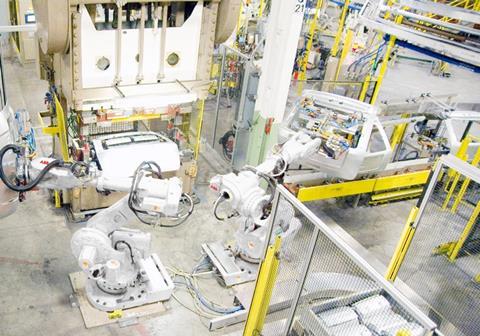 ABB Robotics has a history of innovation leadership for over 40 years, from its introduction of the first microcomputer-controlled industrial robot to its recent introduction of YuMi, the world's first truly collaborative robot. ABB robots are well-known for superior performance in terms of speed, accuracy, repeatability, reliability, flexibility, reach and payload.
The industry's most comprehensive service offering and broadest network
ABB is also a pioneer in service innovation, having introduced Remote Services over ten years ago – long before the term 'internet of things.' Today all ABB Robots are delivered ready for connection to the broader manufacturing ecosystem, and can be supported by ABB's Connected Services – the industry's most comprehensive advanced service offering to improve performance and uptime.
ABB has sales and service operations in 53 countries and over 100 locations.