5G will transform the way we work, says ABB, which is collaborating with Ericsson to build the future of flexible automotive manufacturing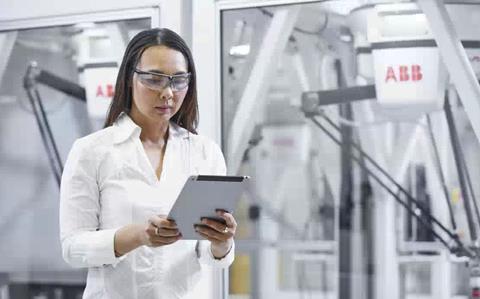 Hailed as the ultimate game changer of connectivity across the industrial world, 5G promises to take manufacturers closer to the factory of the future than they have ever been. The latest generation of cellular network technology promises unbeatable browsing speeds and super low latency to feed the world's insatiable appetite for data.
5G will mean different things to different people. The everyday person can use it to download a high-definition movie in a matter of seconds. Games and live-streaming will be more seamless than ever. On a larger scale, 5G is touted to bring the concept of smart cities from the realms of science fiction to reality, improving the lives of millions of people across the globe.
However, it is the industrial world that is cheering on the development of 5G harder than anybody else. This is because unlike previous generations, 5G technology has a strong focus on machine-to-machine communications and internet of things, making it a key enabler for smarter and more connected manufacturing, which in turn will help improve manufacturing processes, and increase productivity.
Enabling the factory of the future
On the factory floor, 5G technology is expected to enhance mobile broadband communications which will open up a host of opportunities including establishing wireless applications, with greater bandwidth and the ability to process more data enabling machine-type communication and allowing a large number of devices to be connected to the industrial internet of things. Other benefits include reaction times ranging in low milliseconds and the high reliability of 5G which will offer operators greater control over the entire factory process.
These are all important for many industrial applications including discrete and process automation, power distribution and autonomous systems, and the opportunities provided by 5G will enable manufacturers to move the computing payload away from actual production lines and into the virtual world, without losing real-time insights.
"5G technology has a strong focus on machine-to-machine communications and internet of things, making it a key enabler for smarter and more connected manufacturing."
Moving applications such as vision recognition algorithms, for example, from the factory floor to the edge or the cloud will reduce costs and simplify integration of intelligence into production processes.
Connectivity is the bedrock of building the factory of the future. With 5G capabilities, manufacturers can realise a wide range of benefits such as:
• Simplification – 5G can literally simplify the factory floor and make it easier to upgrade existing lines with real-time data extraction and AI applications, or simplify networking and commissioning by removing the need for cables in greenfield sites
• Collaboration – Joining forces in a cloud environment would give businesses the ability to communicate and share more easily outside of the traditional methods. If you are working on a project across different locations, you could use cloud computing to give employees, contractors and third parties access to the same files, robots and devices.
• Flexibility - A business can quickly deploy new programs or program changes to robots in the field allowing greater flexibility.
• Data and systems protection – Protecting data and systems is an important part of business continuity planning. Having data stored in the cloud ensures that it is backed up and protected in a secure and safe location in the event of a natural disaster, power failure or other crisis. Being able to access your data again quickly using the high speeds of 5G minimises any downtime and loss of productivity.
• Cost efficiencies – 5G could also help reduce IT costs by helping factories have better connections without the cost and installation constraints of hard wires and allow more advanced applications such as AI, which must process huge amounts of data. Moving to cloud computing may reduce the cost of managing and maintaining your IT systems and allow access to automatic updates.
Enabling flexible manufacturing
The ability to transport data in a reliable and timely manner is key to communications in any industrial setup. This is why ABB has partnered with telecommunications company Ericsson to explore the possibilities of integrating 5G connectivity with ABB's 'Time Sensitive Networks', which can enable network devices to operate together in perfect unison across multiple factory sites, a key requirement for flexible automated production.
For factory owners, the high speed and wireless automation of 5G increases flexibility, allowing them to respond quicker to the evolving needs in their production facilities without having to deal with the complexity that previous generations of connectivity posed.
Building private networks
An emerging avenue to deploy 5G is to use a narrow band connectivity to build private networks or network slicing of one or many factories. The network will carry all the benefits of 5G, including high speed and low latency, within a specified area, enabling operators to connect many devices. For instance, a private network in an automotive factory can connect hundreds, if not thousands of automated guided vehicles to bring parts from storage units to production hubs automatically.
Bringing solutions faster to the customer
One of the low hanging fruits in the adoption of 5G technology is the ability to harness its high-speed connectivity to bring cloud-based products such as the ABB Ability Connected Services platform to customers faster. Using 5G we can detect and diagnose problems, reducing the reaction time in the case of an incident, thereby saving precious time while correcting the issue.
The extra bandwidth that 5G would provide will also enable faster access to more data, which in turn will help operators make better and more informed decisions from the insights that they gather through analytics software like ABB Ability Connected Services. This will help improve efficiency and reliability through the entire production cycle – from engineering and commissioning to operating and maintenance. 5G-enabled digitalisation would also enable greater efficiency across the value chain.
Other applications
Apart from offering a better way to increase performance to meet the future needs of manufacturing, 5G can also help small businesses to establish their own IT infrastructures as cloud-based storage is cheaper than commissioning a third-party IT provider. 5G could be used to shift some moving parts of a robot such as the controller or conduct path planning of the robot in the cloud. This reduces the number of peripheral equipment needed around the robot, thereby saving space and allowing the robot to be moved around the factory floor.
Going forward
Just like any new system, 5G also has its fair share of challenges that network providers and manufacturers need to navigate through before reaping the benefits of the new technology. One of the most pressing concerns is the high investment associated with building an entirely new network for the deployment of 5G connectivity, that includes both physical and virtual equipment that are still being built today. Managing the 5G spectrum is also a challenge that regulators have to contend with before establishing private networks for manufacturers. The next concern is cyber-security as the increased connectivity of 5G will require even stronger measures to protect companies from threats. Another issue is the stability of the network. Processes such as AGVs depend on a 100% stability of the 5G network to be functional at all times to maintain the factory's efficiency.
With all the benefits that it is touted to bring, 5G is undoubtedly a favourite topic in both technological and industrial circles. With a solutions-driven mindset, companies like ABB and Ericsson are joining forces to bring us closer to a 5G connected world.
To download the full AMS January-March 2020 digital magazine click here.