Flexible solutions by ABB technology are helping to meet the changing needs of the automotive industry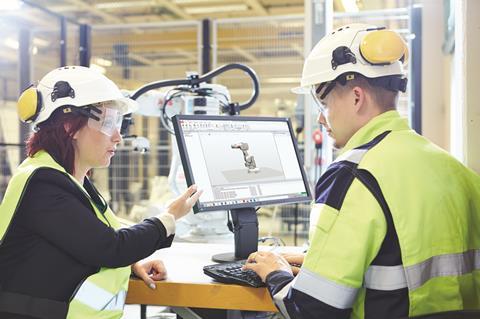 The customer can have a car painted any colour that he wants, "as long as it is black," Henry Ford once said. The global automotive industry has come a long way since Ford used this mantra to put 15m mass-produced Model T cars on the world's streets in the 1900s. Today, the ubiquitous black car has given way to bespoke vehicles that offer customers countless options, from technology features to wheels, trims and of course, colours.
This trend of mass customisation is changing the automotive industry as we know it. Manufacturers, who enjoyed strong margins by building economies of scale, are now contending with profitably producing in batch sizes of one. The industry's made-to-stock model is being replaced by a made-to-custom one, rendering the automotive sector far less predictable. Long-established automation processes that could efficiently perform repetitive assembly line tasks are no longer agile enough to adapt to changing customer demands, while growing awareness of low-emission electric and hybrid mobility options has added another layer of variability to the manufacturing process.
Amid all this change, one factor that has remained constant in the highly competitive auto industry is the need for OEMs to quickly deliver tailor-made products to customers. The nascent conditions of the electric mobility market mean new solutions are found at short notice and must be implemented swiftly.
So, what must auto manufacturers do to be competitive while maintaining productivity in this new environment?
It is clear that conventional hard automation systems, especially in the assembly stage, cannot handle the varying nature of mass customisation in the auto industry. Instead, flexible solutions, such as the ABB powertrain assembly solution, must be integrated into factories to allow automakers to compete in an industry of increasingly smaller product cycles.
The future of mobility is electric
Electric mobility is rapidly gaining ground as more and more countries commit to put a stopper on global warming. The comprehensive powertrain assembly solution from ABB is designed to help automotive manufacturers adapt long-standing automation processes, such as those for the making and assembly of drive components, to a new generation of vehicles while maintaining productivity and quality. The offering, made up of highly efficient and flexible robots, gives OEMs the flexibility and scalability to address the ever-changing factory floor to meet with customer demands.
By 2030, about 30m electric vehicles are expected to be sold worldwide, according to data by Bloomberg NEF, but these vehicles are not going to be mass produced. Factories making these new-age vehicles will have to deal with a high degree of diversification even for the same vehicle model, varying battery cells and pack configurations and aesthetic appearance. Flexible robot solutions enable manufacturers to assemble the usually complex components more efficiently than would be possible with conventional production systems. The modular structure of ABB solutions also enables greater scalability for future requirements.
Take for instance, the broad range of solutions by ABB that harness the power of industry 4.0 to offer unmatched flexibility, efficiency and productivity in the constantly evolving field of EV manufacturing. The state-of-the-art solution automates and digitalises every critical aspect of the factory, including robots that make the bodyshop more flexible, improve the accuracy and reduce waste in painting vehicles. It also flexibly automates the manufacture and assembly of a number of battery configurations, and reduces human intervention in the repetitive final assembly process.
ABB also offers flexible automation solutions that can accommodate a new generation of axles and transmissions for more complex powertrains. This includes solutions for manufacturing and assembling the wide variety of motors used in today's electric vehicles.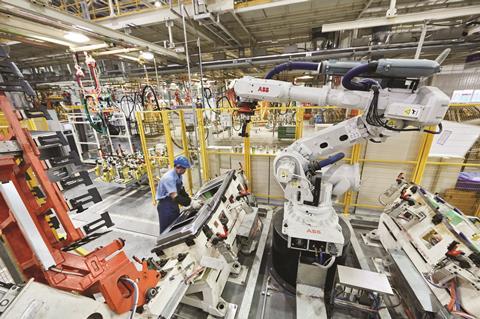 Modular solutions for the factory of the future
ABB's powertrain assembly business offers the flexibility needed to meet the manufacturing requirements of the future of assembly and testing systems. The powertrain assembly approach includes the use of standard basic components and function groups with common interfaces. The product portfolio ranges from highly collaborative ABB robots that safely work alongside factory workers to in-house conveyor systems and modular cleaning as well as assembly and handling solutions.
These technologies can be integrated into complex processes and special solutions that are tailored to the customer's needs. The solution enables industrial companies to react flexibly to product changes or new design requirements and quickly adapt production and assembly to these new requirements. The field of application is broad and ranges from highly flexible, standardised cell solutions to fully interlinked assembly lines.
ABB's strong process competence in the field of engine, axle transfer case and vehicle transmission assembly are helping well-known customers in North America, Asia and Europe to prepare for the future of automotive manufacturing. With millions of dollars already invested, manufacturers can rest assured knowing that the ABB robots used at their factories have a sure instinct and adapt waypoints to carry out highly precise tasks.
For example, in a special application, the previously manual final assembly of the Battery Management Controller (BMC) was implemented by a highly automated, worker-autonomous robot system from ABB Powertrain Assembly. Sensitive automation and a high degree of standardisation and reusability enabled a solution that took up less production space than a comparable conventional automation. This means higher output with virtually the same investment and lower operator costs.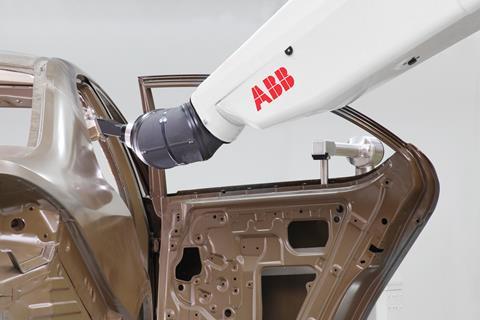 A first of its kind
Mass customisation will take the already complex processes involved in automotive manufacturing to the next level, leaving operations, such as installing multiple toothed shafts, out of the realm of automation. The answer to this challenge is sensitive force/torque-monitored automation made in conjunction with ABB ForceControl.
The solution enables an ABB robot to not only measure the resistance that occurs when the component is inserted but also assess it and adapt to the situation. Today, two ultra-modern ABB robot cells are on the market competitor's line, which carry out the highly complex assembly situation reliably and quickly. An automation task that has never been considered possible before.
Making manufacturers more agile
Modern industrial robot applications are cooperative; they combine sensor technology and vision with sensitive force transmission and can serve both handling and assembly requirements. The sensitive automation of an assembly line with solutions from ABB makes it possible to simplify application steps and creates possibilities previously thought impossible to automate due to their process complexity. This adds value for the customer as the robot solution contributes to competitiveness through lower production costs and higher quality through monitored processes with integration of ABB Ability Connected Services.
ABB Ability solutions are a cornerstone of the digital industrial revolution that helps businesses take their productivity and efficiency to the next level. The ability to produce actionable data from existing processes help manufacturers avoid cost downtime, make better business decisions and finally bring tailor-made products faster to the market at competitive rates.