ABB is celebrating its sophisticated paint robot 50 years on from developing its first hydraulic prototype in Norway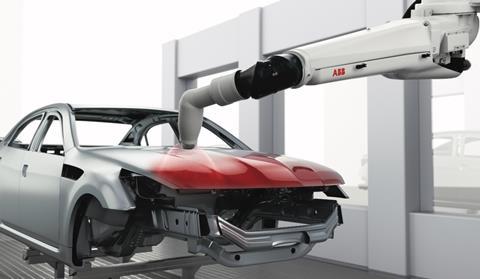 ABB's journey began in 1969 when a group of mechanical engineers developed and sold the first ever paint robot for industrial use in Bryne, Norway. As people watched the strange contraption enamel bath tubs for a Swedish manufacturer with an accuracy never seen before, little did they know that it would inspire the creation of several market-leading robotic paint solutions from ABB over the next 50 years.
Today, ABB's paint robots bear little resemblance to the simple, hydraulic prototype that is now on display at the ABB R&D Centre in Bryne, Norway. Instead, ABB's robots are hi-tech industrial workhorses with multiple built-in functionalities, such as sophisticated computing power, that make them relentless in their execution and able to produce the most flawless finish required by customers worldwide.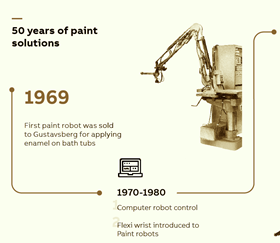 Along the way, ABB has introduced many industry firsts that have transformed the art of industrial painting. ABB was quick to realise the benefits of digitally enabling its general-purpose robots and introduced the computer robot control in 1975 that changed the storing of programs, from tape storage to digital storage on a diskette. This shift made it possible to copy programs instead of spending valuable time programming each robot.
Less than a decade later, in 1984, ABB ushered in the paint atomiser era with Robobell II – a high-efficiency rotary atomiser that was designed to coat complex surfaces with solvent-borne paint.
While its journey in paint automation began with a focus on boosting efficiency and ease-of-use, ABB has focused on transforming its paint robots into powerful painting machines that have a range of functionalities built into one device.
Take, for instance, the recently launched IRB 5500-27 – a highly specialised robot for the paint application needs of the automotive industry. The new 7-axes variant of the IRB 5500 FlexPainter enables wider working range and better accessibility to all interior and exterior automotive painting surfaces. The robot is also designed to accommodate diverse automotive body sizes due to its larger working range and high flexibility, which results in more efficient utilisation of the robot and can reduce the number required on the painting line by up to 25%.
With the potential to cut down booth size by up to 33% and eliminate linear tracks, the robot also offers substantial savings in capital and operating expenses. Moreover, the integration of ABB's dynamic model for controlling all axes reduces overall energy consumption, increases accuracy, and ensures fully synchronised and balanced robot motion.
ABB's commitment to its customers, coupled with its ability to quickly adapt to changing trends, has ensured the company's leadership in the market. With an eye toward the future, ABB introduced the world's first digital ABB Ability Connected Atomizer in 2018. Also known as the RB1000i, ABB's latest robotic innovation augments the company's leading digital capabilities in the form of sensors and the ABB Ability digital platform on to its paint atomisers to create intelligent data to improve paint efficiency and reduce paint waste by 75% between frequent colour changes.
These sensors detect quality issues as the painting process occurs, helping companies to eliminate improper paint finishes that are otherwise only detected during inspections after the paint process is completed. Temperature and vibration sensors and a gyroscope built into the Connected Atomizer relay a range of data that speak to the overall health of the device and paint-transfer efficiency. This helps operators quickly detect and act on most anomalies before serious faults occur.
The Connected Atomizer is a game-changer for industries like automotive, which require flawless paint finishes within minutes. In addition to achieving near-zero defect painting, the atomiser can self-diagnose operational readiness, instead of having to carry out several physical tests to assess the paint line status. This helps companies to reduce expensive paint waste, while also speeding up production time. Finally, data drawn from multiple Connected Atomizers can be put to work to create a complete view of the painting process in real-time.
While the process of painting has been the same over the years, ABB's exhaustive range of paint application equipment is designed to enhance precision at every level. Leveraging a vast network of experience and collaboration with customers, ABB has designed and produces process equipment that enable fast colour changes with minimal maintenance, while its atomisers reduce paint waste and increase transfer efficiency.
Moreover, ABB's paint process control, combined with its paint volume control and the fully integrated atomiser provides a uniform and consistent paint finish on any surface. Dedicated robots, such as the ABB FeatherDuster, which removes dust particles from a vehicle before painting and the sealing bots, ensure perfect paint results and protection from start to finish.
And that's not all. Dedicated paint robot controllers like the IRC5P by ABB bring in much-needed flexibility, safety and controllability to the painting process, while the Paint Automation Software minimises the time taken to program the robot. RobotStudio, ABB's offline programming software reduces lead times by allowing users to program and verify cycle times on their computers even before the physical robot is placed in the factory.
The 50-year story of the paint robot showcases how the team at ABB combines science and technology, with innovation and human imagination.