Porsche CEO and former production chief Oliver Blume will take over from Herbert Diess as VW Group CEO from September.
Oliver Blume will take over as chief executive of the Volkswagen Group in September this year, replacing Herbert Diess.
Blume, currently Porsche CEO and a former head of production and logistics for the premium OEM, will take over as the VW Group transforms its manufacturing and supply chain to meet electrification targets.
Blume will retain his responsibilities as CEO of Porsche. The carmaker's supervisory board said VW Group CFO Arno Antlitz will add the job of chief operations officer (COO) to his remit and assist Blume with day-to-day operations.
Blume joined the Volkswagen Group in 1994 and has held management positions for the Audi, Porsche, Seat and Volkswagen divisions. He has overseen roles in body construction, planning and logistics. He was made head of production planning at the Volkswagen brand in 2009 and became the member of the executive board for production and logistics at Porsche in 2013.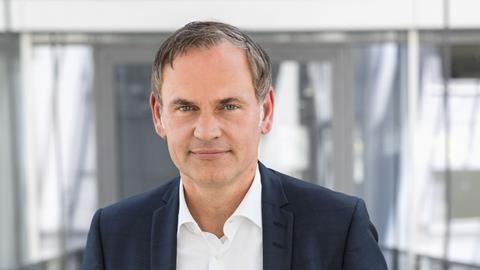 "Oliver Blume has proven his operational and strategic skills in various positions within the group and in several brands, and has managed Porsche AG from a financial, technological and cultural standpoint with great success for seven years running," said Hans Dieter Pötsch, chairman of the supervisory board.
"From the Supervisory Board's point of view, he is now the right person to lead the group and to further enhance its customer focus and the positioning of its brands and products."
Herbert Diess joined VW in 2015 from a long career at BMW. He was made chairman of VW Group in 2018 as part of an extensive revision of VW Group's management structure. He was also responsible for VW Group development and research, as well as vehicle IT.
In late 2021, there was changes in the group's management structure that saw Diess relinquish some responsibility, including for Volkswagen Group China, as well as for global sales. At the same time, Diess assumed chairmanship of VW's Cariad software subsidiary, which has suffered a series of delays impacting certain of the company's EV launches.
Despite these challenges, the carmaker is currently ahead of the competition on EV development in Europe and Diess is credited with leading on the development of VW Group's own modular electric vehicle platform, MEB, which is supported by a more sustainable logistics strategy, including for inbound logistics and battery supply.
The investment in EV and battery production is having a big impact on product investment and the transformation of VW Group's assembly facilities and its supporting logistics infrastructure. The company also set up a new battery company called PowerCo to build gigafactories. The company recently announced a huge €10 billion ($10.2 billion) investment in battery production in Spain.
Overall, VW said Diess had initiated ground-breaking platform-based approaches, including for battery cells and mobility services.
His departure follows a vote by the VW supervisory board, which includes workers' representatives. Diess had repeated clashes with the works council during his tenure as chairman.