Volkswagen is looking to completely overhaul its manufacturing capacity through a strategy of digitalisation across the North American region. Using artificial intelligence, cobots, and integrated in-house cloud systems, the company is laying the basis for its planned total upgrade of the entire global supply network.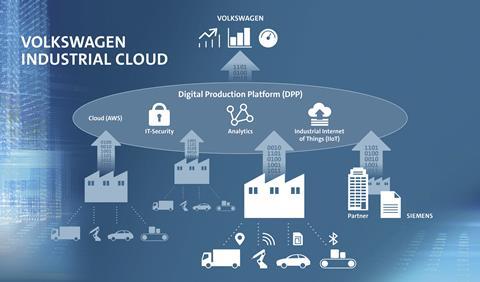 Technological advancement has led to software becoming a central part of modern vehicles, but that same technology is now being applied to the cars' production.
Volkswagen has pledged to invest $1 billion in electric mobility and digitalisation across its North American production network between now and 2025, and will be leveraging connectivity further with its partner for an industrial cloud network, Amazon Web Services (AWS), developing the project behind Europe.
Cloud-based industrial software, new intelligent robotics and artificial intelligence are set to be rolled out in factories across the region. The explicit aim of this project is a 30% increase in productivity and laying the foundations for digital manufacturing jobs in the future.
In a recent statement, Susanne Lehmann, senior director of production, Volkswagen de México, said that Volkswagen's digitalisation push is centred around connecting factories to the cloud-based industrial IT platform it has developed with AWS.
She said that the carmaker is developing tools that "help us manage manufacturing performance, control inventory, and maintain visibility down our virtual pipeline to understand supplier performance and track production".
The integrated approach of the Industrial Cloud, which will eventually connect factories and suppliers globally, distinguishes Volkswagen Group from competitors in both approach and scale.
According to Johan de Nysschen, chief operating officer at Volkswagen Group of America, suppliers have full transparency into customer needs and demands, which in turn lowers costs because suppliers can plan for capacity, invest in production equipment, and synchronise operations to meet supply and demand in real-time.
He added that tools are being developed that allow the company to "manage manufacturing performance, control inventory, and maintain visibility down our virtual pipeline to understand supplier performance and track production".
In a separate statement, Volkswagen said it aims to drive a 30% increase in manufacturing performance for its factories across the globe by 2025, and digitalisation will play a key part in this.
The OEM added that digitalisation − or broadly, the implementation of new technologies − is not an end in itself, noting that the key success is to combine technology and digitalisation in manufacturing processes with experience and skills of its workforce.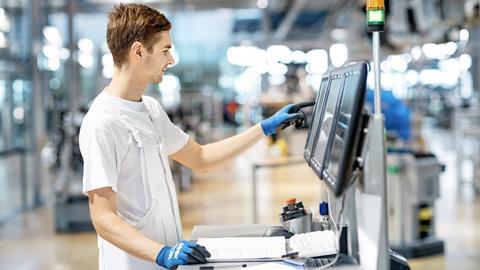 Impact of development on workers?
Much of the work in factories can be tedious and labour intensive for workers. The introduction of cobots, cloud apps and AI can alleviate many of these difficulties. In turn, this allows staff to focus on more valuable and personally enriching tasks, leading to an expansion in individual opportunities and a more efficient and safer workplace overall.
De Nysschen added that this feeds into the ultimate vision for the company, which he says is predicated on digital technology inevitably reshaping the future landscape for manufacturing. With North America as part of an eventual global digital network, the strategy is to have digitalisation not be used solely on core products but throughout the manufacturing process, including in production, design, and development.
Where else can VW use digitalisation?
From design and concept, customer profile, pricing, manufacturing, and shipping and sale, most of these factors are, ultimately, trade-off decisions that require collaboration all across the organisation. According to de Nysschen, technology enables a level of collaboration not hitherto available. From a fully virtual design process to predictive pricing and purchase models, highly advanced manufacturing and state-of-the-art marketing. He predicted that digitalisation would be "a game-changer" in how Volkswagen conducts business worldwide.
The OEM has been pursuing a global digitisation strategy for some time. The carmaker's industrial cloud system, an IT industrial platform with AWS designed to gather and analyse data from all Volkswagen Group facilities in real-time to increase efficiency and productivity, was announced in 2019 to encompass the entire worldwide supply chain with more than 30,000 locations of its 1,500 suppliers and partner companies.
The development of apps is central to this process, available at a company-specific app store to all Volkswagen plants for downloading and implementation. This helps the company streamline the internal production process as well as improve transparency with partners.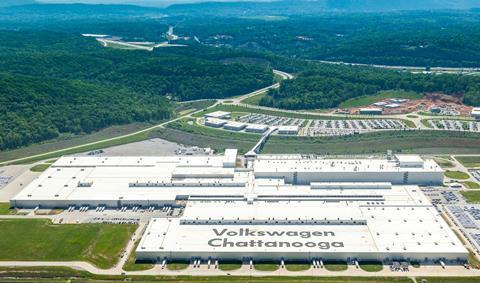 Since Volkswagen first announced the initiative, the company said it wanted to connect plants in Chattanooga, Tennesse, and Puebla and Silao, Mexico. By the end of 2021, these will become the first Volkswagen plants outside Europe to be linked up to the Industrial Cloud.
Eighteen plants in Europe have already been networked. The Chattanooga site, which manufactures the Volkswagen Atlas and Atlas Cross Sport SUV, and the Volkswagen Passat sedan models, will become the nucleus for electric vehicle (EV) production in North America. In addition, Puebla builds the Tiguan, Jetta and upcoming Taos SUV, and the Silao plant makes engines for Volkswagen and Audi vehicles.
Lehmann outlined Volkswagen's overall aim to "leverage the potential of digital technology in production" and work closely with colleagues on the shop floor.
"By bringing the individual know-how of the locations into our Industrial Cloud Initiative, we can optimise their production processes and, at the same time, expand the scope of high-performance applications available for all factories more quickly," she said.
No one-size-fits-all
Volkswagen global production network is highly diverse, with factories of various capacities and products. Some plants produce vehicles, others that produce components, and many that do both.
Each plant has specific demands and solutions for digitalisation on the shop floor. Ultimately, there is no "standard" defined by one specific plant or region; rather, it is about bringing together the Group's creativity in solving them.
Volkswagen highlighted the example of its Wolfsburg plant in Germany. As one of the largest automotive factorys in Europe, it needs to transport components and tools within its factory halls, storage areas and loading bays as fast and efficiently as possible. This is why self-driving transport systems (FTS: Fahrerloses Transportsystem) are being field-tested and partially implemented.
"This might not be equally pressing in other plants with different capacities. Elsewhere Volkswagen's plants in the North American region are developing their own new applications. For example, teams at the Puebla site have developed an intelligent conveyor motor monitoring app that could help reduce downtime and support predictive maintenance technologies. This application could be used by many other plants as well," the spokesperson said.
Efficiency is key, he explained. Without an overall productivity improvement, developments can be superfluous to the consumer. One area through which the company is looking to improve production is the increasing use of networked transport supply lines. In addition, Volkswagen is now implementing machine vision technology for quality-checking all components at certain points in the assembly process.
Combining this near real-time information and accuracy with other production management and storage systems could create an even better base for decision-making.