SSAB discusses how a collaborative effort with its customer Gestamp facilitated the development of a unique, tailored steel grade that will result in safer and lighter automotive products for the future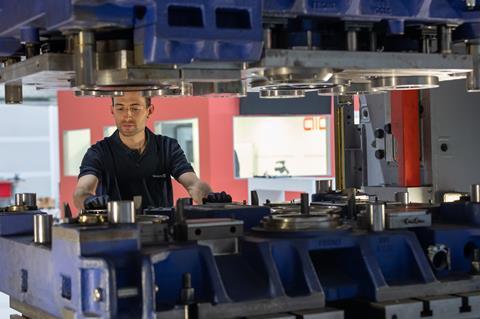 In 2014, Gestamp, a designer, developer and manufacturer of metal automotive components, launched a joint project with its customer Toyota. The objective was to develop a front lower control arm for use in the production of the Toyota Yaris in Europe. However, it soon became clear the steel grade required to develop this part did not yet exist. This was when Gestamp approached SSAB.
"We embarked on the challenging journey to develop a new high-strength steel grade called Docol 1000CP." Dr. Asadi, Gestamp
"SSAB is one of our steel suppliers that delivers advanced high-strength steels and supports us as we seek to meet the sustainability challenges of the automotive industry, through weight reduction and CO2 savings," explains Dr. Mehdi Asadi, manager materials engineering at Gestamp Chassis Germany.
A new high-strength steel grade
"We embarked on the challenging journey to develop a new high-strength steel grade called Docol 1000CP," he continues, adding that the specific chassis grade did not exist at the time.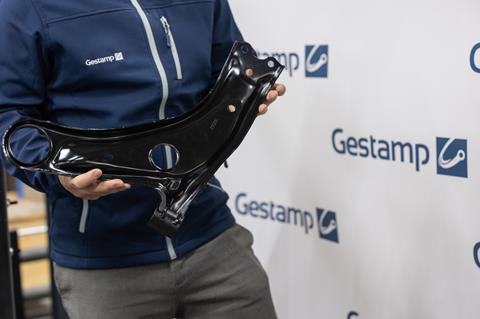 While the team members from both Gestamp and SSAB admit that the seven years that followed had more than their fair share of bumps in the road, they all emphasise that the result – an innovative new steel grade that delivered what the product required in terms of local and global formability, strength, stiffness and fatigue – came about through an exceptional collaborative effort on both sides.
"This is exactly how SSAB like to work, to be invited right at the start of the project. The combination of SSAB's material knowledge and Gestamp's design and manufacturing experience have both been so important in turning this concept into reality," says Ben Cook, sales segment manager from SSAB.
"We were able to try a huge number of different compositions thanks to SSAB's flexibility and quick turnaround when it came to the prototype materials," adds Carlota Arenillas, innovation project manager at Gestamp Chassis Spain.
" The long-term commitment of the involved people from SSAB and Gestamp Chassis made for a unique collaboration that ended in a successful new steel grade and an innovative part solution" – Erik Nymann, product developer at SSAB
Close collaboration
Over the course of the project, Gestamp worked closely with SSAB on everything from material composition to characterisation and homologation of the material for use on a front lower control arm (FLCA).
It was a true team effort, in which every aspect of the development chain was involved – from sales and production to customer trials and feedback – and one which both teams now view as a unique example of cross-company collaboration in the world of steel development.
What is the new steel grade?
Docol® 1000CP is significantly higher in strength than conventionally used grades, without compromising on quality, performance, or part geometry. This enables a thinner gauge making the part lighter. The strength and ductility originate from the complex phase microstructure. Along with a good surface quality and high strength, the steel also performs well in fatigue; an important property for FLCA components.
"In practice, this new material has enabled us to deliver a front low control arm that is significantly lighter than its predecessor," states Dr. Asadi. "And we all know that lower weight in the automotive industry means enhanced fuel efficiency and fewer emissions."
"There were moments when this project felt like climbing Mount Everest," says Arenillas. "However, every time it seemed impossible, someone at SSAB pulled something out of the bag or we were able to reach a compromise together."
"It's true that the material concept underwent several alterations during the development that finally landed in a complex phase steel that satisfied the requirements of the part. Compromises were needed, but thanks to the feedback received we were able to focus on the critical aspects of the material," agrees Erik Nymann, product developer at SSAB.
"The beauty was that we were able to listen to the customer first to find out what they needed, then put a team together of SSAB experts from all over the business to meet those requirements," continues Cook.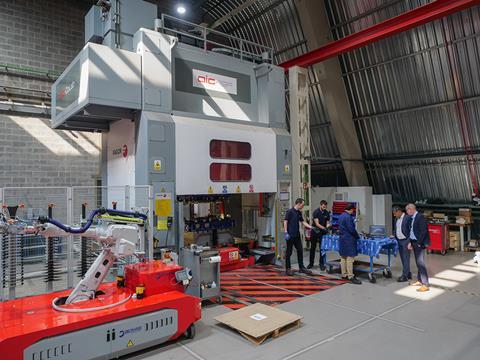 Regular communication and feedback
Both teams are quick to agree that regular communication and feedback on the performance of the material ultimately made it possible to develop an innovative product of superior quality that surpassed conventionally used steel grades.
"Knowing what did and didn't work in terms of part performance helped us fine-tune the steel grade and focus on critical aspects of the material properties to make the part work as well as possible," says Cook.
"We believe the front lower control arm is just the first step towards all the things that could potentially be done with this new steel grade," adds Nymann.
Stronger, lighter, more sustainable
"Everything about this project supports the SSAB vision of a 'stronger, lighter and more sustainable world'," continues Ben Cook. "The fact that it came about as a result of this beautiful collaboration with our customer Gestamp makes it all the better."
In early 2020, the project teams at Gestamp and SSAB saw their tireless work pay off as the Docol 1000CP was successfully launched into production for a front lower control arm of the Toyota Yaris. As for what is next, the grade is also being developed with other OEMs for future launches to deliver reductions in weight and CO2 emissions.
In the words of Henry Ford: "Coming together is a beginning, staying together is progress, and working together is success".
Find out more here