Reducing carbon emissions throughout the automotive supply chain and production process is a priority for vehicle makers. Last year ArcelorMittal set out its strategy for decarbonising steel production. The steel producer has now launched a number of new initiatives to support this

A major step forward has been the launch of XCarb. This will combine all of the current and future initiatives under one brand. Key parts of this will be XCarb green steel certificates and XCarb recycled and renewably produced, a new product for customers. To further support this, ArcelorMittal has established the XCarb innovation fund.
Green steel
Looking at some of these initiatives in more detail starting with XCarb green steel certificates. These certificates will allow customers to report an equivalent reduction in their Scope 3 emissions, in accordance with the Greenhouse Gas Protocol. They are designed for the company's flat steel products made from iron ore in a blast furnace. ArcelorMittal has a number of decarbonisation initiatives underway – from technologies being developed through the Torero and Carbalyst projects, to projects to capture hydrogen-rich waste gas and re-inject it into the blast furnace.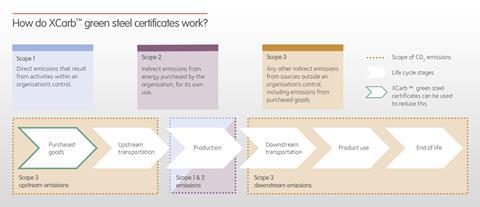 These investments are resulting in significant CO2 savings, which can be added up and then passed onto customers in the form of a certificate that has been verified by DNV an independent auditor with a sustainability focus. When a customer buys an XCarb certificate from ArcelorMittal, they effectively 'own' the CO2 saving and can report that saving as a reduction in their Scope 3 emissions.
So, for example, if a customer buys 1000 tonnes of steel and on top of that they buy 1000 tonnes of XCarb certificates, then that would enable them to effectively report zero Scope 3 emissions from the steel they purchased. This approach is in accordance with the GHG Protocol Corporate Accounting and Reporting Standard. The concept of this scheme is not entirely new – there are some similarities with the Renewable Energy Certificates used in the power sector – but it is a first for the steel industry.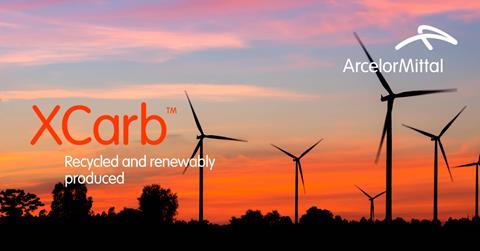 Recycled and renewably produced
For the XCarb recycled and renewably produced products, these are made via an electric arc furnace process using scrap. Recycled and renewably produced means that the physical steel was made with recycled material (scrap) using renewable electricity (purchased via certificates), giving it a CO2 footprint of as low as 300kg of CO2 per tonne of finished steel.
The electricity used in the steelmaking process is independently verified, with a 'Guarantee of Origin' given that it is from renewable sources. There are similarities with the green steel certificates here in that the energy is 'guaranteed' to be from renewable sources by purchasing 'Renewable Energy Certificates' (RECs). RECs are a market-based instrument that certifies the bearer owns a specific amount (in megawatt-hours) of electricity generated from a renewable energy resource. ArcelorMittal says the RECs it is buying are from energy companies who have made recent investment in solar and wind energy. It's noted that customers buying the XCarb recycled and renewably produced steel can also report a reduced CO2 value in their Scope 3 emissions, in-line with the carbon intensity of this product.
In terms of locations supplying these steels, this is not specific to a site or a country. Any products fulfilling the two conditions can be branded XCarb recycled and renewably produced. However, the initial supply of these products will start at ArcelorMittal's Luxembourg mills, which produce with 100% scrap and have already secured the supply of green electricity via RECs.
Investment fund
The company has recognised that decarbonising the steel industry is not something it can achieve in isolation, new technologies from other sectors will be required to help accelerate the process. ArcelorMittal says it has earmarked up to $100m annually for this fund, applied strategically to selectively invest in new technologies and companies that have the potential to support the steel maker with its decarbonisation strategy. These investments would be supplementary to the technologies already being developed and deployed directly by ArcelorMittal across its own operations.
There are no geographic restrictions in regards to the investment fund. For a company to be considered it must be developing a technology that is directly applicable, and holds strong potential to decarbonise steel making. The technology also needs to be commercially scalable.
ArcelorMittal says it is already making very good progress with its own technology developments. The first commercial scale Smart Carbon technologies will come on stream at the company's plant in Ghent, Belgium, next year and its flagship Innovative DRI technology project in Hamburg, Germany could go live as soon as 2023. The company notes that there are various methods and technologies that can be deployed to decarbonise steelmaking and that this fund will ensure it can access the market for the very latest technologies under development.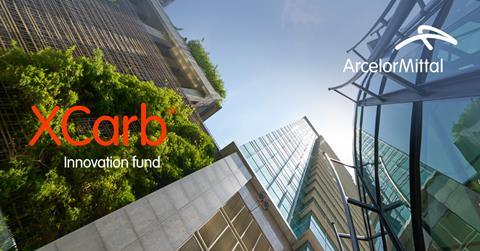 Decarbonisation strategy
To transform its operations to become carbon neutral, the steel maker says it needs to move primary (iron ore based) steel production away from a reliance on fossil fuel energy, towards the use of "clean energy" – in the form of clean electricity, circular carbon, and carbon capture and storage (CCS).
To enable the use of these clean energies, ArcelorMittal says it is pioneering two breakthrough carbon-neutral technology routes: Smart Carbon and a DRI-based route.
Central to the Smart Carbon route is replacing coal with alternate sources of circular carbon, such as sustainable biomass from agricultural waste or waste plastic. The Smart Carbon route also allows the integration of other technologies, most notably carbon capture and re-use (CCU) or storage (CCS) technologies, this means capturing carbon emitted during the steelmaking process, hence giving the route the potential of being carbon negative. Hydrogen can also be part of the Smart Carbon route, so as and when it becomes available at competitive prices, it too has a role to play.
DRI uses hydrogen instead of natural gas to make direct reduced iron, which is then fed into an electric arc furnace to make steel; if that hydrogen – produced via the electrolysis of water – and the electric arc furnace both ran on renewable energy, it's producing zero carbon steel.
Both routes will benefit from a shift towards hydrogen in the long term. The important difference is the evolution and commercial viability of the Smart Carbon technology route in the medium term, and the added value this can bring to the low-emissions circular economy.
The company says it is at an advanced stage in terms of progress in deploying these technologies. For Smart Carbon, its flagship technologies are Torero and Carbalyst, both of which are being deployed at the plant in Ghent, Belgium.
Torero is a €50m project that is set to come on stream by the end of 2022. This takes toxic waste wood and converts it for use as a fuel in the steelmaking process, resulting in less coking coal being required. This project will convert 120,000 tonnes of waste wood a year, resulting in a saving of c. 220,000 tonnes of CO2 a year.
Carbalyst captures carbon rich blast furnace waste gases (which would otherwise be incinerated resulting in CO2 emissions) and recycles it into bioethanol. The bioethanol can then be used to produce a range of chemical products – most notably plastics and transport fuel. A commercial scale pilot plant will reduce CO2 emissions by c. 130,000 tonnes a year and produce 80m litres of bioethanol. This €165m project is set to come onstream before the end of next year.
ArcelorMittal's flagship project for Innovative DRI, is at its Hamburg plant, where the company says it has Europe's only DRI facility running on natural gas. This offers the advantage of not only testing whether Hydrogen can used to make DRI using hydrogen, but also being able to see how that DRI reacts in an electric arc furnace. The company says this commercial scale pilot could be operational in 2023 (start date targeted between 2023 and 2025) and producing the world's first fossil free steel.
Find our more here