Valmet Automotive will construct a biogas terminal at its plant in Uusikaupunki, Finland, which will help make operations at the factory, including paintshop, more sustainable.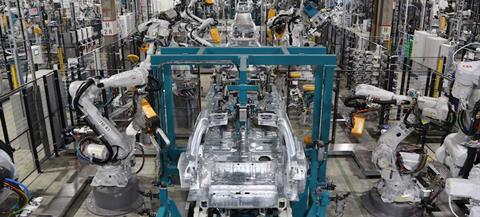 The biogas terminal is an integral part of Valmet Automotive's sustainability programme, as it seeks to eliminate emissions from its contract vehicle assembly and EV battery module plants in Uusikaupunki through lower energy consumption and improved energy efficiency.
"At the Uusikaupunki plant, we have switched to fossil-free electricity in 2019 and to district heating from renewable sources in 2020. With the biogas terminal, we will make this plant carbon neutral," says Pasi Rannus, senior vice-president of manufacturing, Valmet Automotive.
The new terminal will help the company to replace the light fuel oil used for heating the furnaces in the car plant's paintshop with natural gas and biogas. The biogas terminal will, at first, use liquefied natural gas (LNG), but once biogas is available in sufficient volumes needed for the paintshop operations, Valmet Automotive plans to switch completely to biogas.
The heating system of the paintshop's furnaces will also be renewed. The biogas project is estimated to reduce the Uusikaupunki site's energy consumption by 5–10% from the current level, the company said.
A date for beginning construction on the biogas terminal site has not been set. However, work is set to begin as soon as possible, according to the company, with deployment scheduled for the second half of 2022.
The planned construction will be a 120 cubic meter storage and evaporation terminal for LNG and biogas that produces energy for the Uusikaupunki plant.
Valmet Automotive aims to reach neutral production at the Uusikaupunki plant by the end of 2021. The current emissions are caused by using light fuel oil in the paint shop furnaces. The few remaining CO2 emissions from the plant will planned to be compensated with certified projects.
This follows Valmet Automotive signing supply contracts to use only fossil-free electricity at its Salo battery plant in Finland, the Zary plant supplying roof and kinematics systems in Poland and the related technology center in Osnabrück, Germany. These agreements aim to see CO2 emissions drop by more than 50%, with further actions to reach carbon neutrality in schedule in all three locations.
At Uusikaupunki, Valmet currently produces the Mercedes-Benz GLC SUV and Mercedes-Benz A Class. In September, it also officially began production of high voltage battery packs and modules at the plant.